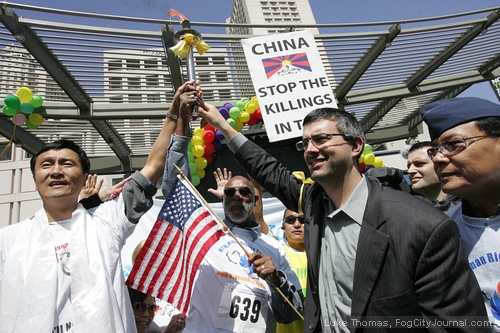 Author and professional basketball player Kai Chen, former Olympian John Carlos
and San Francisco Supervisor Chris Daly hoist the Human Rights Freedom Torch
in Union Square Saturday following a peaceful rally aimed at drawing attention
to documented human rights abuses perpetrated by the Chinese government.
Photos by Luke Thomas
By Luke Thomas
April 6, 2008
As many as 500 protesters gathered in Union Square Saturday to welcome the arrival of the Human Rights Freedom Torch Relay to San Francisco.
Groups opposed to the Chinese government's documented human rights abuses in China, Tibet, Burma and Darfur participated in the peaceful rally.
"The Human Rights Freedom Torch Relay has been organized to send a message to the Chinese government – we don't agreee what's going in China. Not everything is fine there," Maria Daly, a local coordinator for the torch relay told Fog City Journal.
"It's a very serious situation," Maria Daly added.
The Human Rights Freedom Torch Relay began in Athens, Greece in August 2007 after the Chinese government failed to respond to a letter drafted by the Coalition to Investigate the Persecution of Falun Gong (CIPFG) which had requested an investigation into charges of torture and state-sanctioned organ harvesting of Falun Gong practitioners.
The torch relay has since spanned five continents drawing international attention and condemnation of the Chinese government's oppressive regime, Maria Daly said.
Arriving from the City of San Jose, the torch was carried by Kai Chen – a professional basketball player in China and author of One in a Billion – to Union Square where it was received by Supervisor Chris Daly and former Olympian John Carlos.
After a brief stop in Union Square, Carlos continued the torch relay to downtown San Francisco along Market Street.
Earlier during the rally, Supervisor Daly who authored a non-binding resolution passed by an 8-3 vote by the San Francisco Board of Supervisors Tuesday, said, "We have a moral obligation to speak out because unlike the President of the United States and the Mayor of San Francisco – both have continued along with representatives of the Chinese government – we cannot divorce the Olympic Games from politics."
"We'd rather the internet not be blocked… we'd rather the government of China not support genocide in Darfur… we'd rather not prop up a brutal dictatorship in Burma… but we know that these things are happening," Supervisor Daly continued.
The Human Rights Freedom Torch Relay is one of three torch events passing through San Francisco. On Tuesday, The Tibeten Freedom Torch will pass through San Francisco and on Wednesday the official Olympic torch will make its way through the city known for its willingness to take a stand against injustice wherever it may occur.
Video coverage by Josh Wolf