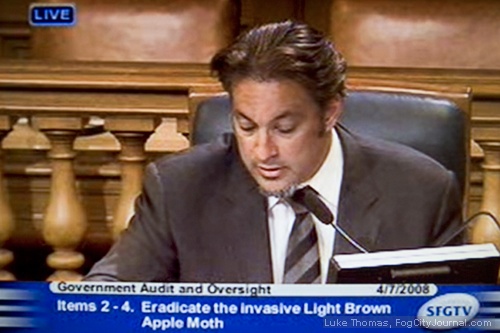 A resolution opposing a state plan to conduct aerial chemical spraying
over San Francisco to eradicate Light Brown Apple Moth
was forwarded to the full board yesterday.
The resolution was authored by Supervisor Ross Mirkarimi.
Photo by Luke Thomas
By Ari Burack
March 8, 2008
Following an emotional public hearing, a San Francisco Board of Supervisors committee Monday forwarded a resolution to the full board opposing a state plan to conduct aerial chemical spraying in the city to eradicate the invasive light brown apple moth.
The resolution, introduced by Supervisor Ross Mirkarimi, opposes aerial spraying by the state Department of Food and Agriculture, which is scheduled to begin in San Francisco as early as Aug. 1, in favor of "least-toxic" ground-based options.
"As it stands now, I am not convinced that there needs to be any spraying," Mirkarimi said to wide applause from dozens of members of the public who attended today's hearing at City Hall.
"I'm just against it," he said.
Mirkarimi referred to the proposal to saturate parts of San Francisco with a pheromone intended to inhibit moth breeding as "a neutron bomb effect."
The light brown apple moth, native to Australia, has been found recently in parts of the Central Coast and the Bay Area, including San Francisco, and is considered a serious threat to plants and agricultural crops.
Federal and state agriculture officials claim that if the moth is allowed to spread throughout the state, it could cause between $160 million and $640 million in crop damage each year.
After aerial spraying last year in Monterey and Santa Cruz counties, hundreds of residents reported respiratory and other problems ranging from mild to severe.
State Agriculture Secretary A.G. Kawamura said in a March 10 open letter that the pheromone products have been "fully reviewed and approved by state and federal environmental officials, who have not found any reason for concern in more than a decade of use." He denied they contributed to any of the health problems.
The Department of Food and Agriculture plans to continue aerial spraying to eradicate the pests beginning June 1 in Monterey and Santa Cruz counties, and Aug. 1 in San Francisco and parts of Marin, Alameda, Contra Costa and San Mateo counties.
Though the plan also includes placing "twist ties" containing the pheromone on trees, shrubs and fence posts in infested areas, and the release of millions of tiny, stingerless wasps that target the moth's eggs, the department considers aerial spraying its main option.
"Everything we're doing, we have information will work," Department of Food and Agriculture entomologist Robert Dowell told the committee.
James Carey, an entomologist from the University of California, Davis, said he respected Dowell as a colleague but referred to the decision to conduct spraying as "scientifically misguided."
"There's other tools we can use," Carey said, calling on the state to gather more input from local scientists, many of whom believe eradication of the light brown apple moth is impossible, but are reluctant to go public because they are afraid of losing funding, he said.
Carey said no insect has ever been eradicated using a pheromone.
"It simply doesn't work," he said, adding that he believed the moth was already too widespread to completely remove. He instead advised a "program of containment" to slow its spread.
Mirkarimi's resolution also calls for the state to conduct a long-term study of health and environmental impacts of the aerial spraying that has already taken place in Monterey and Santa Cruz counties, and for state legislation requiring the consent of residents before any aerial spraying.
Supervisor Gerardo Sandoval, who organized today's hearing, expressed concern about the health of San Francisco residents, especially young children, seniors and those with respiratory and immune diseases.
With two young children of his own, Sandoval asked, "Am I going to know when the spraying happens so I can get out of town?"
Michael Lynberg, a Silicon Valley businessman living in Pacific Grove told the committee that after he and his wife came down with bronchial symptoms following last year's aerial spraying in Monterey County, he set up an e-mail for residents to report health problems from the spraying.
Lynberg said he has since documented more than 800 complaints and called the proposed spraying in San Francisco — which would be the most densely populated area yet targeted in Northern California — "an experiment on people without their informed consent."
Department of Food and Agriculture spokesman Steve Lyle said today that while the same pheromone will be used in spraying this year, the department is still researching which other inert chemicals — used in the pheromone's delivery system — will be part of the concoction.
Lyle said officials hope to decide later this month after environmental and animal testing on the chemicals by the U.S. Department of Agriculture and the state Environmental Protection Agency.
Once a decision is made, residents will be given "as much notice as possible" about spraying dates and locations, and possible health precautions, through mailed letters, Lyle said. Lyle said it was hoped the letters would arrive "several weeks" in advance of spraying.
Lyle said he was "not sure" if the letters would contain information about all the chemicals used in the spraying.
"The expectation is that those products will be disclosed," Lyle said.
Mirkarimi acknowledged the resolution could not supersede state action, but said he hoped a "heavily informed grassroots response" would bring reforms in state legislation.
He later added an amendment to the resolution that would ask the San Francisco City Attorney's Office to investigate whether the city could pursue any legal options to halt the spraying.
A second resolution proposed by Mayor Gavin Newsom and supervisors Bevin Dufty and Tom Ammiano — which also passed the committee today — supports state Sen. Carole Migden's pending legislation to bring a moratorium on light brown apple moth aerial spraying.
Both resolutions received the support of committee members Aaron Peskin and Sophie Maxwell. The other committee member, Supervisor Tom Ammiano, was absent from the hearing.