By Tanene Allison
April 10, 2008
I wasn't in San Francisco for the Olympic Torch protest. Aside from a severely decreased likelihood of my being arrested Wednesday, that fact almost didn't make any sort of difference. The eyes of the world were upon the City of St. Francis, and the tools of technology allowed the stories of the protest unprecedented voice.
The protesters strategically made their message loud enough for the world to hear.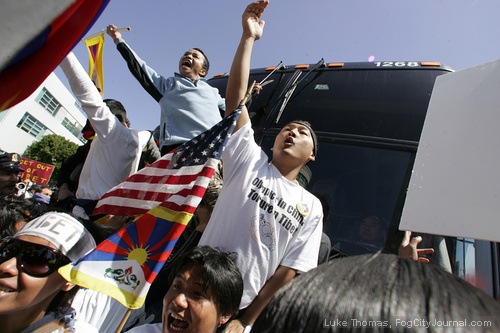 Those of us not there had play-by-play access to the actions of the day. Over the last ten years or so, we've all heard preaching about technology's power to mobilize masses and to democratize access to various media platforms. Despite this long stated claim, it's been a slow moving process by which technology has evolved into its full organizing power. Or, it's been a slow evolving process by which those technological tools have been fully adapted into the repertoire of those who wish to mobilize those masses, or democratize that media.
There were mainstream media stories giving detailed coverage to the protests in Paris, and to the preparations for the protest in San Francisco. And then there was the blogosphere, abuzz with the protest preparations and the coverage of Tuesday night's Free Tibet rally.
Technology use is becoming standard for everyone from Presidential candidates to local bands. New Media gurus teach the tools of the latest social networking emergence. Non-profits often seek ideas for how to put this MySpace, YouTube, Facebook, Twittering and Tumblring business to use for their communications. But there really isn't a standard blueprint that has proven to always work.
Despite the overused "Wild West" descriptor used to speak to this new 2.0 world, San Francisco protesters showed some incredible pioneering prowess.
First there were the emails from friends planning to participate. This information was soon followed by Facebook feeds showing which friends, and which elected officials, had confirmed their presence in the street masses. While this took place, YouTube videos began to be uploaded from Tuesday night's rally. By early morning, my phone started vibrating with Twitter updates, starting slowly and then reaching overwhelming numbers, as protesters took to the streets to outsmart city officials and police.
Every few seconds I, along with hundreds of protesters and, likely, at least a few SFPD folk (heh), got buzzed with a new Twitter update.
"TeamTibet: EVERYONE AT FERRY BUILDING: Walk south on Embarcadero to join march at Harrison. Be peaceful but come fast!"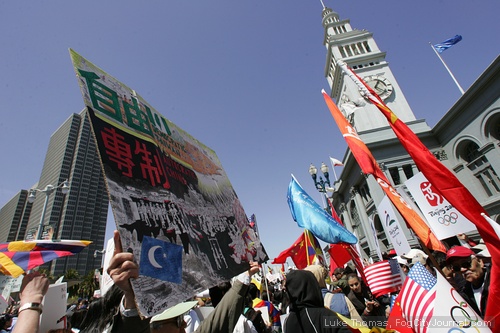 Those at their computers or TVs, watching media reports of torch sightings, would chime in and give those on the streets a heads up about potential locations to move to. Meanwhile, live coverage was streaming from the protest and seemingly dozens of protesters were uploading videos and photos from handheld devices, while they continued to chase the flame.
One Twitter post referenced technology's taking it to a higher level, literally: "CNN is showing a cool Google Earth graphic. Torch is between two rows of security personnel."And then there was the sentiment of the protesters realizing the power of what was happening in this organizing and grassroots use of journalism: "watching footage from torchcam. good view, but must admit i like all the phone shots better, on principle."It was an awesome technological and protest site. Those of us with San Francisco activist roots, or those just interested in the happenings, lived vicariously in this New Media storm of information, and GChatted updates and astonishment over the level of organized chaos, in the face of very little public information.
Yesterday will surely go down in Olympic and protest history. Beyond that, it marked a dramatic move in the sophistication of organizers' use of technology and media to strengthen their power. I would say that those who write history should take note, but then I'm betting that some of those Twittering protesters are already seeking to amend some Wiki page about the action. It was a new day for political organizing, and the world watched as San Francisco led the way.