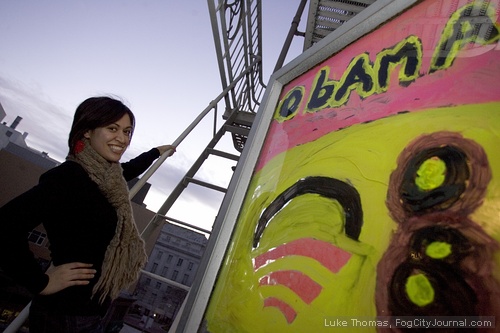 Photos by Luke Thomas
By Elaine Santore
February 11, 2008
The party's over
A reporter once told me the rule of thumb for Board President Aaron Peskin quotes, "If you want a regular quote from Peskin, you call before five. If you want a drunk quote, call after five. It only takes about two beers."
Apparently, nobody in City Hall got that memo.
In case you didn't notice, the party's over. Mayor Gavin Newsom has set out to stop any potential scandal from getting to the press.
In the Saturday edition of the Chronicle, we learned about Budget Analyst Harvey Rose's report regarding the payment of 11 Newsom administration staffers. Not only are his top aides paid by the Municipal Transportation Agency, but they're also siphoning funds from the Human Services Agency.
Rose intended for the report to be issued today, but Newsom released it Friday as an "apparent preemptive strike." Because those are always effective.
Here are the money quotes:
Newsom Chief of Staff Phil Ginsburg, who typically remains behind the scenes and rarely speaks on the record with reporters, was on hand for the meeting and called the budget analyst's report "bull-."
It speaks!
"Can you spell that?" Newsom interrupted. "Is it two l's? You can quote him on that."
It snarks!
When I read this, it became clear to me that Room 200 had been infected by a serious case of bitchassness.
Diddy coined the term on last week's episode of Making the Band 4. Bitchassness can best be described as egomania that manifests itself in a fake-ass swagger, nasty attitude, and general shadiness.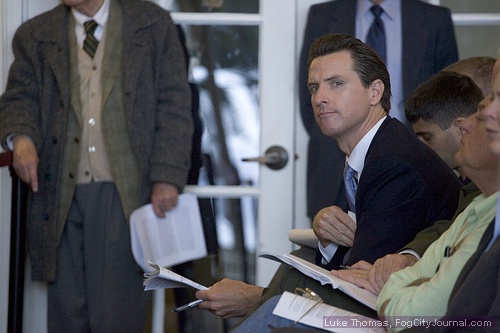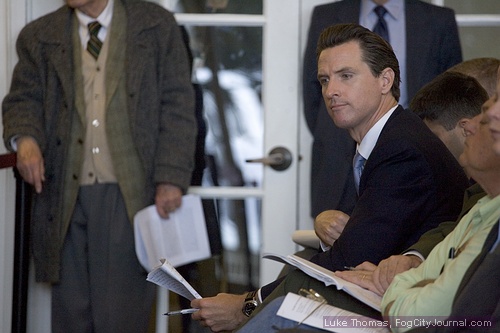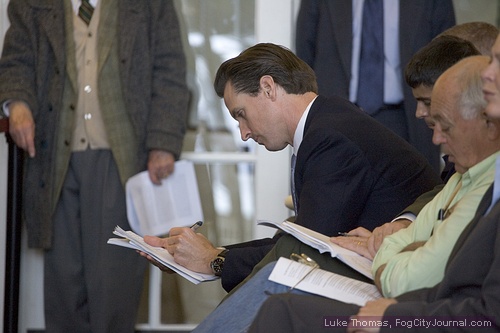 "If there's a little bitchassness in you, you're going to have to correct that. That disease is fucked up. That's a very contagious sickness that's out there in our community is bitchassness," Diddy said.
Obama and Clinton argue over who's more persecuted
Democratic presidential candidates Hillary Clinton and Barack Obama appeared on 60 Minutes last night. The senators were interviewed separately about the Democratic primary, and how they're coping with life on the campaign trail.
The interviews were conducted following Super Tuesday when Clinton led Obama in delegates. After the weekend caucuses in Washingston, Nebraska, Maine, and the Louisiana primary, Obama led Clinton in pledged delegates but trailed in superdelegates.
The most heated subject discussed was on the topic of Republican attacks. 60 Minutes correspondent Steve Kroft asked Obama about Clinton's supposedly galvanizing effect on the Republican party.
"I mean, she's got problems with independents. And she's got problems with even moderate Republicans. Now the Republicans are come after me. And, you know, I think the argument that she often makes is, 'Oh, the guy's untested. He hasn't been in the battle,'" Obama said."
Obama also commented on Clinton's argument that Obama will not be able to withstand Republican attacks.
"[Obama] won't be able to stand up to this withering scrutiny. And, you know, a lot of the things I try to point out is, you know, going up against the Clinton machine is no cake walk. They're pretty serious about winning as well," Obama said.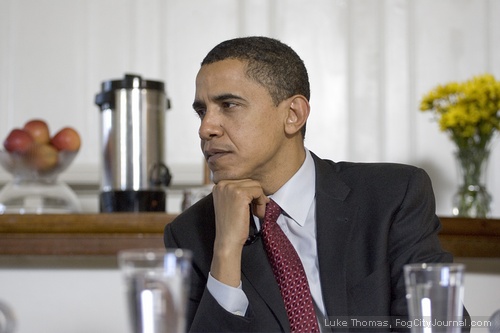 Sen. Barack Obama: "I really hope I don't fall asleep right now."
In her interview with Clinton, 60 Minutes reporter Katie Couric asked Clinton to explain her reasoning behind the argument.
"You've said, 'I've been through the Republican attacks. And I've been vetted.' And cynics suggest that you're insinuating there's some deep, dark secret that is in Barack Obama's past that will be somehow unveiled by a GOP attack machine," Couric said.
"You know, that is not what I'm suggesting at all. But, you know, Senator Obama has never had, I don't think, a single negative ad run against him. He's never been on the receiving end even in this campaign. It's been incredibly civil by any modern standards," Clinton said. "Until you have been through this experience, you have no idea what it's like. And he hasn't been. He's never, ever had to face this. And I think that I am much better prepared and ready to, you know, withstand whatever comes my way."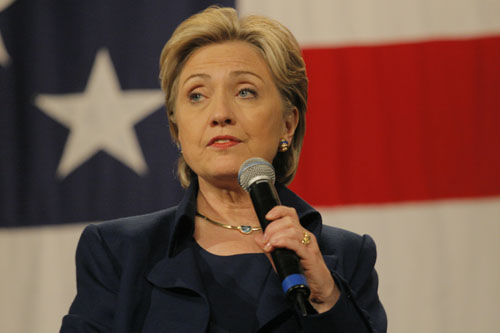 Sen. Hillary Clinton was called "Miss Frigidaire" in high school.
Photo by John Han
The weekend caucuses and primaries weren't the only losses for Team Clinton. Obama beat former president Bill Clinton for the Best Spoken Word Grammy last night.
CrackBerry and BFF Aaron watch the Grammys
Watching award shows in hotel rooms is a long-standing tradition for BFF Aaron and me. We stock the room with plenty of snacks and prepare to critique all the new fashions and performances.
But I usually end up reviewing the show while Aaron sleeps. Despite all the hype that precedes award shows, most are boring and require copious amounts of food and alcohol to make them tolerable.
Aaron did watch the red carpet arrivals. We both loved Rihanna's dress, but we love anything Riri wears.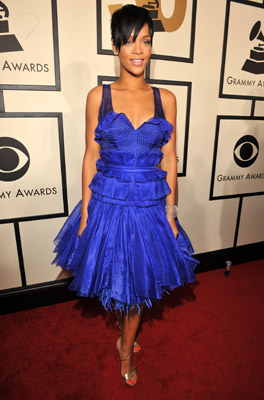 Best Sung/Rap Collaboration Grammy winner Rihanna.
Photo by Kevin Mazur for WireImage
We didn't approve of Carrie Underwood's choice to turn "Before He Cheats" into a Bring In 'Da Noise-inspired remix. We didn't appreciate her Pretty Woman boots with hot pants, either.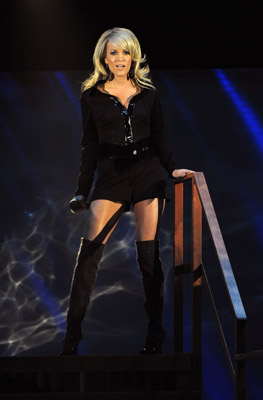 Carrie Underwood performs onstage at the Grammys.
Photo by Michael Caulfield for WireImage
Aaron: "Why is she singing such an old song? Ugh."
CrackBerry: "She looks like Jessica Simpson."
Aaron: "I know!"
CrackBerry: "I guess they're the same person now because they date the same guys."
Tina Turner took Beyonce to school when they performed "Proud Mary." Tina is a force of nature, but she's also very gracious. A true diva.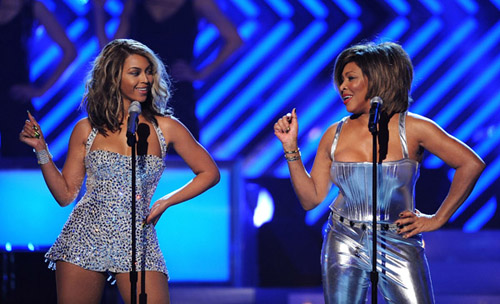 Beyonce and Tina Turner perform "Proud Mary."
Photo by Michael Caulfield for WireImage
Amy Winehouse won Best New Artist, Female Pop Vocal Performance, Song of the Year, Pop Vocal Album, and Record of the Year. The look on her face when they announced her name for Record of the Year was priceless.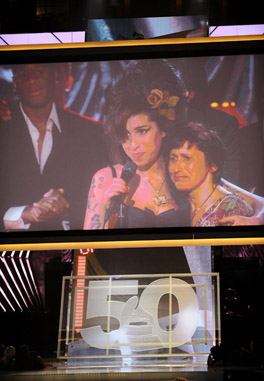 Amy Winehouse embraces her mum while accepting her Grammy via satellite:
"To my mom and dad, for my Blake, my Blake incarcerated, and for London!"
Photo by Michael Caulfield for WireImage
Wino forever!