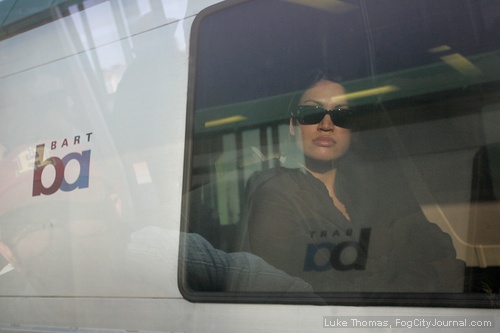 Elaine Santore
Photo by Luke Thomas
By Elaine Santore
April 14, 2008
This is why bloggers can't have nice things
Turns out Sen. Barack Obama's quote about Pennsylvanians being bitter people who cling to guns and religion was leaked by OffTheBus.net blogger Mayhill Fowler. Fowler reportedly snuck a voice recorder into the $1,000/head fundraiser, but didn't ID herself as a member of the press.
She's my hero of the week.
Speaking of bitter people…
Fog City Journal tried (and failed) to charm and pose our way into a different Obama fundraiser at the Getty Manse last weekend. Apparently British accents and fierce accessories can only get you so far in life.
I didn't recognize many people going in, except for Bonnie Raitt and District Attorney and campaign co-chair, Kamala Harris. Here's a very TMZ-esque YouTube clip of me telling Bonnie that I love her.
Bonnie for Barack!
Remember her?
Here's a photo of actress/Scientology goddess/Newsom ex Sofia Milos at some party in LA over the weekend. Milos dodged a bullet, and she knows it.

Sofia Milos
Photo via WireImage
I've got nothing bad to say about this bitch, not even her stripper heels. Said it before, and I'll say it again: praise Xenu!

CrackBerry is all about Xenu, and not afraid to blog about it.
Photo by The Hoff
CrackBerry Sightings
Kamala Harris having lunch with some dudes at the Whole Foods in Potrero Hill. Harris was probs planning her life as Attorney General in the Obama administration, even though that's not why she's supporting him or anything.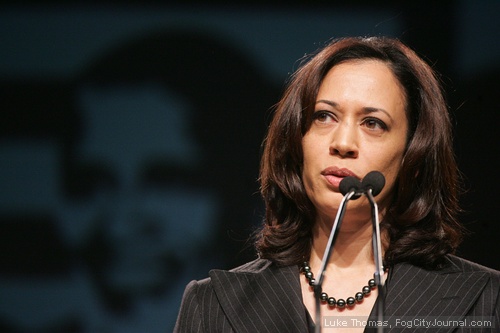 District Attorney Kamala Harris.
By proxy, from Big Brother because I obviously don't go to clubs with actual celebs: Santino Rice from Project Runway at some "dirty gay faghag night" at a club in LA.
"I kept wishing you were here to make fun of this trannywreck's red poncho," BB said in a text.
I can't believe my bro is using the word "trannywreck" and I'm not. Something is very wrong with the world.

Santino Rice
File photo via WireImage