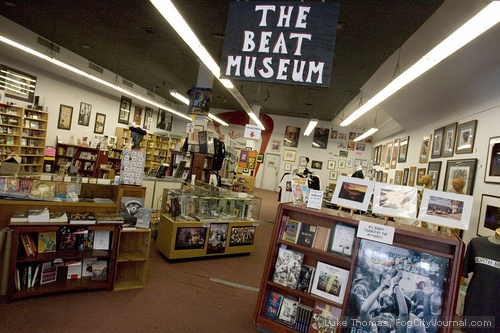 The Beat Museum, located at 540 Broadway, provides Beat Generation aficionados
a return to an era of bohemian hedonism and deeper spiritual understanding.
Photos by Luke Thomas
By John F. Hoctor
April 16, 2008
They were self-described mid-century Beat Generation "bums", clothed raggedly in thread-bare rags and known around North Beach as Desolation Angels, Subterraneans, or Dharma Bums, and were usually found On the Road with their minds fully jizzed by Miles Davis-era bop/booze/unapologetic bisexuality.
Jack Kerouac and his boys became miners for the fabled cities of Thomas Wolfe and F. Scott Fitzgerald, brimming with the holy youthful tenderness that they imagined lay just beneath the surface of their post-war America at peace. They were the wild-eyed jesters who became known as The Beat Generation.
They raved, wailed and Howled madly at the Bay Area City Lights Book Shop, eventually cradling a burgeoning youth culture phenom more by accident than by design, whose legacy today exists far beyond literary circles.
World-class hipsters followed their Beat pipers to San Francisco determined to emulate the original thrill-seeking manners of the Movement's grandfathers: Jack Kerouac, Allen Ginsberg, Neal Cassady, Lawrence Ferlinghetti, and William Burroughs. By the end of the 1950s, their names would emblazon the lips of pre-hippie hipsters worldwide.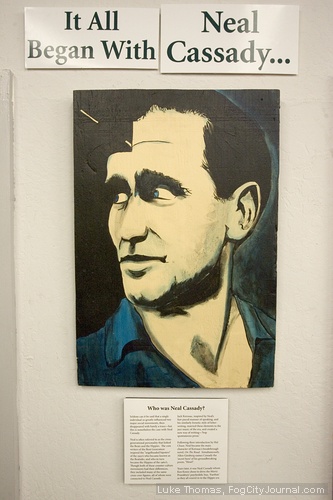 Light years ahead of blunt 60's hedonism, beat morality presaged Eric Burdon and the Animals "down in Monterrey," or as David Crosby reflected (with Dick Cavett, on TV a day after the festival) that the stranded masses were, "Like an encampment of the Macedonian army mixed with the biggest bunch of gypsies."
Completely steeped in working-class mill town red-brick Lowell, MA, Beat Daddy Kerouac – himself an apolitical reactionary to the changing times – proved to be a an alien satori who gave birth to the youth quake of social revolution.
Rising mythically amongst the mad, roaring, hidden cut-away beatific alleys of North Beach – eternally haunted by Beat spirits – enters a must-see paean to the movement's legacy: the newly opened The Beat Museum, at 540 Broadway, founded by Jerry Cimino, 54, curator and owner.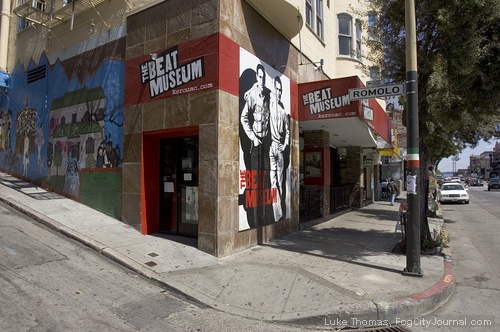 Cimino's business card inscription is a clear mission statement: "Experience the era that changed the world."
Cimino looks the part wrapped in Beat street clothes while directing a local camera crew through the second-floor museum exhibits that are pricelessly evocative of the literati we now call "the Beats," complete with the AP copy roll of On the Road, original markups of Ginsberg's Howl, clothes worn by Merry Prankster as well as and proto-rapper, poet, and former Denver jailhouse boy, Neal Cassady.
Cimino is passionate about all things Beat, and he lives Beat alternative literature everyday by making the Beat Museum his life's work to give each visitor an upbeat experience, be it with the constant Beat video documentaries that run inside the museum's Little Theatre, or explaining with vast authentic alt-lit insight the back stories behind a book, DVD, T-shirt or Beat memorabilia.
Some artifacts were directly donated gratis via former Beat-era survivors and players like John Cassady, 56, Neal's son, and Cimino's former partner in the first Beat Museum located in Cimino's hometown of Monterrey. Upon walking the two-floor course of the museum that is uniquely Beat in everyway, and located within a block of City Lights Books, even a casual listener feels that Cimino speaks directly from his heart.
"The Beats were about compassion. It's everywhere in their writings and readings, for each other, their friends, and the overwrought condition of the world," Cimino explained.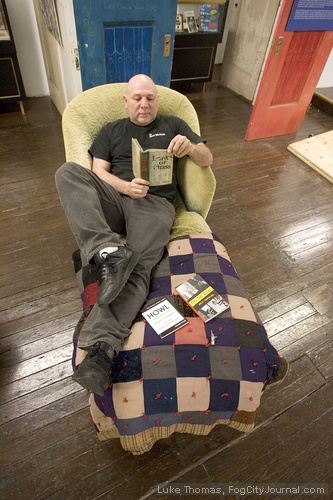 Beat Museum curator Jerry Cimino
"Remember, Ginsberg wrote, 'While I'm alive I do the work to ease the pain of the living,'" Cimino continued. "Claim your own power," he added with strong conviction, conjuring the "Do your own thing" cliche of SanFran's hippies that would grow from the seeds sewn in North Beach by the Beats.
Cimino continued on in a style not too different from the "Memory Babe" himself, Kerouac, about his gift of the Beat Museum to the North Beach community with Chet Baker cooing in the background and the cool Bay spring breeze wafting into the museum's front room.
"The hippies perhaps wanted to save the world," Cimino said. "The Beats – if they had a philosophy or motto – was, briefly stated, 'come enjoy life, come as you are to the party, as long as no one gets hurt.' Let's celebrate being alive, just a long as no hurts one another."
The oneness of spirit and the ecumenical view of the world projected through Kerouac's empathetic eyes is what captivated Cimino while he was a Catholic schoolboy in the early 60s in his native Baltimore. It was too late for Cimino when he came of age. The Beat bug had bitten him too hard to forget the forlorn images of "SF's brown-suited, muttering bums." So he started to collect Beat Movement memorabilia while moving west. A former IBM salesman, Cimino's hobby turned into a life addiction and passion.
One of Cimino's favorite Kerouacian throwaway lines, which is both brilliant and defiantly out of step with today's reactionary social climate is, "If Jesus was the son of God, then so am I!"
The Beat Generation was seeking authenticity of life itself. The Beats were always aware of spirituality whether the source was Buddha, Christ, Allah, or some other Beat-giving deities. Their God as one God, with compassion directing their journey to nirvana.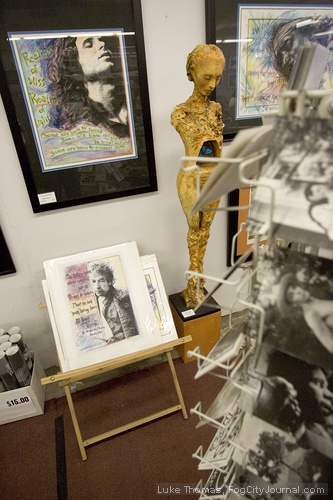 Cimino thinks that before they reached the end of the road that Messrs. Kerouac, Ginsberg, Burroughs and Cassady found themselves on, whether it was in the garbage strewn streets of Ginsberg's beloved East Village in seeking out "old Dean Moriarty" (Neal's father on the bum in Denver circa 1951), or high atop the Northern Cascades with Kerouac and Gary Snyder in Dharma Bums, they were ill-prepared for the overnights and nearly perishing at all points in between.
"The beat legacy will endure," Cimino stated with self-assured bravado. "That's one reason [the Beats] had to be memorialized somehow."
"Their legacy? Oh, probably, 'live your life according to your heart.'"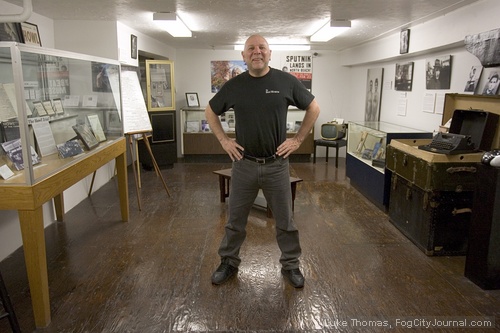 Cimino, like Kerouac, can find "Beatness" in seemingly just about anything, even staring into his middle-aged navel, like Ginsberg, while chanting "OHM" TM-style, as he once did trying to levitate the Pentagon during a 1967 Vietnam War protest.
Now deep within the YouTube decade, it's hard to reclaim the real life some of us once knew and depended on. Channeling the Beats for a day via Jerry Cimino made me think that perhaps today's blogs have the potential to run with the alt-baton handed them by the Beats of North Beach. After all, the Beats were never afraid to be themselves and neither should they be.