By Kat Anderson with Carl Hall, special to FogCityJournal.com
October 16, 2011
My political interests are no secret. I ran for supervisor in moderate District 2 last year. But some of my supporters may be surprised to discover that I got my start in SF politics through a progressive cause. When I was a Hastings law student in 1991, I was active in the SF anti-war movement, organizing and marching in solidarity with political groups and labor unions.
That experience taught me the importance of civic engagement and the need to exercise our First Amendment rights of free speech and peaceful assembly. I learned first-hand the importance of finding common ground with those of differing viewpoints.
It also took the blinders off.
No longer could I think that news events are reported accurately or even in an unbiased way by the mainstream media. Despite claims of objectivity, and the good intentions of many individual journalists, I came to see that the powers behind the curtain can find ways to ignore, obfuscate and/or marginalize those who would dare to question authority and shake up the status quo.
With that in mind, I took a journalist-turned-union business agent friend's suggestion that we meet up at the San Francisco Federal Reserve on Saturday and see what Occupy SF was up to for the day. When I got there at 2:30 p.m., the bullhorns were blasting. Thousands of people were pouring from the sidewalks and Muni stations to congregate on every corner near the month-old encampment.
My friend was passing out leaflets about a labor struggle at Verizon on the East Coast. People were making signs and practicing chants. Unlike most of those I saw at the core of the protest, I had no particular agenda, other than trying to make sense of this nascent movement.
What is the message? What do the protesters want to achieve?
I saw different answers everywhere I looked. There were placards like "Stop Corporate Greed," "Be a Part of the 99%" and "Don't Hate, Legislate." There were other less discreet messages, too, like "Unfuck the World," and "If you fuck us, we multiply." While a bit disorienting, there is a refreshing directness even in those slogans.
While this movement is growing, the core message still goes begging. I'm hoping that as this worldwide group therapy session builds, it will mature into a coherent call to action – something that will make sense to millions of ordinary people, something that can make a difference.
It could fizzle out and leave a lot of worked-up people more disillusioned than ever.
There are reasons to be optimistic. Despite all the claptrap about anarchists, the march Saturday began and ended peaceably. We were escorted without incident by SF's finest. We marched from the Federal Reserve towards the commercial district, sending out the siren call for bystanders to join us. The welcoming and nonthreatening tone made a difference: some of the bystanders joined in, sending cheers through the crowd.
Some want to marginalize and vilify participants in these demonstrations. I saw the truth: These protesters are not thugs or vandals or wasted student dissidents unable or unwilling to find a job.
I walked among 20-, 30- and 40-somethings, parents with babies, grandparents, teachers, people with bikes and skateboards, men in drag, and yes, the occasional "scary" looking anarchist-type. But mostly it was a mass of everyday citizens – people a lot like me.
There were thousands of us! Of course, the mainstream media did not report our numbers. The Sunday Chron buried the story on A11, putting a short local insert into a routine wire service roundup, and did not even attempt to estimate the crowd size. My estimate: at least 10,000 people marching, and it snowballed as we moved past Union Square and up Powell, through the cable car turnaround and back up Market toward the Civic Center.
The march ended in a rally on the steps of City Hall. The participants filled Civic Center Plaza. Some of the marches during the anti-war movement were much bigger. But this is only starting. Considering the stage we are in, this was a remarkable show of peaceful democracy in our streets. We were fun-loving but serious-minded – the kind of demonstration I was proud to be in.
One young man apologized to me for stumbling into my bike. Another young woman gave me a hug, just because. Even the cops seemed relaxed.
My conclusion from Saturday's events is that people are responding emotionally to a very draining time in our nation's history. The power brokers are bleeding the people economically. The gap between the "haves" and the "have-nots" is growing, with cancerous effects already appearing.
Fortunately, we do not suffer alone. Occupy Wall Street has gone global. We ARE coming together now — all over the world, fomenting solidarity. Next, we need a cohesive message, and we need it quick.
For now, your sisters and brothers are gathering together to make a case for putting people before profits and politics. Be glad for what they are doing and support them any way you can. And next time there's a march, join in!
Kat Anderson is a 23-year SF resident. She serves on several boards including City College's Foundation Auxiliary, the Marina Community Association, and Plan C.  She ran for Supervisor last year, throwing her support to Mark Farrell in the last weeks of the election.  Kat is an attorney.  Most importantly, she parents her 16- and 14-year olds.  She can be reached at katanderson63@me.com.
Photos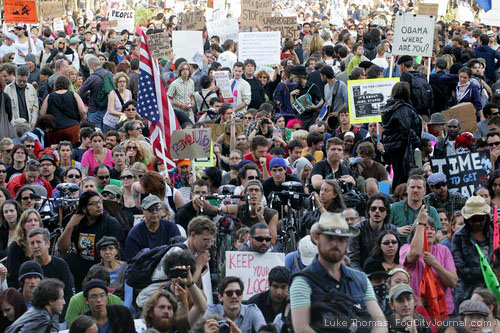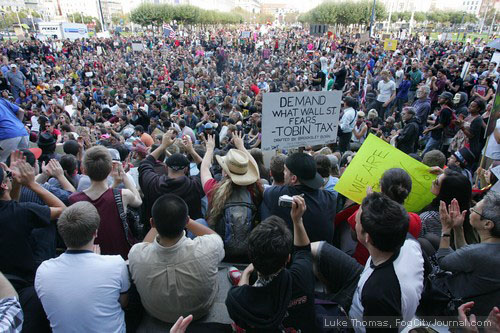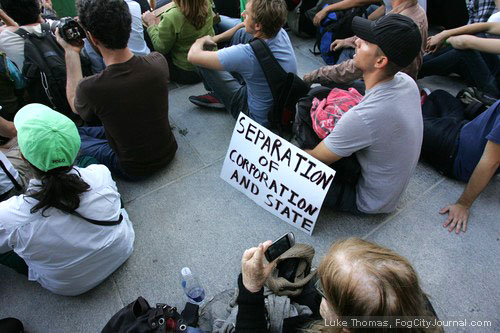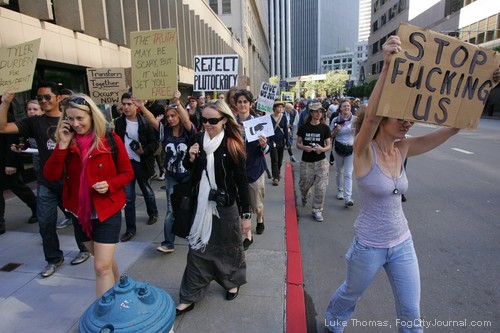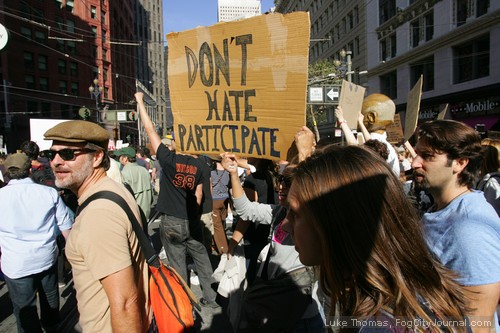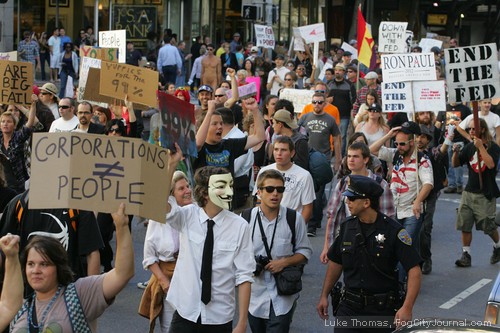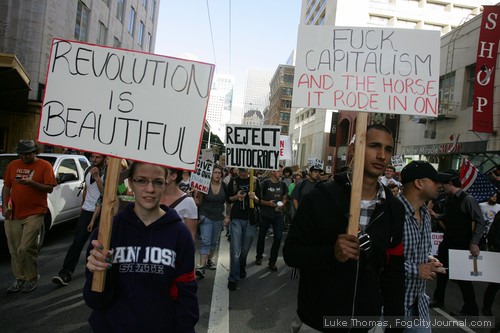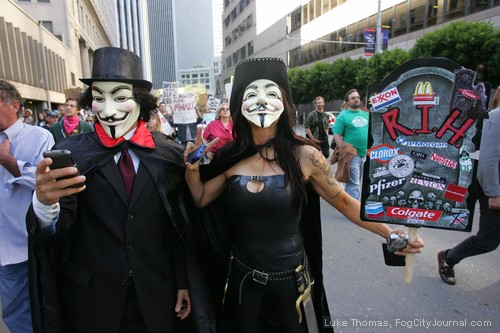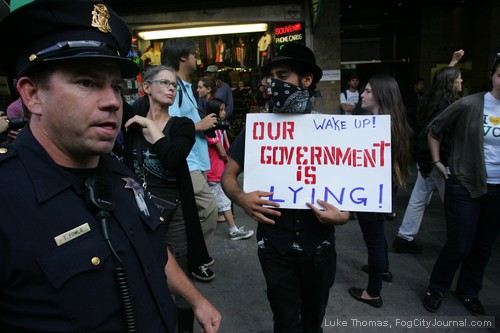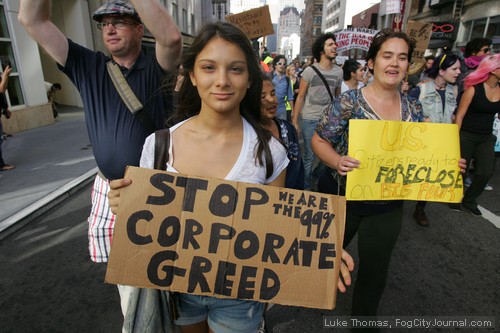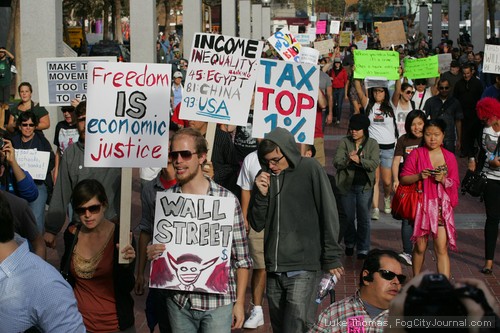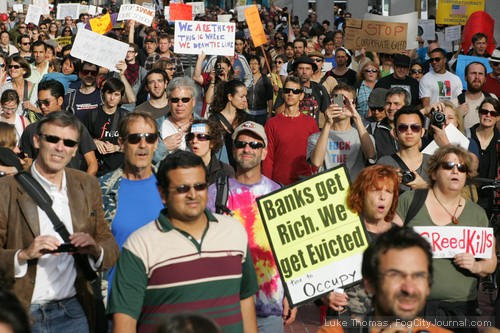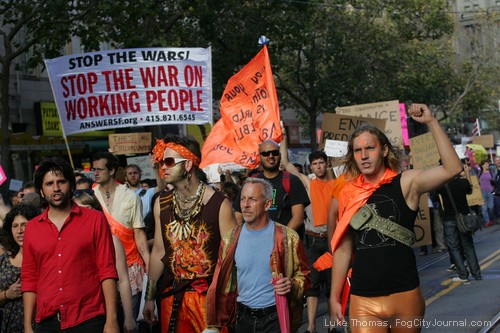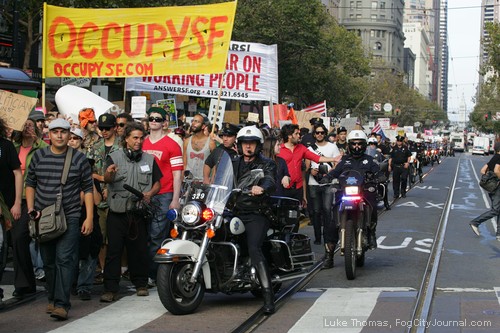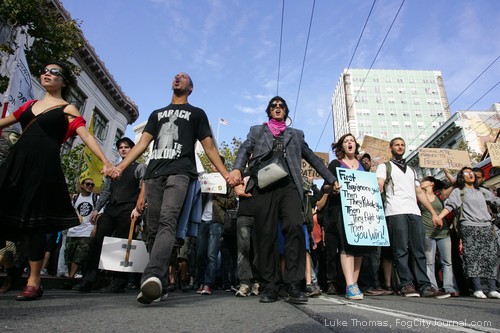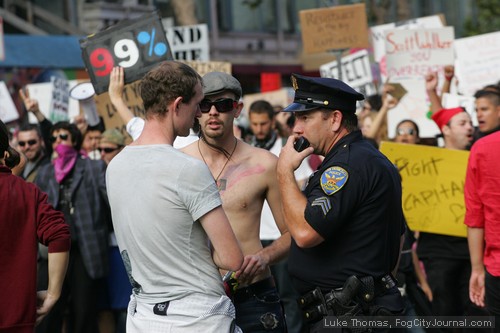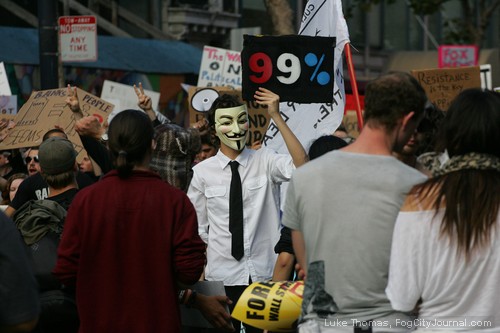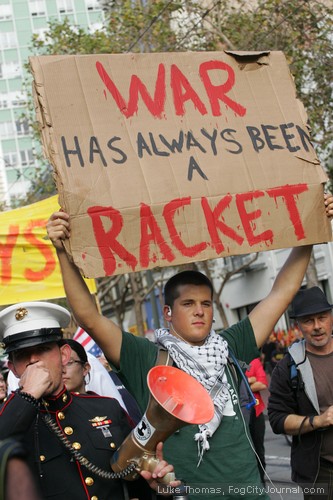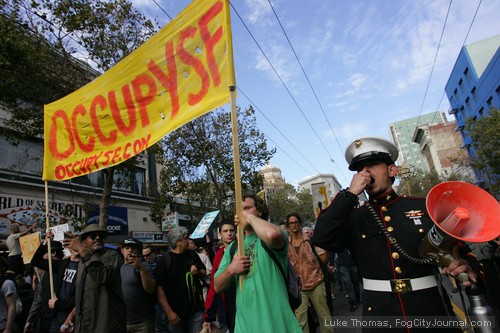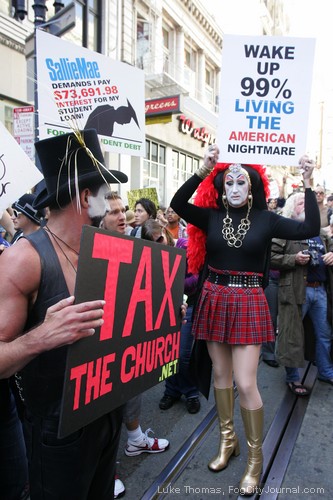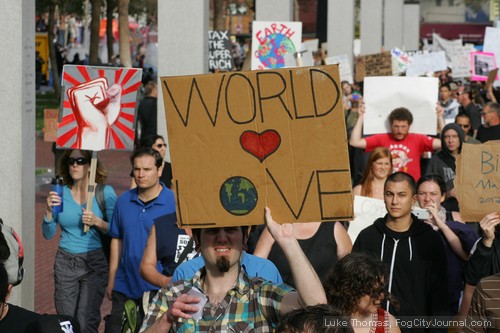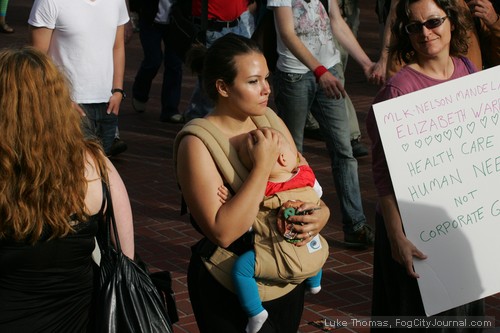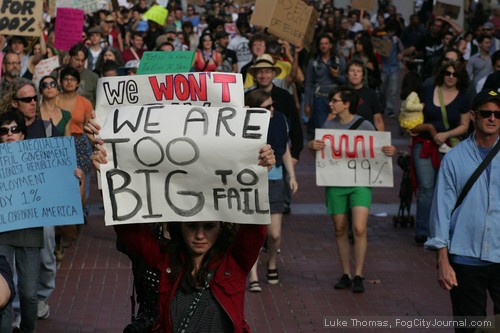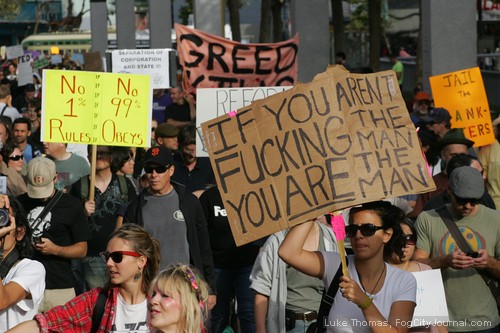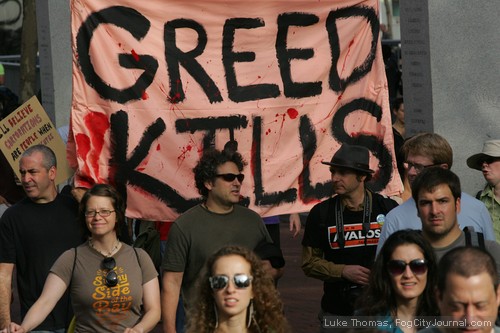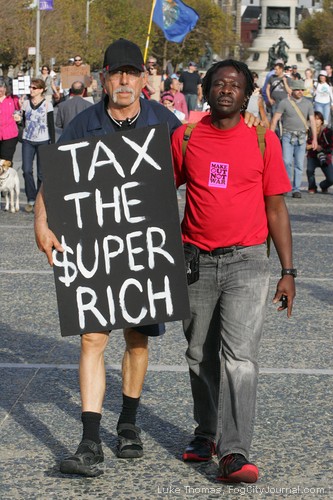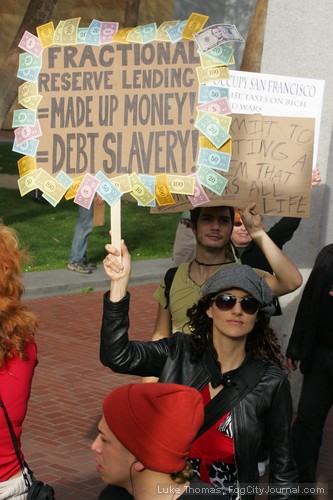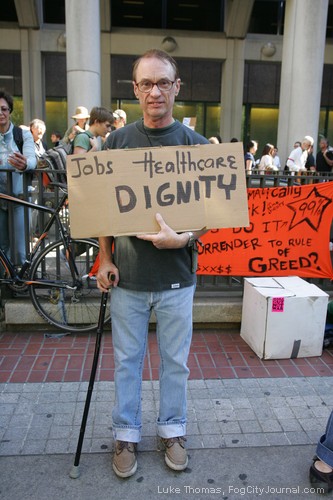 More photos here.