By Kat Anderson
January 9, 2012
Five former San Francisco mayors – Dianne Feinstein, Art Agnos, Frank Jordan, Willie Brown and Gavin Newsom – were guests of honor Sunday during the inaugural swearing in of Edwin M. Lee as the 43rd and first Asian-American elected mayor of San Francisco.
The well-choreographed proceedings were undertaken below the majestic City Hall rotunda, emceed by Lee's former boss, Willie Brown, and attended by a who's who list of luminaries and dignitaries.
"This is probably the first mayor who's had all the other living mayors attend," a jovial Brown quipped. "They didn't all show up at mine. But, I don't take it personally."
Ten of eleven supervisors were in attendance.  The city legislators were flanked on the left by Rep. Nancy Pelosi, Rep. Jackie Speier, Assemblymmember Tom Ammiano, Los Angeles Mayor Antonio Villaraigosa, Atlanta Mayor Kasim Reed, Oakland Mayor Jean Quan, California Attorney General Kamala Harris as well as and former Secretary of State, George Shultz. Also among the guests were State Senators Mark Leno and Leland Yee, Assemblymember Fiona Ma, City Attorney Dennis Herrera, District Attorney George Gascon, Public Defender Jeff Adachi, City Treasurer Jose Cisneros and State Insurance Commissioner Dave Jones.
The rotunda was decorated with drapery of sapphire blue and embroidered carpeting softened the marble floor. Flowers of purple, periwinkle and blue, decorated the grand staircase. The prelude was comprised of dance selections and musical performances from World Arts West's San Francisco Ethnic Dance Festival. The Girls and Boys Choruses sang the National Anthem and America the Beautiful. The invocation was provided by Rev. James DeLange of the Interfaith Council. The Colors were presented by the San Francisco Public Safety Color Guard.
Willie Brown pointed out that several of Mayor Lee's "high tech friends" were in attendance, including employees of Salesforce.com, Zynga.com and Twitter.com. Brown also teased that Mayor Lee's "Chinese Chamber of Commerce, Rose Pak, was there, sending [Brown] notes."
Brown introduced Senator Dianne Feinstein as "my candidate for reelection." Senator Feinstein welcomed Mayor Lee and his family, signaling the Mayor, his wife Anita, and his daughters, Tania and Brianna, to descend the grand stair case. Senator Feinstein then administered the oath of office.
Mayor Lee honored the inaugural performers and Charlotte Maillard Shultz and her team for doing a beautiful job on the ceremony. He thanked Senator Feinstein and Rep. Pelosi for all they have done for San Francisco, and acknowledged many of the electeds in attendance. He referred to his family as his "constant inspiration and strength."
Mayor Lee said that he stood before San Franciscans "as a different kind of public official – an outsider," one determined to bring a new level of civility to City Hall. He praised the Board of Supervisors for the hard work accomplished so far and said he didn't mind if people found "question time" to be boring, if it served to increase mutual respect. He enumerated successes so far: hiring a new police chief, putting San Franciscans back to work with Local Hire (legislation spearheaded by Supervisor John Avalos), securing the America's Cup, a balanced budget and tackling pension reform.
Mayor Lee talked about the upcoming new year in the Chinese Zodiac – the year of the Dragon. The dragon is the most powerful of the zodiac symbols. He declared that this will be the best time to take on challenges and embrace innovation. Because so much more pressure is being put on local governments to do more with less, San Franciscans must rely on each other. Lee talked about "all communities" being important to the success of SF's future, that our diverse perspectives help to make San Francisco the innovation capital of the world.
"San Francisco can innovate and invent the future by capitalizing on our greatest asset – our people," he said.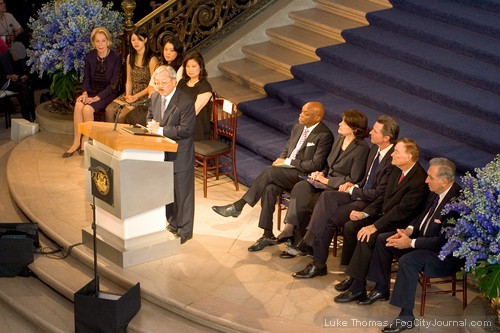 Lee talked about innovations empowering people to engage in great acts, such as the Arab Spring. He said we must embrace technology, even when it causes disruption. He pulled out his pocket device saying, "Last year, I didn't even have a twitter account. Today, I'm going to Tweet my first infographic." He then tweeted something and said, "That's a little disruption."
Lee pledged to introduce "hack culture." He will encourage hack-a-thons, introducing innovative minds to help SF find solutions to its most vexing problems.
He also committed to fight for projects like the Lennar Project in the Hunter's Point area, in the face of the dismantling of Redevelopment Agencies. He will work for "jobs" every day that he is mayor. And, work on tax reforms that will incentivize local business. He acknowledged that "small businesses are the backbone of our communities."
"We need to create a permanent source of revenue to fund the production of low-income and workforce housing in San Francisco," Lee said.
To that end, the Mayor's Office of Housing will convene a broad working group to create a ballot measure for a Permanent Housing Trust Fund. "San Francisco must remain a place where everyone can call it 'home,'" he said.
Mayor Lee declared that he had no time for politics over good government. "Our boss is the people of San Francisco and they elected us to get things done. San Francisco is the greatest city in the world and, because of our people and because we are the innovation capital of the world, I know that together we can get it done."
The program concluded with a Beach Blanket Babylon performance of the song "San Francisco."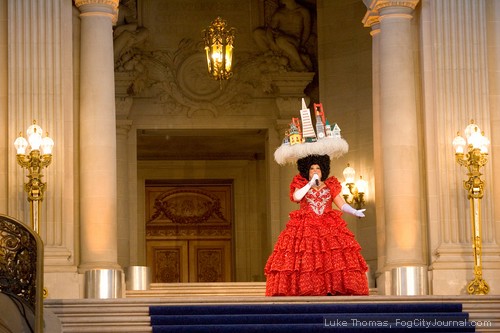 Food and drinks were offered in the light courts and were plentiful. Never did see the milk and cookies, though.