By Kat Anderson
January 31, 2012
Michael Goldstein, long-time San Francisco activist and Democratic County Central Committee vice-president, was celebrated by his San Francisco "family" at SEIU 1021 headquarters on Sunday afternoon.
Michael died of lymphoma on December 2, 2011. He was 58.
Eileen Hanson, mistress of ceremonies, painted a sensitive and authentic picture of a "complicated person," who could be "sweet," but also "really bitchy." According to Hanson, Michael loved gossip and the "blood sport that is San Francisco politics."
"Michael was compassionate and dedicated to the causes he believed in, and there were so many," Hanson said. She held up several campaign buttons that Michael used to wear, such as "Si, se puede," "Home Care Saves Lives," "Choice," and "It's 4:19. Got a minute?"
Hanson expressed her gratitude for the fact that Michael supported women candidates and their progressive causes. "He loved the women in his life and he taught things to gay men in that regard."
Michael's dear friend and closest caregiver, Debra Walker, recalled Michael's love of campaigning, and the personal strength he had and which he shared with her when there were difficult situations to face. "There were times that I didn't want to go to a meeting because it was going to be hard. He'd stand up with me," said Walker.
It was apparent to everyone who knew them that Debra and Michael were like "an old married couple," described Walker. This elicited a lot of chuckles from fellow mourners. Walker owned up, "We were!" "Also, he was the brother I never had," a tearful Walker said.
Walker thanked Michael's caregivers at SF General, Laguna Honda and UCSF, especially nurse Diane Jones. She noted that Michael had been on the lines with many of these workers, fighting for health care for all.
"I am honored and humbled that I could be with Michael," Walker said. Through her many experiences with him, she got to see the softer side of Michael. "I miss him so much. Thank you for being in his life."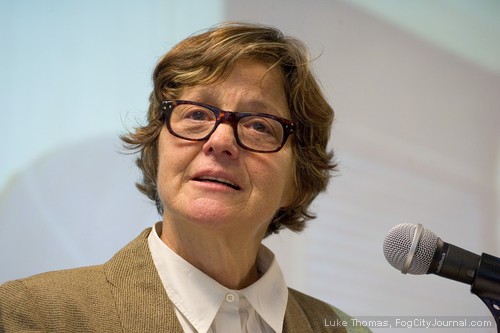 Always the master of levity, Assemblyman Tom Ammiano was able to bring laughter and tears at the same time. As he approached the podium, he said, "Debra was so thoughtful. She gave me this tissue. Then I saw the note written on it: be brief, bitch, it says!"
Ammiano talked about the "silly girlfriend club" – friends that gay men have that they can dish with and hang out with. He concluded that Michael was Walker's silly girlfriend.
"We're all channeling Michael right now," declared Ammiano. "I'm dying for a cigarette!"
Ammiano joined in the tributes that Michael was loyal and committed. "We can't take that for granted in politics," said Ammiano.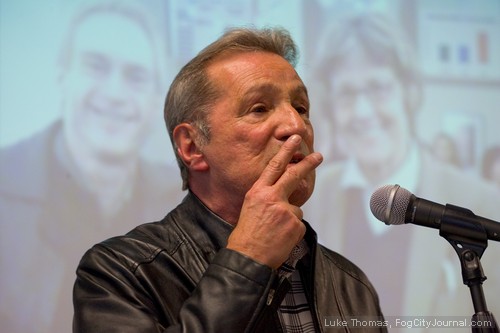 Gabriel Haaland noted that he was on retreat in the mountains as part of his studies to be a shaman when he got a text from Eileen Hanson that Michael's end was near. Haaland, a bit overwhelmed by the "flash mob" that was Michael's hospital room, nonetheless joined in "holding space" for him.
Haaland was quite taken by the fact that while Michael lobbied so hard for "Healthy San Francisco," he did not have health care insurance of his own.
Haaland read Kahlil Gibran's "On Death." He concluded, "Michael, I hope you're dancing."
Former State Senator Carole Migden, described Michael as "soft on his feet, warm in his heart, active in his brain, and oh so comfortable in his own skin."
"He suffered and he understood suffering. He made it his life's work to remedy any wrong he encountered. He championed for the underdogs…," Migden shared.
She noted that Michael was particularly passionate about medical marijuana dispensaries. "You knew where Michael stood….from about three feet away!"
"We worked a lot of street corners together over the years," Migden said, to a crescendo of chuckles from fellow mourners. "He'd rip off his shirt, with brochures in hand….always a crowd pleaser," she laughed.
Migden commented that Michael radiated "sunshine and positivity." She said that she didn't know anything about "his bitchy side," to which Ammiano quipped, "He was afraid!" Without missing a beat, Migden said, "With good reason!"
She concluded, "His passing for me marks an unfillable void."
Mike Casey from UNITE HERE! Local 2, noted that Michael was the "embodiment of solidarity," and that he was more than just a leader. Casey instructed that there are some folks that labor activists describe as "donut eaters." "Donut eaters" are "leaders" who open a meeting, say things about picketing, but stay after the meeting eating donuts instead of hitting the lines. Casey said that Michael was the opposite of that. He was a role model for the rank and file.
Supervisor of District 9, David Campos, began, "I have yet to figure out what to say when someone who is so loved goes away. Words…are simply inadequate." Campos hearkened to Michael's dedication to his friends: "Michael was about the people in his life and represented in this beautiful crowd."
"What struck me about Michael," said Campos, "is that because he was a gay man living with HIV, he understood what it was like to be on the 'outs;' not a part of the 'in' crowd. He was a trailblazer." Campos noted that Michael understood that he had a connection and an obligation because he was a gay man living with HIV, to fight for the rights of others.
"I would not be here today as an elected member of the Board of Supervisors were it not for Michael Goldstein," Campos shared. "He took the time to get to know me. He taught the lesson – we cannot assume to know people until we take the time to walk in their shoes. Michael was always there. Presente por siempre."
As Hanson introduced State Senator Mark Leno, she noted, "Michael Goldstein worked so hard to defeat you and he came to appreciate the leadership that you provided at the state level."
Leno recalled a chance encounter at the Safeway on Fillmore and Webster "Michael was handing out literature for his candidate, Harry Britt, and I was handing out literature for my candidate – me." Leno said that over the next two hours, a bond was struck between Michael and him. "We shared growing up gay in fly-over cities. We were both born on the cusp of Virgo and Libra. Because we both grew up with sisters, we had our own feminist perspectives of the world." Leno was touched by the curiosity and sensitivity that Michael showed about Leno's loss of his own brother to HIV/AIDS.
"At the end of those two hours," said Leno, "nothing was the same."
Leno added, "Michael was our collective social conscience and moral compass…we need to figure out how his legacy will continue to direct and inspire us."
Leno led the room in the Kaddish, a Jewish mourning ritual.
In closing, Hanson invited Michael's friends to view the many posters, pictures and collectibles that were Michael's, and to take items home that were meaningful to him, such as buttons, plastic animals and birds, and other tchotchkes. She thanked Michael's friend and roommate, Lorae Lauritch, for all she did for Michael. She noted that Michael's niece, Marissa, was in attendance and welcomed her to the "family."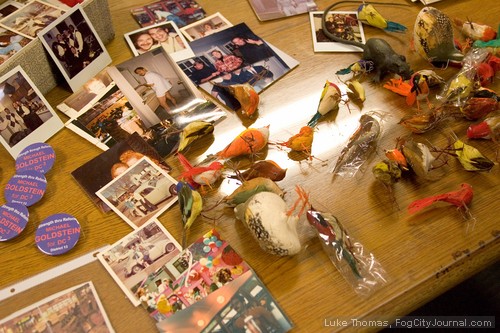 Patrick Monk read a poem by cancer patient, Gregory Corso, which included the stanza: "The death of the body is not the death of life….I have gotten out of death alive."
Following the memorial service, Esther Marks and her team served up some of Michael's favorite foods, including tacos and burritos. Friends enjoyed the food and wine while being treated to some of Michael's favorite music. FCJ found ourselves bobbing to the Knack's "My Sharona," which Chris Woodstra of Allmusic referred to as an "unforgettable hit." Just like Michael Goldstein.
More Photos