March 6, 2012
Union leaders and members joined forces with college students and higher education advocates on Monday during a rally held near the end of the daylong Occupy the Capitol protest.
The rally, an effort of solidarity for students and others protesting skyrocketing higher education costs, drew hundreds of people to the north steps of the Capitol as the workday drew to a close and protestors inside the rotunda prepared to be arrested.
Dozens of people were arrested during Monday's protest, the culmination of a multi-day march to draw attention to the soaring cost of attending California's public colleges and universities.
Lillian Taiz, president of the California Faculty Association – the union that includes some 23,000 California State University professors, lecturers, librarians, counselors and coaches – told the crowd at the rally that student fees in the CSU system alone have increased by more than 200 percent over the last 10 years.
Yet while students are paying more, they are getting less, she said. On many campuses, students can't even get on a waiting list for classes.
"Like Wall Street and the Bank of America, the 1% is treating all of us like one way ATMs, taking from us while refusing to pay their fair share," said Taiz, a history professor at CSU Los Angeles. "Enough really is enough. Today we're sending a message that we're not going to stand idly and watch the greatest system of public higher education in the world go down. We will not allow the 1% to steal our future."
Monday's rally saw an outpouring of support for the Millionaires Tax of 2012, the statewide ballot measure that would mandate that Californians who earn $1 million or more to pay an extra 3 percent in state income taxes, while those earning $2 million or more would pay an extra 5 percent.
Funds generated, estimated between $6 billion and $9.5 billion, would be used to rehire laid-off teachers, roll back college tuition hikes, restore money to support programs and services helping children, seniors and disabled people, rehire laid-off emergency responders and create jobs through repairing roads and bridges, according to the tax initiative's website.
"We need to stop the cuts, stop the insane way of doing business," said Robert Dawa, staff at UC Davis and political director for CUE-Teamsters Local 2010. "Just doing cuts will not solve our problems. We need to pass this Millionaires Tax. We need to re-fund California. We need to invest in our future."
Petra Duke Maxey knows all too well the rising cost of higher education and how it can impact students' lives.
Duke Maxey is $50,000 in debt from student loans she took out to attend a university part-time. She had to stop going and find a job in an effort to repay her loans. After she had her son, she wanted to return to school, but had to opt for community college. It was all she could afford.
"When did families and the education of our children become the last priority to our lawmakers?" Duke Maxey asked. "My fellow students can't afford this. We cannot afford it. California cannot afford it. We have sacrificed and paid enough. Take the money from somewhere else, but we will not tolerate the state of California taking more money from us."
Kathryn Lybarger, a gardener at UC Berkeley, said staffers there care deeply about the students and the state of higher education. And not just because it affects their jobs, said Lybarger, president of AFSCME Local 3299. It also can impact their own families.
"My son thinks he's going to Cal – I have a job to make sure that happens," she said.
More Photos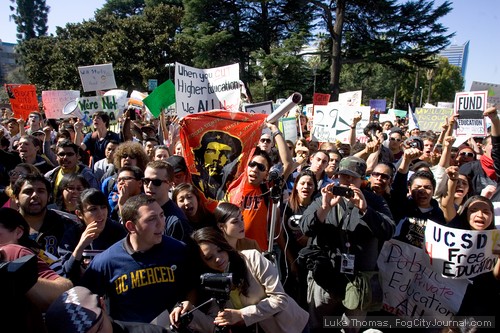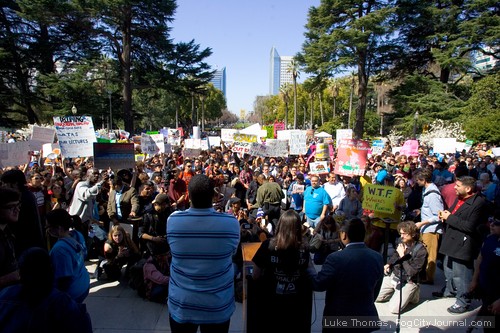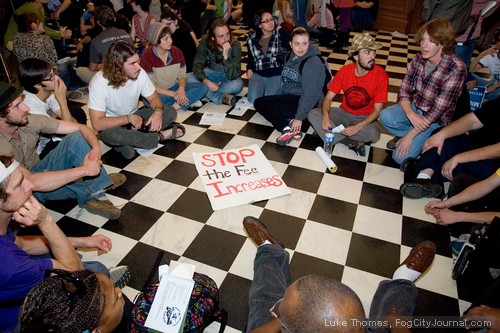 Niesha Lofing, president of the Pacific Media Workers Guild, is managing editor of the Sacramento Valley Union Labor Bulletin, a nonprofit monthly publication of the Sacramento Central Labor Council and Sacramento-Sierra's Building & Construction Trades Council.