By Luke Thomas and Kat Anderson
March 21, 2012
Barely two months into his first term of elected office and facing an early test of his leadership, San Francisco Mayor Ed Lee suspended Sheriff Ross Mirkarimi Tuesday for official misconduct following Mirkarimi's misdemeanor conviction of a false imprisonment charge stemming from an alleged domestic violence incident involving his wife, Eliana Lopez, on New Year's Eve.
Lee, who had asked Mirkarimi to step down Monday or face suspension, announced his decision to suspend the Sheriff following Mirkarimi's announcement that he would not resign. Mirkarimi now faces an Ethics Commission probe into whether his conviction rises to the level of official misconduct as defined in the city Charter, a finding that will be presented to the Board of Supervisors for a vote. Nine of eleven supervisors must vote in the affirmative to remove an elected public official from office.
"I have carefully reviewed the city Charter, conducted my own review of the evidence, and consulted with legal counsel," Lee said to a scrum of reporters convened in Room 200, reading from a prepared statement. "I also met with Sheriff Mirkarimi yesterday to give him the opportunity to resign. I informed him of my intent to fulfill my duties, pursuant to the charter, and move to suspend and remove him from the office for official misconduct."
"As public officials, our first responsibility must always be to fulfill the obligations entrusted to us by the people of San Francisco and we must always be held to the highest legal and ethical standards," Lee added. "Sheriff Mirkarimi's actions and confession of guilt clearly fall below these standards of decency and good faith, rightly required of all public officials."
Lee named former Chief Deputy Sheriff Vicki Hennessy as interim Sheriff.  Hennessy has been retired since 2011.
"I know I stand before you today amidst difficult times for this city, and especially for the Sheriff's department," Hennessey said. "I am very grateful for the confidence of Mayor Lee asking me to return to public service and lead the department."
As required by the Charter, Lee directed City Attorney Dennis Herrera to prepare documents officially charging Mirkarimi with official misconduct. Those documents will be delivered to Mirkarimi today. Mirkarimi, who racked up $125 thousand in legal bills while fighting three domestic violence charges in criminal court, will be suspended without pay.
Mirkarimi is in the process of assembling a legal team for the upcoming Ethics Commission hearing, Fog City Journal can confirm.
"I do not believe that the conduct that I have taken responsibility for constitutes official misconduct within the meaning of the law, and I look forward to making my case to the Ethics Commission and the Board of Supervisors," a resolute Mirkarimi said, adding, "Because, if you keep in mind, I still have never told my story."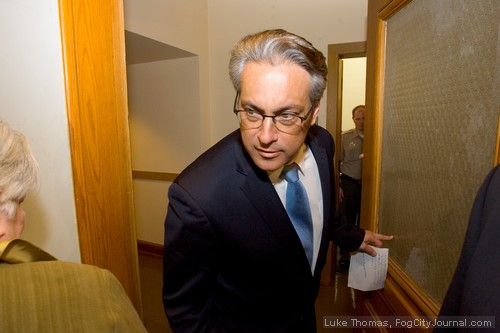 That story was expected to be told by Lopez at a noon press conference Monday. However, only Lopez' attorney, Paula Canny, showed up.
Canny said an op-ed article published by the San Francisco Chronicle, penned by the husband of Ivory Madison, Abraham Mertens, "Was a little disconcerting," and led Lopez to conclude that she should not make a public statement. Madison, who documented on video a bruise on Lopez' right arm on January 1, reported the New Year's Eve incident to police January 4 without Lopez' permission. The video was made at Madison's urging, to be used, Madison said, in case Mirkarimi "got nasty in the divorce proceedings," according to court documents.
Court documents paint a picture of a couple experiencing marriage difficulties with concerns over a possible divorce and child custody battle.
"The last time I spoke to Eliana was when she called me on Jan. 4. I recognized what I thought was Ross' voice in the background as Eliana pressured me to destroy evidence and lie to the police," Mertens wrote in a Letter to Editor which the Chronicle turned into an op-ed. "Then she repeatedly called Ivory, demanding that Ivory destroy the video, e-mail and texts from Eliana about the incident."
In the article, Mertens and Madison, "Have each accused Miss Lopez of wrongdoing, of illegal conduct," Canny said. "Miss Lopez denies the accusations contained therein."
Canny said she received a cease and desist letter from Mertens' attorney, "Asking for a retraction of any arguments that I made in court asserting that the communications between Ms. Lopez and Ms. Madison were privileged, under attorney-client privilege. I'm not exactly sure what, but the point being is, Ms. Lopez is now being threatened with a lawsuit as I understand it," Canny said. "Our attorneys have advised us that before any statements can be made, [they] need to vet these new developments."
Mirkarimi was quick to dismiss Mertens' claims as a "complete fabrication."
Canny said Lopez was always willing to testify in the trial if the prosecution would grant Lopez immunity. District Attorney George Gascón, when asked in February about the immunity request, said he was "confused" by the request, stating the prosecution had never intended to charge Lopez with a crime.
Asked if there was anything that Ms. Lopez could have spoken to that could be helpful to Mirkarimi, Canny told Fog City, "I believe so, but if they have her speak in a protected forum – because this isn't a protective forum – then we'll see about that, but I'm always going to continue to assert that communications with Madison were privileged; that my client reasonably believed they were privileged, and the video tape was made in the course of confidential privileged communication."
Madison holds a law degree but is not licensed to practice law.
"To say again that Eliana Lopez loves her husband and loves her child should go without saying," Canny added. "Eliana Lopez is not afraid of Ross. Eliana Lopez supports Ross. Eliana Lopez supported the modification of the order that Ross could have visitation with Theo; that Ross is a good father; that Ross is a good man; that Ross is a good person.
"Has any of this helped Eliana Lopez? Has any of this helped Theo? Ms. Lopez is sure that what has gone on, is not about her. This is not about helping her. My client does not feel helped in anyway by anyone, but Ross, who tried to put this behind them."
Meanwhile, outgoing San Francisco Democratic Party Chair, Aaron Peskin, called on Mirkarimi to resign.
"For the residents of San Francisco, his ability to administer, manage and oversee the Sheriff's Department has been compromised and his adherence to duty and the law has been undeniably marred," Peskin wrote in a statement released yesterday.
Domestic Violence Consortium Executive Director Beverly Upton, who led two press conferences calling on Mirkarimi to resign, stated she was satisfied with the Mayor's handling of the situation and supported the selection of Hennessy as interim sheriff.