By Eric Louie
April 2, 2012
It was no joke – OccupySF successfully occupied a vacant building yesterday on April Fools' Day immediately transforming the two-story, former mental health clinic, into an organizational community center and homeless shelter.
As San Francisco police looked on, as many as two-hundred occupiers entered the vacant building – located at 888 Turk Street – owned by the Archdiocese of San Francisco.
Dozens remained into the night.
The operation owed its success to keeping the location secret until marchers, accompanied by a police escort, arrived at the location.
The occupiers quickly began settling in, establishing rules for decision-making, setting up a kitchen, hanging signs and barricading doors. Several banners that read "Fight Back," "Give us this day our daily bread, forgive our trespasses," "Organize or Starve," "Power to the People," "Free Michael Chapin," and "Buildings for people, not profit," were draped from the roof.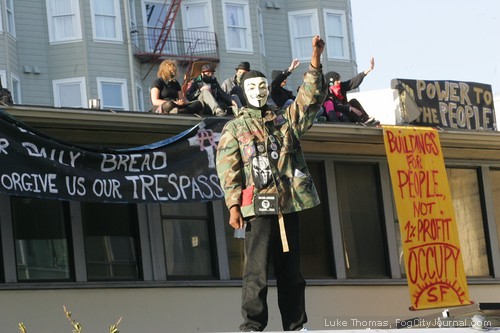 "The carpeting's alright, maybe some shampoo," Tino, who did not want to give his last name, said in a room labeled "Chart Room." Besides a mix of electrical boxes, on the wall hung a calendar from 1998.
Organizers said the building has been vacant for five years after the San Francisco Board of Supervisors cut funding. They also pointed to the fact that buildings are vacant while others sleep on the streets.
The operation was held in solidarity with the Western Regional Advocacy Project's "We Won't Get Fooled Again" national day of action, which included events in more than a dozen other cities focusing on the criminalization of the poor and homeless.
Demonstrators first gathered at Union Square before heading to the building. Aztec dance group, Mixcoatl Anahuac, opened the festivities, followed by music performed by the Brass Liberation Orchestra.
Speakers talked about criminalization of homelessness, such as citations or arrests on charges such as loitering.
"Homelessness is the only crime where they punish the victim," said John Kraintz, president of SafeGround Sacramento. "Does that sound like justice?"
As the marchers traversed through the Tenderloin, the cacophony drew the attention from intrigued bar and restaurant patrons as well as apartment dwellers.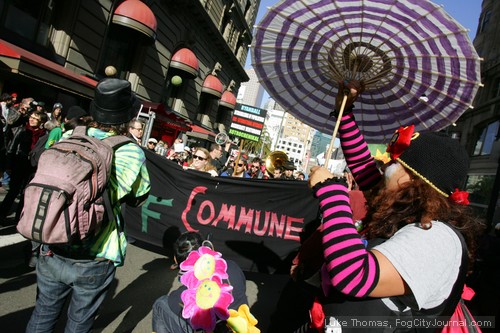 Sunday traffic was snarled along Geary Street and Van Ness Ave during the march with Occupy Oakland's transformed AC Transit bus playing music through a sound system. The march passed the Cathedral Hill Hotel, which was taken over briefly at the end of the daylong January 20 Occupy Wall Street West event centered in the Financial District.
Unlike the hotel takeover, Sunday's occupation was not met with a phalanx of riot-clad police officers.
Pamphlets at a greeting desk were passed out as a welcome to the "San Francisco Commune." It included a map laying out where the kitchen, bathrooms, sleeping areas and meeting rooms were set up. There was electricity, but initially there was no running water. Toilets were cleared out with buckets of water, and after a few hours the water was turned on.
There was a smoking lounge, which at one point set off the fire alarm. Messages written on the walls using water-based paint ranged from "Social War!" to "Keep on dancing until the world ends!" which was attributed to Britney Spears.
Police and mainstream media were reporting that the church would let occupiers stay the night before making a decision on further action. While that relieved some worries about imminent police raids, others were vigilant.
"I don't know how true it is," said Jesse Smith, a 24-year-old Oakland resident who was keeping watch at the front door. He said that could be just a ruse. "Anything could happen."
"At this point the police are monitoring the situation," said SFPD spokesperson Sgt. Michael Andraychak. "We're in communication with the property agent and property manager to see what determination they want to make as to what will happen."  A formal complaint, legally required for extrication action, has not been lodged "at this time," Andraychak confirmed.
Luke Thomas contributed to this report.
Eric Louie is covering the Occupy movements for The Newspaper Guild-Communication Workers of America Local 39521.
More Photos