By Kat Anderson
April 8, 2012
Even while basking in the adulation of her hometown union allies, House Democratic leader Nancy Pelosi sounds anything but ready to lay down arms in what she considers a growing right-wing assault on labor and the middle class.
Pelosi was honored at a political dinner the other night by the San Francisco Labor Council for her 25 years of service in Congress. In her speech at the Hilton Hotel, she warned that Republicans fronting for a secretive monied elite intend to destroy collective bargaining.
"Then they have it all," Pelosi said.
Republicans led by presumptive presidential nominee Mitt Romney are accusing the Democrats of waging a class war, destroying the economy's job-creating potential by strangling corporations and small business in burdensome regulation and taxes.
Pelosi would have none of it in her feisty talk to the San Francisco labor crowd.
She offered no surprises following the accolades and chicken dinner served during the Labor Council's annual COPE benefit. She called for increased transparency in campaign finance, the salvation of Medicare, and more support for middle-class and working families.
She insisted that Democratic leaders crave civility in Washington while "right-wingers" are poisoning the atmosphere with misrepresentations.
Confusing the electorate with Republican double-speak and demonization is a deliberate strategy, she said, which causes people to grow frustrated and lose interest in politics. The idea is to create an atmosphere so toxic that ordinary voters decide it's not worth paying attention.
Such a climate only favors the super-wealthy and special interests, which Pelosi characterized as the "point zero one percent (who) want it all for themselves."
She said this November's election is "the most important election of our time." And though she admitted that's a phrase heard in practically every election since the Eisenhower administration, she insisted it's true — because the stakes keep rising every campaign cycle.
Pelosi took special aim at the U.S. Supreme Court for laying groundwork for the battle now being waged.
In the 2000 general election, the justices voted along party nomination lines (5-4) to deliver the presidential election to George W. Bush over Al Gore. Then, in 2010, the Supreme Court issued the notorious Citizens United v. Federal Election Commission decision. That ruling, in the words of President Obama, "reversed a century of law to open the floodgates for special interests — including foreign corporations — to spend without limit in our elections."
Now, Pelosi expressed concern that a partisan high court will strike down some or all provisions of the Patient Protection and Affordable Care Act, signed into law last year and currently being challenged by several states and organizations as unconstitutional. She portrayed the court not as an independent judicial branch but a partner in a political game led by corporate interests.
"What they are doing, aided and abetted by the Supreme Court — which my brother refers to as the 'last precinct' — is suffocating identified money and putting up obstacles to participation," Pelosi warned.
Pelosi harkened back to the days when elected officials occupied places along a political spectrum where the focus was to find common ground. "Now, we're on two different roads," she said.
She offered an ABC summary of her own favored path, suggesting goals that should rise above the partisan divide. "A," she said, was for "American made – we don't want to be protectionist; just self-reliant; "B" is to "build the infrastructure" of America; "C" is to strengthen "community." She added one more, a "D" for "disclose," drawing a big round of applause by suggesting that sponsors of political ads be required to "stand by their ads, and at the end of the commercial let the public know the source."
The evening's other speakers — local and state labor leaders — focused on upcoming battles including a deceptively packaged assault on union political rights on the California November ballot and an array of San Francisco collective bargaining campaigns.
Twenty-eight of 31 contracts between public sector unions and San Francisco City Hall are coming up for renegotiation. In the private sector, janitors, parking attendants, waste management drivers and building trades unions, to name a few, are enduring regressive bargaining. Meanwhile, concessionary demands from Verizon are still being faced by 40,000 CWA and IBEW workers, and talks with AT&T appear headed toward the brink.
Olga Miranda, head of the janitors union SEIU Local 87, said that over 100,000 workers are negotiating contracts with businesses in the Bay Area, and they are being squeezed for pay concessions that "are robbing our families with our eyes open." She got the labor crowd worked up as the Hilton waiters, represented by HERE Local 2, moved among the tables.
"It does not matter if you wear a suit," she said. "Show the people what solidarity looks like."
Art Pulaski, chief officer of the California Labor Federation, provided a stark warning of a state measure planned for the California November ballot that he called "corporate deception."
"Of anything we have ever faced before that will change the political landscape and turn California into a red state is this measure," Pulaski said.
Pulaski said the measure, under the guise of "campaign finance reform," prohibits unions from supporting local or state candidates for public office. However, in the fine print of the proposed legislation there is no limit to the amount of money that a corporation can contribute to an independent expenditure committee or super PAC.
Combine this measure with the effects of Citizens United, and there exists what Pulaski calls a "two-shot hit" on unions with potentially devastating effects.
Elections would become "corporate coronations," declared Pulaski, and he urged his union brethren to organize and fight back. "Let's kick their ass!" he implored.
Carl T. Hall and Luke Thomas contributed to this report.
More Photos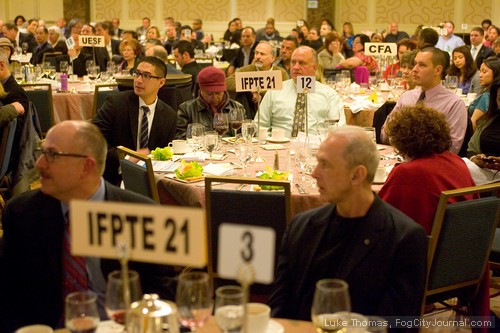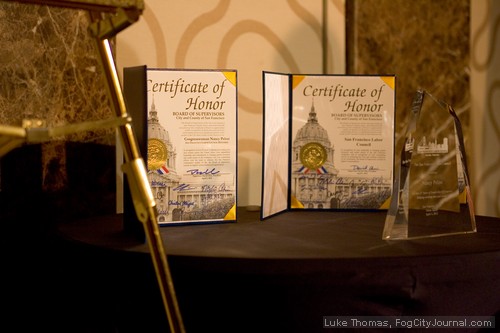 These photos and more are available for printing at SmugMug.com.