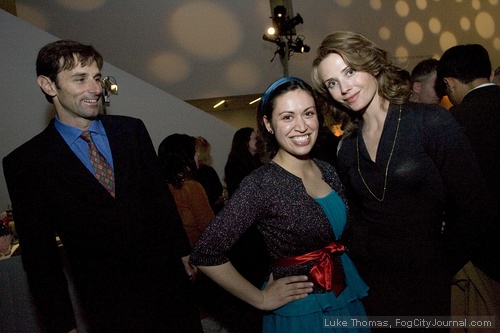 Paul Pelosi Jr., Elaine Santore, and Jennifer Siebel attended the unveiling
of Francesco's rock at the de Young Museum, April 24.
Photos by Luke Thomas
By Elaine Santore
April 28, 2008
The Heart of San Francisco presents the rock of her faith
Every time Fog City Journal ventures to District 1, we step into some sort of parallel universe. Thursday evening was no exception.
Angela Alioto invited FCJ to the de Young Museum for the unveiling of Francesco's Rock, a small piece of rock used by St. Francis to rebuild the Porziuncola in Assisi, circa 1208, that will be used as a symbolic corner stone for Alioto's replica chapel project in North Beach.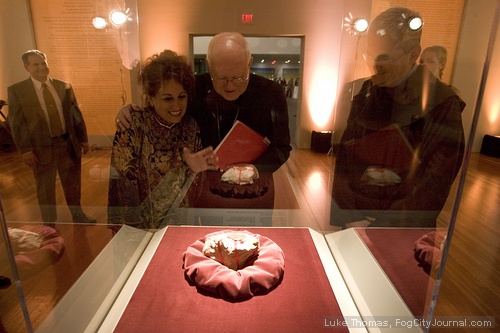 Angela Alioto gazes at the 800-year-old Francesco's Rock
with San Francisco Archbishop George H. Niederauer.
The rock will be moved to the completed National Shrine of St. Francis at the corner of Columbus Avenue and Vallejo Street.
What about Joe?
Police Commissioner Joe Alioto Veronese emceed the event. Veronese introduced a group of local schoolchildren, who each took turns speaking to the audience in their native language including Angela's granddaughter, Chiara Mia Veronese Lind.

Chiara Mia Veronese Lind represents Italy.
Joe Veronese helping out one of the children, Jose, who got a bad case of stage fright.
I hadn't seen Veronese since he dropped out of the District 3 State Senate race.
"You haven't heard the last of me," he told Fog City Journal.
"Are you running for president?" I asked. Or maybe vice president?
CrackBerry: On holy ground and acting wholly ridiculous
Much to my surprise, future First Lady Jennifer Siebel actually agreed to have her photo taken with me, proving that she's a good sport and doesn't ignore FCJ like her fiance Mayor Gavin Newsom.
Remember, Gavin: Luke's camera loves you because you're pretty. And you love Luke's camera because it makes you pretty. You're totally wasting the pretty.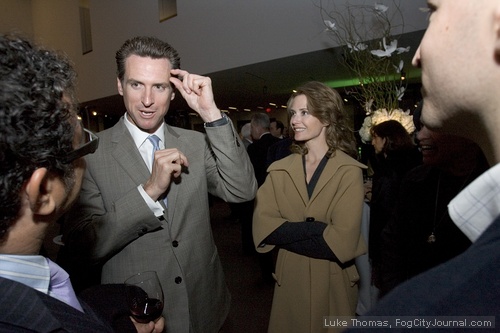 Mayor Gavin Newsom (left, with fiancee Jennifer Siebel) talks about needing Botox.
Where did Newsom get that idea?
Siebel said that she liked my outfit (I didn't detect any sarcasm). She told FCJ she'd just come back from the set, and that the brownish haircolor she was sporting wasn't permanent.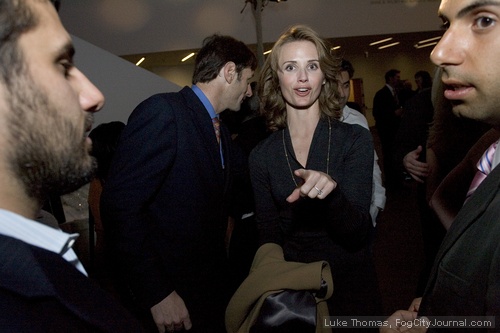 "I see you guys!"
Newsom took some time to chat with a young fan and future voter, a girl named Mia who was representing Austria during the presentation.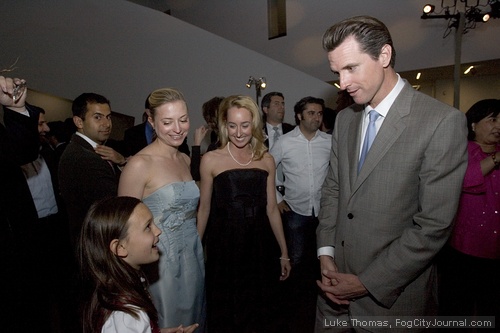 "Do you go to Austria often? Are you an outdoors person?"
"Class of '97"
My secular and religious worlds truly collided when I spotted Monsignor Harry Schlitt. I knew him when he was just Father Harry, my pastor while I was a student at St. Gabriel Elementary. At least one of us is upwardly mobile.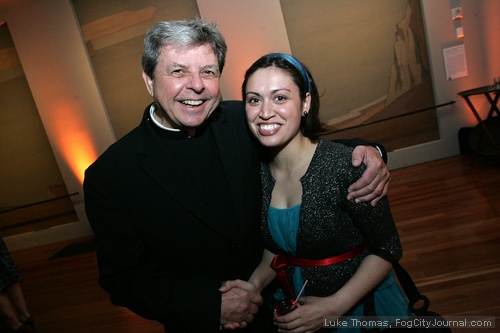 Monsignor Harry Schlitt and Elaine Santore.
Maybe someday I'll go back to my alma mater and give a Career Day speech called "How to become a notorious nobody" or "How to write about politics without really writing about politics." That would be epic.
The Scientologists are onto us
The President of the Church of Scientology of San Francisco, Jeffrey Quiros, wanted his photo taken with me. Quiros recognized me because he found that photo BFF Aaron took of me posing in front of the church. Awkward.

Elaine Santore and San Francisco Church of Scientology President Jeffrey Quiros.
He suggested that I visit the church sometime, and write a story about "Anonymous." But I think I'll stick to making fun of politicians.
D3 candidate alert
During the event FCJ was introduced to District 3 Supervisor candidate, Lynn Jefferson. (I would give you a link to her website, but it's "under construction.")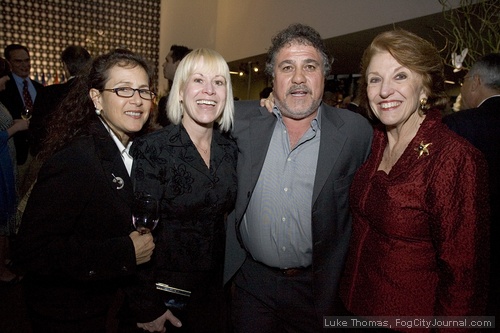 Maria Zocca, D3 Supervisor candidate Lynn Jefferson, Giovanni Zocca,
and North Beach Chamber of Commerce Executive Director Marsha Garland.
North Beach Chamber of Commerce Executive Director Marsha Garland told Luke that Jefferson is one of the top 3 contenders. I'm guessing the other two contenders Garland's talking about are David Chiu and h. Brown.
Dede Wilsey + Angela Alioto = too many divas in one room
I find Dede Wilsey fascinating and horrifying all at once. That's all I'm going to say.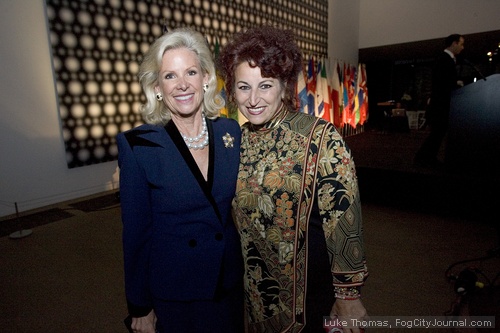 Dede Wilsey and Angela Alioto.