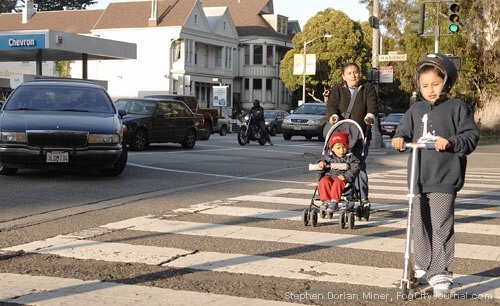 Judge Peter Busch has given preliminary approval to implement
traffic safety improvements at the intersection of Fell Street and Masonic Avenue.
Photo by Stephen Dorian Miner
By Stephen Dorian Miner
May 1, 2008
The City has received preliminary approval to implement changes at the corner of Fell Street and Masonic Avenue in an effort to make the intersection safe for bicyclists and pedestrians.
Judge Peter Busch signed off on a City request Tuesday for lane and traffic light changes at the intersection near Golden Gate Park, but stopped short of approving a request for safety improvements at the intersection of Market Street and Octavia Boulevard.
While Busch wants to see the determinations of a pending environmental impact review, bike activists have been successful in getting a bill before the Senate Transportation Committee to address the dangerous intersection.
The San Francisco Bike Coalition is working to convince the State to pass AB-23, a measure calling for installation of camera enforcement in hopes of preventing illegal right turns drivers make traveling east on Market Street onto the Octavia on-ramp to the 101 and 80 freeways.
Both intersections have encountered numerous accidents including 15 reported collisions involving cars and pedestrians, and three involving vehicles and bicycles over the last five years at Fell and Masonic.
The number of collisions at the Market and Octavia intersection is unknown, but a bicyclist was seriously injured last year when a truck made an illegal turn and struck a female bicyclist.
Despite Busch' green-light for safety improvements at the Fell/Masonic intersection, interested parties will have an opportunity to weigh in before the proposed modifications are approved.