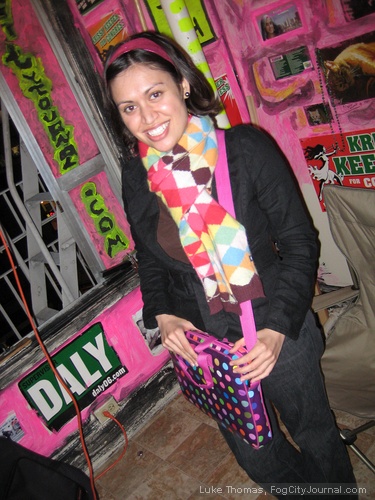 Elaine Santore
Photo by Luke Thomas
By Elaine Santore
May 12, 2008
If Luke Thomas doesn't photograph an event, did it really happen?
Not to glorify my boss or anything, but I was wondering this myself as I walked into Supervisor Ross Mirkarimi's re-election campaign kickoff party at Yoshi's Friday night. Fog City Journal publisher Luke Thomas suffered a back strain and instructed me to cover the event alone with my digital camera which I thought would be easy, but it wasn't.
Everybody kept asking me where Luke was, and I had to tell them that they were stuck with my amateur photography skills. Sorry, guys, no Facebook photos this time.
Ross has supporters who aren't Iranian
Because District 5 is so diverse, Ross drew an equally diverse crowd of 400 exceptionally beautiful, well-dressed people at Yoshi's. Public Defender Jeff Adachi talked about his first appearance with Ross at the Cherry Blossom festival, and how they shared a float together. You know, because Mirkarimi kind of sounds Japanese.
"Everybody thought I was his domestic partner," Adachi said. "They called me Mr. Mirkarimi."
Ross could have been Aaron Peskin, but Peskin would still be short
Board President Aaron Peskin revealed to everyone that Ross was originally a District 3 resident and planned on running for supervisor in that district in 2000. But, Peskin somehow convinced Ross to run in District 5. Peskin called this a "lucky break."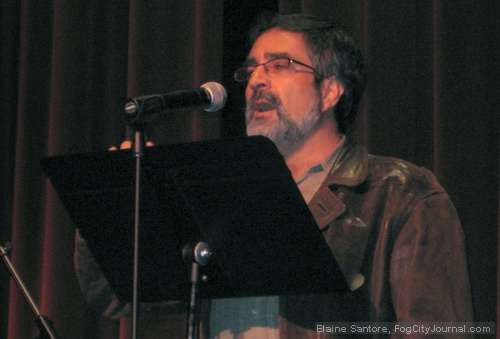 Board President Aaron Peskin
"We consider Ross a member of the class of 2000," Peskin said.
"There will come a day when Ross is chief executive of the City and County of San Francisco," Peskin continued. "And if I'm not running, I'm going to support him."
Peskin also said that Ross is a total workaholic and a total square. Peskin said he's called Ross after a third cocktail to discover Ross still working in his office.
During Board of Supervisors meetings, Peskin and his staff write down words that Ross uses and look them up in the dictionary afterwards to see if the words actually exist. Most of the time, they don't but he prides himself on being more eloquent than George Bush.
Willie Brown will show up to the opening of a door
Former Mayor Willie Brown showed up fashionably late and was immediately surrounded by a bunch of photogs.
Someone asked what Willie was doing there and Jake McGoldrick said, "He's here to sell his book." Don't worry, Jake. You'll have plenty of time to write your own personal Ulysses after you have termed out.
How many more times do I need to write about Willie Brown's book? And why does Willie promote his book while giving it away for free?
"Basic Brown" is on my reading list, but it's somewhere below the unauthorized biography of Danielle Steele, "The Problems of Work" by L. Ron Hubbard, and "That Extra Half of an Inch" by Victoria Beckham. (I'm doing the best I can to seem as un-exotic and non-elitist as I can by reading non-academic books.)
It's Art Agnos!
Not enough time has passed to make anybody truly nostalgic for the Wille Brown era, so I might as well just talk about Ross' mentor, former mayor Art Agnos, because he was mayor a really long time ago.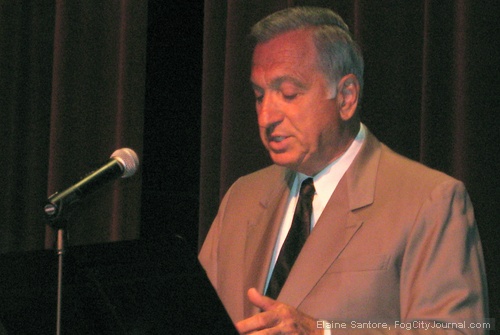 Former mayor Art Agnos.
All the ladies were talking about Agnos coz he's looking good and has dropped a bunch of weight. That must be why he gave Ross and Matt Gonzalez his old suits.
"[Mirkarimi] is a leader who can get the job done long after the press conferences are done," Agnos said referring to Mayor Gavin Newsom's insatiable appetite to bamboozle voters with head-spinning toothy grins.
Following Agnos' speech, Ross took to the stage while receiving a a rapturous ovation.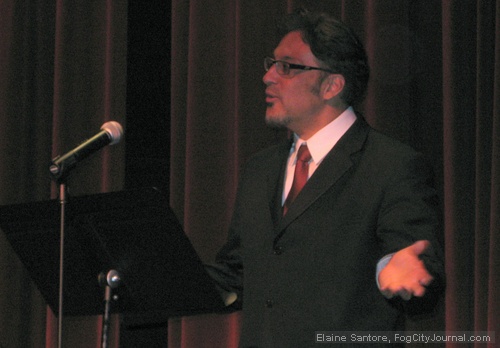 District 5 Supervisor Ross Mirkarimi
"This isn't work," Mirkarimi said referring to his reputation as a workaholic. "I literally am madly in love with San Francisco."
He spoke passionately about the importance of creating more sustained career opportunities and a living wage so that young people and seniors could continue to live in San Francisco. He also addressed the issue of the diminishing African American, working-class, and middle-class populations.
"The bottom line is about jobs," Mirkarimi observed. "It's our responsibility and obligation in city government to marshall together resources."
Party pics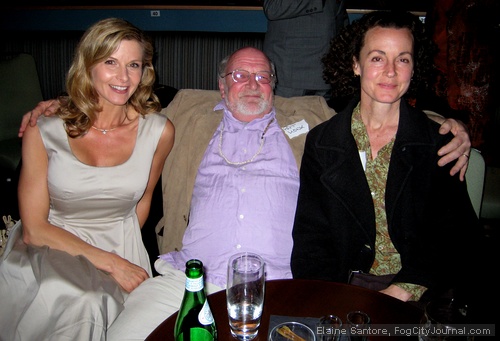 Noe Valley residents for Ross Mirkarimi: Christina Marie, Pat and Lisa Monk.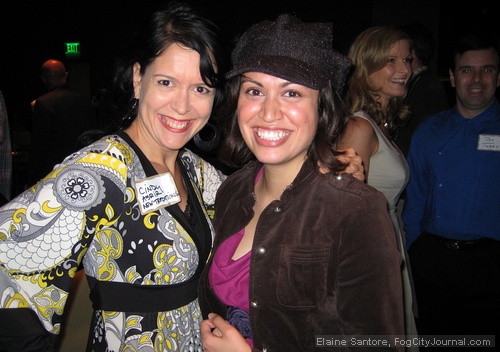 Cindy Asrir and Elaine Santore.
Photo by Pat Monk, R.N.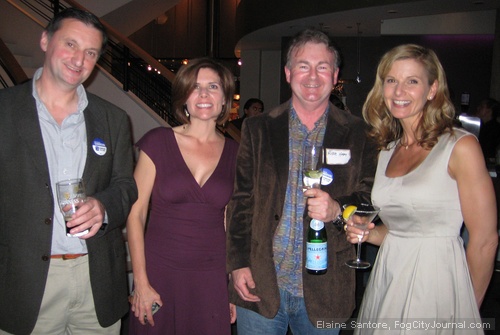 RBA clansmen John O'Connor and Richie Hart with Hope Johnson and Christina Marie.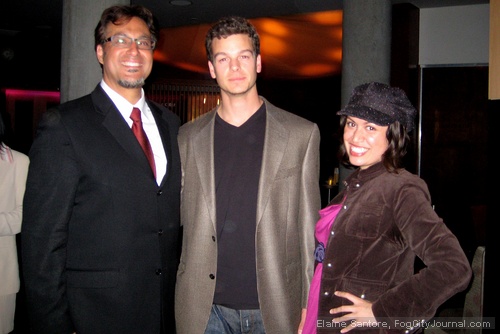 Ross Mirkarimi with nephew, Jeremy Forsyth, and Elaine Santore.
Photo by Hope Johnson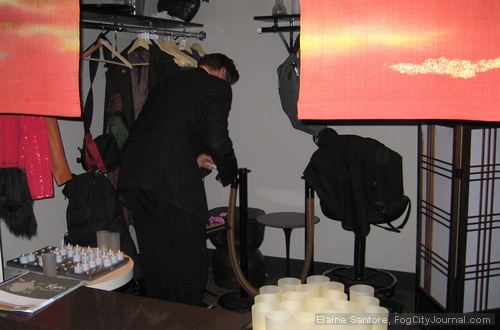 Just when you thought it was safe to put your stuff in coat check…
Supervisor Ross Mirkarimi looks for his missing keys.
CrackBerry Sundays
Apparently I did such a great job Sunday night on H. Brown West that I now have a regular spot. Log on to the chat room. Ask me questions. Text me questions. Email me questions to my CrackBerry.
I spent the majority of this week's show gossiping (duh), snarking on folks, and talking about what a fluke it is for me to be covering politics at all.
"I think Hillary Clinton is a mean old white lady and I don't want her telling me what to do." – CrackBerry on h. Brown West
This statement is ageist, racist, and sexist all at once and I'm sure I've converted a couple of undecided Superdelegates. You're welcome, America.
Luke and h. endorse Anybody But Twitter
Inspired by the supreme meta-ness of live-blogging, webcasting, and Twittering during the show, Bob Brigham got the idea to start a Twitter account for h. Brown's West. But Brown wasn't having it. Neither was Luke, who has two Twitter accounts he rarely updates.
Luke made the mistake of asking Brigham and I about the purpose of Twitter, and what was so great about Twitter. The truth is, it not really that great. And I'm not really sure what it does. But I love it, and I'll probably continue to love it for at least another five minutes.
Brown asked us why we wanted him to join Twitter and I said: "Because we want all of our friends to join." Brown responded saying that we sounded like Scientologists, and we probaby did. Whatev.
What you resist, persists, h. Brown! And as long as all of these somewhat useless social networking sites keep popping up and prevent me from becoming a productive member of society, I might as well join them all.
To sum up my online life: Twitter is the new (secret) Tumblr, Tumblr is the new Facebook, Facebook is the new MySpace, and I MySpace is whatever came before MySpace.

CommonCraft – Twitter Expained from Jeff McCord on Vimeo.
h. Brown won't be joining Facebook, either.
Brigham wondered aloud why I wasn't invited to Facebook Prom (Valleywag coverage here, with some really dark photos – Valleywag should give Luke Thomas a buzz).
I expressed my supreme disappointment at not getting invited (but not really), and then said that Facebook should have never let non-college students in. This prompted Brigham to flip me off, and Brown to call me an ageist. Blogger, please!
The old Facebook wouldn't trick me into becoming a supporter on Gavin Newsom's political Facebook page, which I suddenly found on my profile last week. At first I thought this happened because my name was on Gavin's friend list, so I deleted him as a friend.
But the page was still on my profile, so I spent about an hour trying to figure out how to remove it until I was finally successful. Gavin's not totally rejected because I didn't put him on my block list. My block list only has two names on it now, but used to look like a phone book.