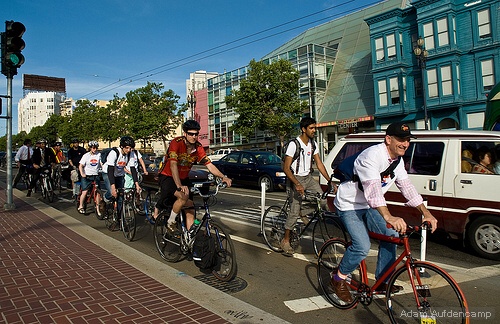 A sign of the times: As gas prices continue to rise,
a record number of San Francisco bicyclists opted for eco-friendly pedal power
to healthily commute to work on Bike to Work Day.
Photos by Adam Aufdencamp
By Laura Dudnick
May 15, 2008
Twice as many bicycles than cars traveled on Market Street in San Francisco this morning for the Bay Area's Bike to Work Day, according to a count taken by the San Francisco Municipal Transportation Agency.
From 8 to 9 a.m. on eastbound Market Street past Van Ness Avenue, 812 bicycles were counted compared to 403 vehicles, agency spokesman Judson True said.
Today's bicycle numbers suggest a 31 percent increase from last year's record-setting Bike to Work Day, when 622 bicycles and 477 vehicles were counted traveling eastbound on Market Street at Van Ness Avenue, according to True.
"The number of bicyclists in San Francisco – and other big cities – is booming," San Francisco Bicycle Coalition Executive Director Leah Shahum said this morning on the steps of San Francisco City Hall where more than 100 bikers and city officials gathered to celebrate their choice to ride bicycles to work rather than take public transportation or drive.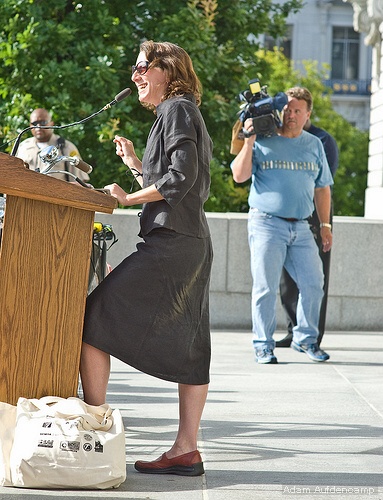 Leah Shahum
The bike boom is happening because people are eager to solve problems such as global warming, escalating gas prices and obesity, according to Shahum.
A person who rides his or her bicycle to work every day for a year will burn 30 pounds of fat, Shahum said. In addition, 3,500 pounds less of greenhouse gas emissions will pollute the air for each person who rides a bike to work every day.
San Francisco's transportation agency partnered with the bicycle coalition to provide refreshments at 25 energizer stations throughout the city. All eight other Bay Area counties also implemented energizer stations in an effort to encourage commuters to bike to work today.
Around 5 a.m. today, a 66-year-old man died after crashing his bicycle into a wood fence while commuting to his job at San Francisco International Airport, according to San Mateo County Parks and Recreation.
The man was discovered by another cyclist and was found to be wearing a helmet. He was pronounced dead at the scene but what caused him to crash was unknown, San Mateo County Parks and Recreation Director Dave Holland.
For more information on Bike to Work Day, visit http://www.sftma.com/bikes.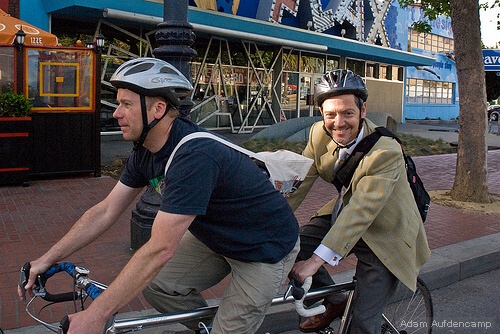 Supervisor Bevan Dufty tandem's to City Hall.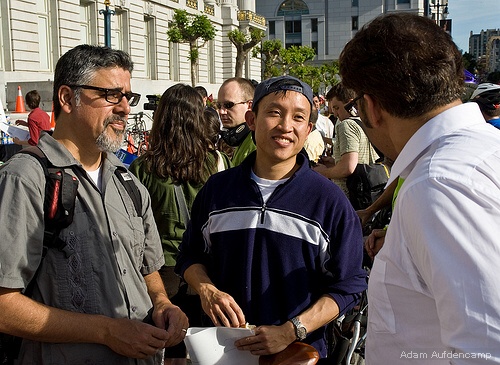 Supervisoral candidates John Avalos and David Chiu
chat up Supervisor Ross Mirkarimi during a press conference
to celebrate Bike to Work Day.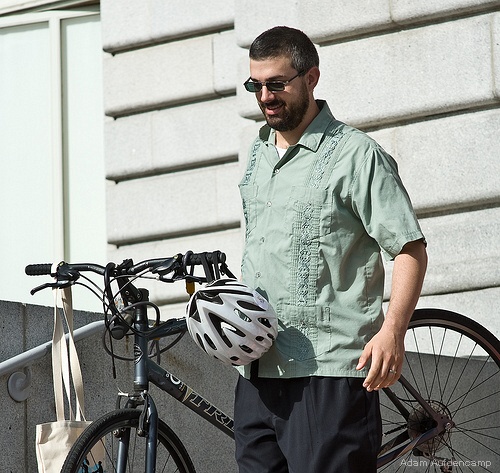 Supervisor Chris Daly looking trim.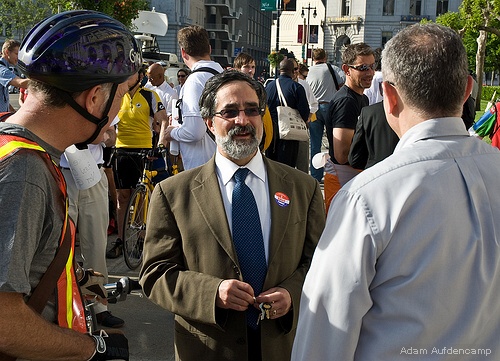 Board President Aaron Peskin compares bicycle wheels to the wheels of San Francisco government.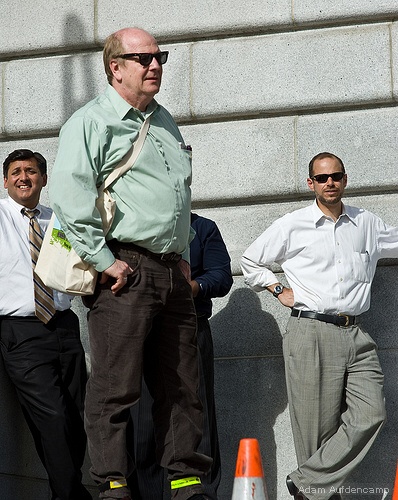 Supervisor Jake McGoldrick donning neon safety trouser clips.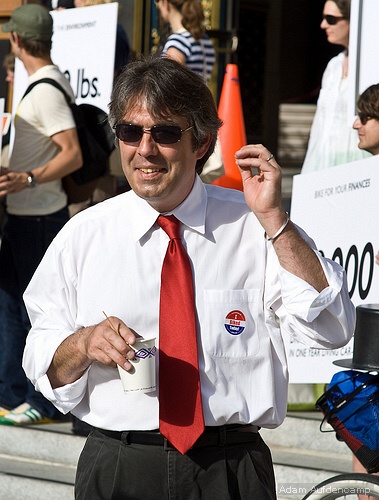 Coffee addict, Andy Thornley