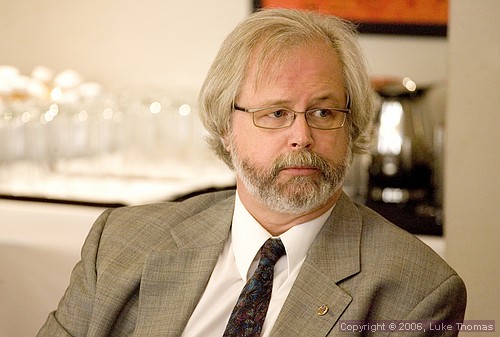 San Francisco Labor Council Executive Director Tim Paulson
Photo by Luke Thomas
By Tim Paulson, special to Fog City Journal

Editor's Note: Mr. Paulson is responding to Supervisor Chris Daly's May 22 op-ed titled, "Big Labor Sells Out."
May 28, 2008
As a trade unionist I wake up every morning confronted with many fronts on the fight for justice that the Labor Movement will continue to wage. The San Francisco Labor Council represents 100,000 members from 150 different unions in both the public and private sectors. Over 10,000 live in the Bayview-Hunters Point neighborhoods. As executive director of the SFLC my goal is to bring the interests of workers to the agendas of corporations, employers, and legislators to find solutions, create contracts and collective bargaining agreements, and to enact (or defeat) legislation at the local, as well as the state and national levels. The SFLC fights every day to get things done.
In the last several years the SFLC has been successful in raising the benchmarks for progressive policy in many areas. We worked closely with Supervisor Tom Ammiano to create a national standard for universal health care. Labor took to the streets and stopped George Bush's attempt to eliminate Social Security. We were the first Labor Council in America to publicly oppose the racist Iraq-Afghanistan wars. The SFLC was also involved in the campaigns for paid sick leave, sweat-free purchasing, and living wage to name a few. The Labor Movement fought to create the Office of Labor Standards Enforcement (OLSE) to monitor construction sites where out-of-town contractors and developers were cheating workers out of prevailing wages and benefits, the same OLSE that now also monitors other laws such as living wage, minimum wage, and healthcare.
We will continue to be the incubator for other progressive legislation and policy that can serve as models and benchmarks that our brothers and sister elsewhere can emulate.
In this context, the historic Community Benefits Agreement (CBA) that the SFLC-along with two of its many community partners, ACORN and SFOP-arrived at with the Lennar Corporation for the development in Bayview-Hunters Point, continues in this vein of progressive policy that benefits working men and women and the community.
Our deal-and YES it is a deal, a publicly transparent and legally binding deal-creates 35 percent affordable and workforce housing for the first time in San Francisco history. It has affordable rental and for-sale housing units and it guarantees that the Alice Griffith housing development gets rebuilt at the beginning of the project, with no displacement. It is an agreement that reflects not only the needs of the very poor in the community, but also offers a path to first-time homeowners along with the hope of raising their families in a newer better neighborhood.
For those unfamiliar with CBA's, one must know that this is known as a "core agreement" which is valid, binding, and legally enforceable. This approach has a proven track record in delivering community benefits on large development projects in other cities. We studied similar agreements throughout the country in places like Los Angeles, Milwaukee, and New Jersey. CBA's are binding and attached to the land, so even if Lennar leaves the project, the CBA's requirements are still intact. Our CBA includes commitments regarding housing, workforce development, first-source hiring, card check for organizing, as well as other community issues such as family size homes. The agreement commits the Labor Council, ACORN, and SFOP to supporting the agreement around these issues. And we will.
However, the CBA does not preclude the SFLC or our partners from weighing in on other principled positions, such as environmental concerns.
What Prop F says is that the Hunters Point-Bayview neighborhood must stay poor. By only offering affordable housing opportunities for the very poor (at a 50 percent ideal that is financially impossible to pencil out) it locks out opportunities for the working and middle-class residents to afford to stay in their neighborhood.
There are over 10,000 union members living in District 10 and the SFLC wants these workers and others in the community to have the opportunity for success as well. The SFLC wants construction workers and Muni drivers and teachers and city workers and healthcare workers who are beginning to make it – succeeding in their careers, starting families, saving enough to buy a home or move from public housing – to have the chance to buy homes in their neighborhood. We do not want these residents to be forced out of San Francisco due to making too much money to qualify for affordable housing subsidies and also not being able to afford to buy a home in their own neighborhood. This historic CBA leads the way to bridging the gap between the very rich and the very poor by offering affordable housing opportunities as well as workforce training, creating new opportunities for working class families.
In addition to the housing commitments, our legally binding deal with the Lennar Corporation begins, finally, a real path to workforce development. The Mayor's Office of Workforce Development (redesigned by new legislation from our friend Supervisor Ross Mirkarimi) is committed to new focused policy. The $8.5 million guarantee from Lennar, which will be matched by the City, will jumpstart badly needed training and education in Hunters Point-Bayview to get real jobs. This program will not just expand construction trades jobs to higher levels, but will focus on living wage jobs in the industries planned over the next generation, including getting residents GED's and paths to college degree jobs in biotech.
As my colleague Mike Casey of Local 2 said recently, "The easy decision is to not make a deal, and then continue to trash the boss."
The tough decisions we make as leaders are to know when your power can change the dynamic, advance the standards of justice and set new benchmarks. In this CBA, we have moved that benchmark not only for the Hunters Point-Bayview neighborhood, labor, housing activists and our community partners, but for all of San Francisco. Now, every time a new development is proposed we can say we've already set the 35 percent standard for affordable housing with private money.
I'm always amazed when legislators tell labor representatives what's good for labor. I know what corporations and employers mean when they try to screw us. We have clear strategies for those fights.
So I have to say that I haven't been called the "top big labor boss" before. That epithet is the same used by the National Right to Work Committee-a rightwing group formed to fight union organizing. Reminds me a little of the "moral restrictions" legislation that was defeated at the Board some months back. Are we trying to bring back the Moral Majority? Yikes! Now, I'd have been honored if someone like Trent Lott or the late Strom Thurmond had thought me important enough to call a "top big labor boss." It saddens me that it comes from Supervisor Chris Daly, a supervisor who we spent lots of time and money to elect. This is the same name calling and posturing that normally comes from corporations and the Right, not from our progressive "allies."
This CBA is just the beginning of a new collaboration where labor, faith, tenant, community groups, the Citizens Advisory Committee, the Project Area Committee of Hunters Point-Bayview, will be organizing for the next decades to provide housing, good jobs, and an exciting way of revitalizing the Bayview. It's real and it's time to turn the tide in San Francisco.
Because of the efforts of the SFLC, ACORN, Supervisor Sophie Maxwell, the faith community and the San Franciscans in the Hunters Point-Bayview neighborhood, Measure G is a now a vehicle for substantive economic and domestic improvement. Measure G is a commitment to a part of our city long ignored and crying for help. Supervisor Daly and the nay-sayers can rail on the San Francisco Labor Council and hail sticks and stones. But the only sticks and stones I care about are the ones that will build the affordable and low income housing and create a future with dignity for working men and women and their families in Hunters Point.
Yes on G. No on F.
The San Francisco Labor Council represents more than 100,000 union members and their families who belong to over 150 affiliate unions. Almost 11,000 live in District 10.