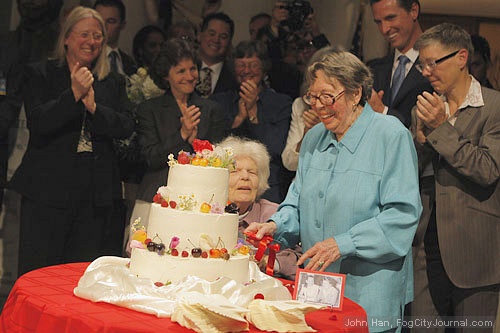 Officiated by Mayor Gavin Newsom, Del Martin and Phyllis Lyon became
the first same-sex couple to wed in San Francisco yesterday
following the state Supreme Court's decision last month
to legalize same-sex marriage.
Photos by John Han and Stephen Dorian Miner
By Jesse Dungan
June 17, 2008
Del Martin and Phyllis Lyon wed at San Francisco City Hall yesterday, 55 years into their relationship, becoming the first same-sex couple to marry in the city since the state Supreme Court's historic decision last month to legalize same-sex marriage.
Martin, 87, and Lyon, 84, were also the first of nearly 4,000 same-sex couples to wed in the city in 2004 before the state's high court halted the ceremonies and invalidated the marriages.
But the justices ruled 4-3 on May 15 that same-sex couples have a right to marry under the state's constitution, and the changed law went into effect at 5 p.m. yesterday..
Martin and Lyon re-tied the knot in an evening ceremony officiated by Mayor Gavin Newsom.
Following the short, private ceremony, the newlyweds made a brief appearance at a wedding reception outside the mayor's office, where they were greeted with cheers and applause.
"When we first got together, we weren't really thinking about getting married," Lyon said, adding that she and her spouse are "very happy" and "very grateful."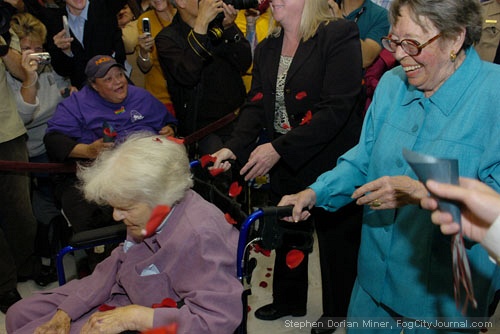 Martin and Lyon, who founded the lesbian rights organization Daughters of Bilitis in 1955 and also started a women's health clinic, helped cut their three-tier wedding cake before leaving the reception.
"I think marriage as an institution has been strengthened," Newsom said at the reception.
He added that he was humbled to officiate the wedding and that it was an "extraordinary gift."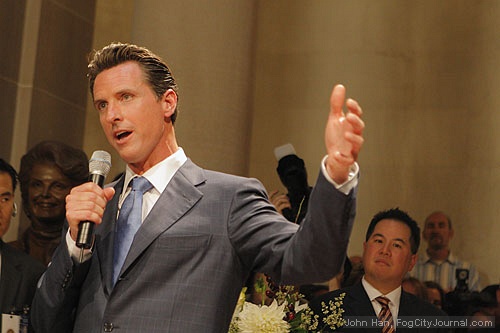 Mayor Gavin Newsom
Also in attendance were City Attorney Dennis Herrera and Assemblyman Mark Leno, D-San Francisco.
"What we witnessed inside (the ceremony), and what we're all witnessing today, is the manifestation of our common humanity," Leno said.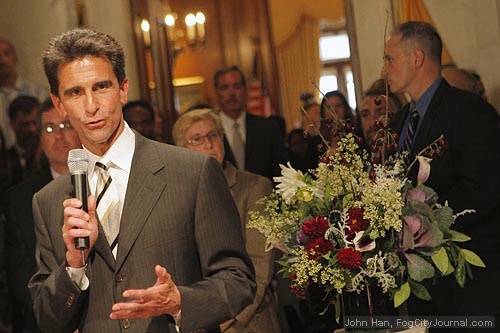 Assemblymember Mark Leno
Rusty Ross-Brooks and Ella Brooks, a same-sex couple of nearly three decades, brought their grandson to the reception.
"We've been together 28 years and I never thought I'd see it in our lifetime," Ross-Brooks said.
The couple had a commitment ceremony two decades ago and then married at San Francisco City Hall in 2004. Ross-Brooks said they hope to wed on July 9, the 20-year anniversary of their first ceremony.
"I keep saying, third time a charm," Ross-Brooks said.
Meanwhile, crowds gathered around the Polk Street steps of City Hall and across the street at Civic Center Plaza, both in support and opposition of same-sex marriage.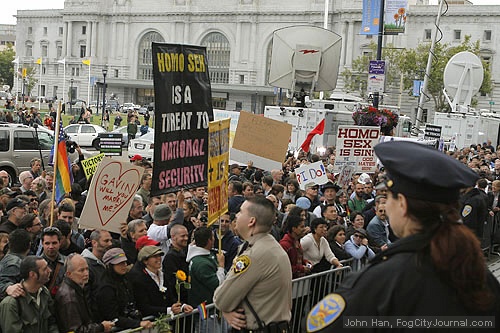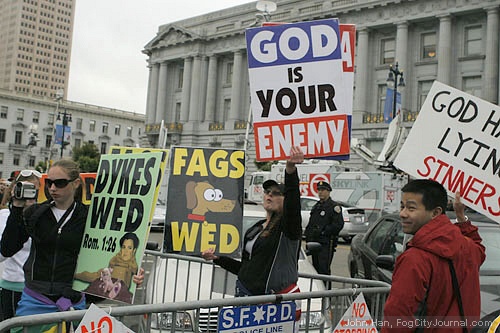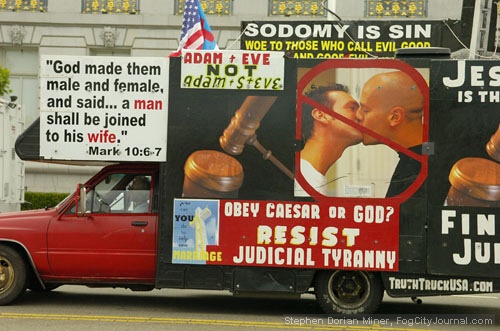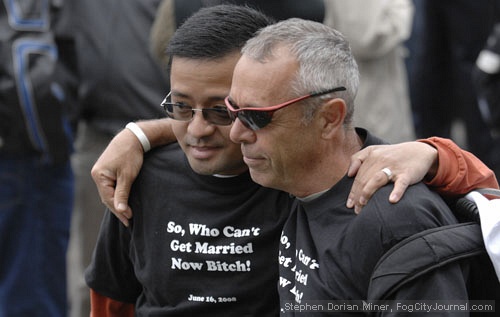 Some San Francisco police officers were stationed outside the building, and police and sheriff's deputies were inside.
"I think there are people who are supportive and against the issue, but they're being cooperative," Police Chief Heather Fong said from inside City Hall.
Martin and Lyon were the only same-sex couple to wed yesterday in San Francisco. However, starting today, the county clerk's office will extend its hours indefinitely to accommodate the expected increase in marriage license requests and ceremonies; the office will be open from 8 a.m. to 8 p.m.
Same-sex couples also married yesterday in Alameda and Sonoma counties, where the city clerks' offices stayed open until 8 p.m.
In Alameda, chief clerk Kevin Hing estimated that 40 to 50 ceremonies would take place.
An initiative that would overturn the court's May 15 ruling by amending the state constitution to ban same-sex marriages will appear on the November ballot.