Cindy Sheehan Speech at Fat City, 6/28/08 from fogcityjournal on Vimeo.
By Luke Thomas
June 29, 2008
Independent candidate for Congress Cindy Sheehan yesterday called for a revolution in America to help bring to an end the domination of corporate influence over politics.
Sheehan made the remarks during a campaign fundraiser held at Fat City in San Francisco.
"We need a revolution," Sheehan said. "Things have to change and they're not going to change with the people that have been bought and paid for by the corporations."
Sheehan's comments were largely directed at her opponent, Speaker Nancy Pelosi, whose job approval rating has reached an all time low since failing to bring an end to the war in Iraq and Afghanistan as promised when Democrats took control of Congress in 2006.
"I will never let you down because you know what, Nancy Pelosi lives on the hill," Sheehan said. "She is part of the corporate fascist elites – and I come from you. I am you. I am the people, and we have to get people who are people in Congress, not fake people."
The fundraising event included performances by Travis Bilenski, Malcontent, and Tom Morello of Rage Against The Machine who flew up from Los Angeles to headline the evening's performance lineup.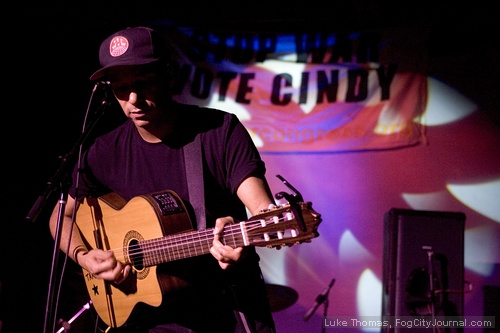 Tom Morello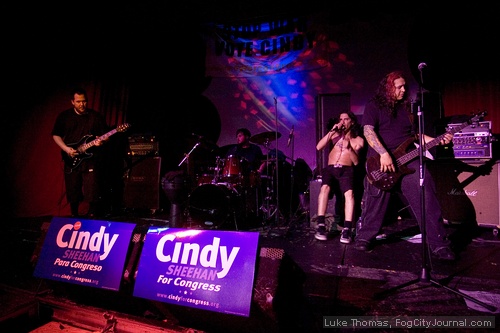 Malcontent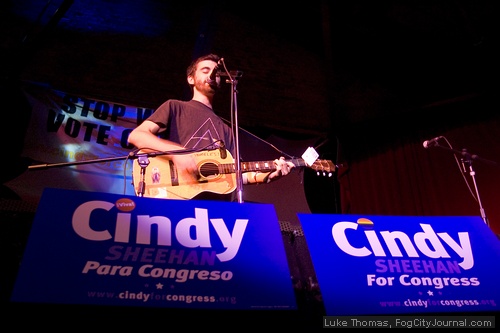 Travis Bilenski
Morello, aka "The Nightwatchman," graduated Harvard University with a degree in political science and once served as former Senator Alan Cranston's scheduling secretary. Morello announced during the performance his endorsement of Sheehan, the first time Morello said he has ever publicly endorsed a candidate.
"Cindy Sheehan is indeed the first political candidate I have ever publicly endorsed," Morello said, "and the reason why is very, very clear – because I never really feel the candidates that run for office represent me, and she is the first one in my life, as an adult, that I felt was uncompromised, and uncompromising, and righteous enough for The Nightwatchman to fly up to San Francisco today to play tonight."
"I hate having the choice of not just the lesser of two evils but the evil of two lessers, and that's what we normally get in presidential and senatorial congressional elections which is very very different from Cindy because she really is, of, by, and for the people," Morello added.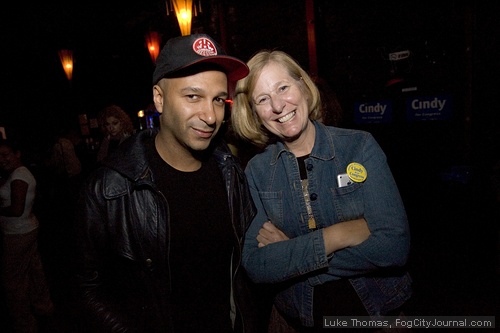 Tom Morello and Cindy Sheehan.
According to Sheehan, as many as 300 tickets were sold for the fundraising event. She said the grassroots campaign fundraising effort is "going well" and has so far raised more than $200,000. She said she would use the funds to help increase a signature gathering drive to get her name on the November ballot.
The campaign is required to submit 10,198 valid signatures by August 8. As of June 23, the campaign has submitted 3,500 signatures.
More Info
<
Tom Morello plays in SF for Cindy Sheehan, 6/28/8, Pt1 from fogcityjournal on Vimeo.