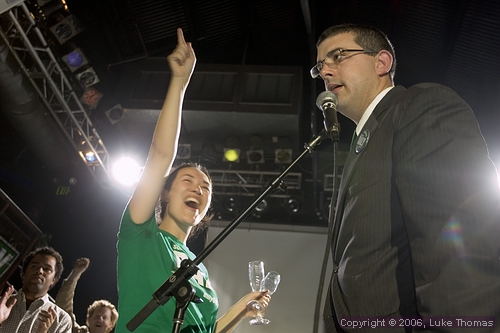 Incumbent Supervisor Chris Daly and wife, Sarah Low Daly, take to the stage at the DNA Lounge in the heartland of San Francisco's District 6 to announce a momentous victory
over big money and dirty politics.
Photos by Luke Thomas
November 7, 2006
With 99 percent of the votes counted, Daly has captured 50 percent to Black's 39 percent.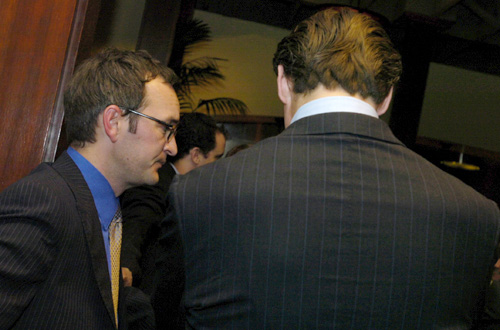 A visibly dejected Rob Black (left) with Mayor Gavin Newsom
moments after it was announced Black had been defeated.
Photo by Stephen Dorian Miner
The folks down here at the Daly victory fiesta at the DNA Lounge at 11th and Folsom broke out the champagne at 10 p.m. while the whole dance floor chanted, "OUR CITY" and the DJ played, "Don't Stop 'Til You Get Enough."
California Senator Carole Migden showed up and received a massive round of applause.
Just like in November, 2004, Mayor Gavin Newsom had no coattails tonight. His D4 candidate, Doug Chan, is behind Ron Dudum, Ed Jew and Jaynry Mak.
Green Party member Jane Kim, is in first place for the San Francisco School Board.
Her fellow Green, John Rizzo, is ahead of Johnnie Carter for the number three slot on the Community College Board by 2,000 votes.
After fending off the ugliest, most expensive district supervisoral race in San Francisco history, Daly took the stage and thanked his supporters.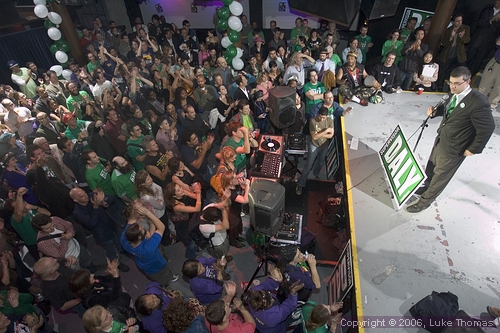 "You got the memo. We were under attack. San Francisco values were under attack. And you responded like nothing before," Daly said to cheers and applause.
"I was a supervisor who was in a little bit of trouble. You got the message, and you showed up. I had 25, maybe 25 committed volunteers who had been working for months. But that little campaign doubled a month ago. Then, three weeks ago it doubled again. Two weeks ago it doubled again. This morning at 5:30 a.m. 100 volunteers showed up… We had 500 San Franciscans out on the streets today."
Daly took the stage after his wife, Sarah Low Daly, accepted the microphone from Daly organizer Bill Barnes and shocked the crowd by using the kind of language more characteristic (only on occasion) of her husband.
"To those mother fuckers at the Golden Gate Restaurant Association: FUCK YOU!" Low Daly said.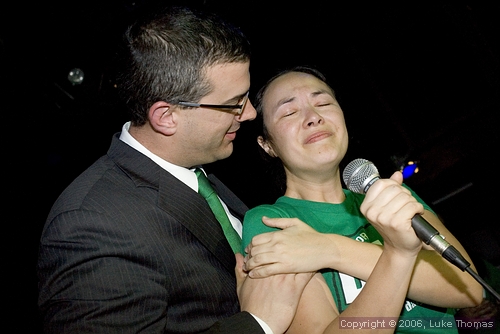 "Every step of the way, Chris told me he just wants to stay here and fight for poor people. [Some people] tell us to go live in the suburbs where it's nice, but he says, 'Why would we want to go live there? All the good people live here!
"We've been so inspired by so many people who've come out and supported us."
Fog City Journal ran into a jubilant Aaron Peskin at the DNA Lounge. "Now, we've gotta run somebody for mayor!" the Board President said.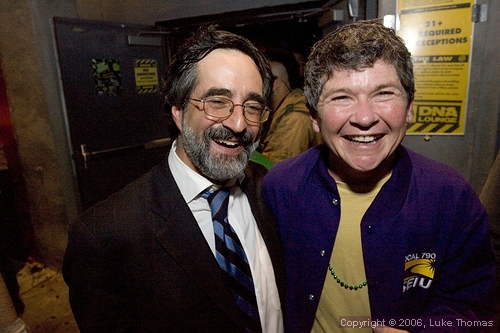 Board President Aaron Peskin and SEIU's Robert Haaland
Supervisor Ross Mirkarimi said he spent Saturday at the Potrero Hill Shopping Center urging D6 resident to vote for Daly.
"We had a mini revolution tonight," Mirkarimi said. "The very fact that we were able to topsize the heavy money campaign against Daly and take over the school board heralds quite a triumph for the progressive movement in San Francisco."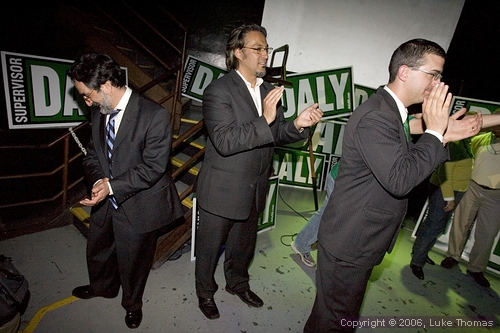 Supervisor Ross Mirkarimi (center)
Daly supporter David Spero admitted he was not convinced the D6 incumbent would pull through.
"I was a pessimist," Spero said. "But in the final two weeks, this grassroots efforts was one of the best ever. The progressive community knew what was at stake and unified."