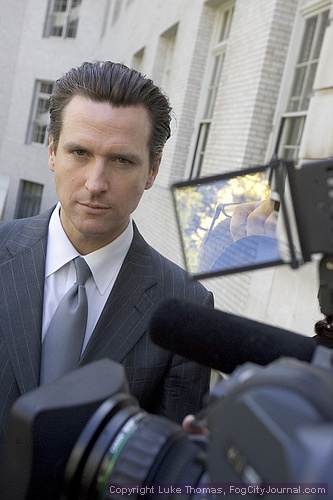 San Francisco Mayor Gavin Newsom
File Photo by Luke Thomas
July 2, 2008
Mayor Gavin Newsom ended speculation about his possible 2010 gubernatorial bid Tuesday when he officially opened an exploratory committee, but later said he would drop out of the race if another candidate articulated a better vision for California.
"If we can't produce better results, we can't make a case that we can deliver, then I'm not going to be in this race," Newsom told Fog City Journal during an interview yesterday evening at a launch party for the Women's Independent Cinema Film and Documentary Club. "But whoever else runs, if they have a better vision, and they can articulate in a way that I'm convinced that they can implement it, then I won't run."
He said his desire to share his achievements as mayor with citizens in other parts of the state inspired him to consider running for governor.
"When I share that with other people, they say, 'Well, what about us?' And I say, 'Well, what about the Central Valley, what about Eureka, what about other parts of the state?' So I want to share that with the state," Newsom said. "That's what we want to explore, whether or not that message of change that's real, not just rhetorical, matters to other people."
"The reason I'm doing it is because I'm frustrated about the lack of leadership, the lack of bold ideas, the lack of resolve to solve the healthcare crisis, to deal with education more forcefully, to address the environment in a much more impactful way, not so much in a theoretical way," Newsom added.
Opening an exploratory committee allows Newsom to begin raising campaign funds and to commission polls.
Newsom will be entering a crowded race. Attorney General and former California Governor Jerry Brown is also contemplating a run, along with former Hewlett-Packard CEO Carly Fiorina, Los Angeles Mayor Antonio Villaraigosa, Lieutenant Governor John Garamendi, and Insurance Commissioner Steve Poizner.