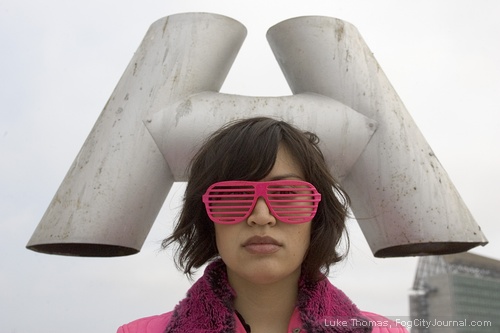 Elaine Santore
Photo by Luke Thomas
July 8, 2008
For the Ladies
Last Tuesday Fog City Journal attended the launch party for Women's Independent Cinema (WIC) Documentary & Film Club at the Presidio Social Club with FCJ friend and SFLuxe editor, Damion Matthews. WIC co-founder Jennifer Siebel was unable to attend because she was "being held hostage" on the set of NBC's Life, but her fiancé, Mayor Gavin Newsom, acted as her surrogate for the evening.
The goal of WIC is to support women filmmakers and distribute films that get little exposure outside of film festivals. While speaking to the crowd, Newsom (always a fan of statistics) addressed gender equality in the film industry.
"Only six percent of directors in Hollywood are women," Newsom said. "Just six percent. No woman has ever won an Academy Award as director. Ever."
Newsom also discussed how women are underrepresented in American politics.
"We are sixty-eight in the world, the United States of America, sixty-eight in terms of the number of women in elected office," he said. "Iraq has more women in elected office than the United States of America."
"But even look at our own Board of Supervisors. Progressive, liberal San Francisco. Are we different from the reality outside our city? Not so much so. Just two women, or rather, three women. Two that I appointed, two that I had to appoint: Michaela Alioto-Pier and Carmen Chu had to be appointed."
After his speech, Fog City Journal asked Newsom what he plans to do to promote more women in politics as mayor and potentially as governor.
Despite his support of more conservative supervisors and his opposition towards progressive members of the board, Newsom has appointed a few women during his first and second terms. Aside from the Board of Supervisors, he has appointed a female police and fire chief.
"It shouldn't be something extraordinary. It shouldn't matter that a mayor appoints a police chief and a fire chief that are women. It should be obvious and accepted," Newsom said.
However, Newsom acknowledged that more work needs to be done. He pointed out that not many women are running for local office and winning.
The answer might come from following the money.
"In our budget, for example, next year we are going to be doing proactively a gender analysis of our budget, to look at where all of our money is spent, the $6.5 billion," Newsom said.
"It will be the most aggressive gender analysis ever done by a city that we know of, to really explore where our money has gone," he added. "And money, at the end of the day, is where your priorities lie."
Programming Note
Starting today, Fog City Journal will be on vacation until next month. I won't disclose any details but please check back here the first week of August. That is, if there's still a "here" here. You never know.
Final Thoughts
Fog City Journal kicked off summer vacay Sunday night by accompanying Jens Nielsen to see Todd Rundgren play at the Great American Music Hall. While we stood in line, a couple of guys driving a pizza delivery car (some contemporaries of mine) pulled over and asked the guy in front of us "Who's Todd Rundgren?"
I watched the fan try in vain to answer until I finally blurted "He's the guy who sang 'I don't want to work/I want to bang on the drum all day'."
"Ohhhhh!" This they knew, probably from some movie trailer and/or Pop-Up Video. Another generation gap closed by yours truly.
Luke Thomas shot some video of the concert that we've posted to FCJ's new Tumblr account, fogblog.tumblr.com. Luke will be able to update that site more easily from the road, but our WordPress site will still be used for longer entries when we're back full-time.