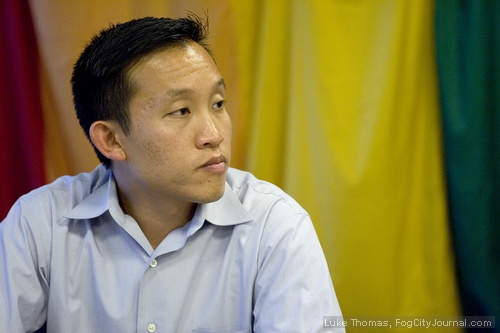 Candidate for San Francisco District 3 Supervisor David Chiu.
Photo by Luke Thomas
From the campaign to elect David Chiu
July 14, 2008
To the Board of the Harvey Milk Club LGBT Democratic Club:
Many of you are aware of H Brown's "swiftboat" campaign of slander aimed at me and my candidacy for District 3 Supervisor.
Those of you who attended the recent District 3 forum hosted by the Harvey Milk Club know that H Brown was so out of control that he was asked to leave the forum.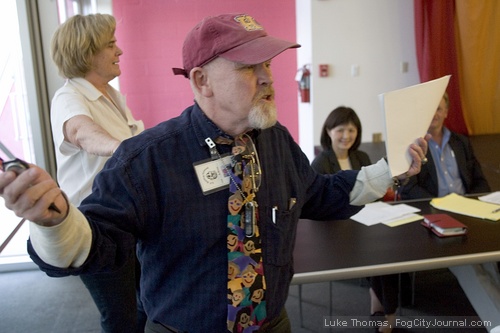 h. brown gets ejected from the Harvey Milk Club District 3 Candidates Forum
held at the LGBT Center, July 1
It is, of course, a very unpleasant experience to be on the receiving end of such a distorted, one-sided and vicious attack campaign. But I believe that there is something at stake, not just for me, but for all of us, if we allow these kinds of attacks to sap the strength of the movement for our shared progressive values at such a crucial moment in our city's history.
I have no doubt that special interest groups ready to defeat Supervisor candidates who support the affordable housing set-aside, revenue measures for vital city services, and other important causes are watching with glee as H Brown and others seek to tarnish my record.
Those who support me know that in the race for District 3, a critical swing district, I am not only the candidate with the most significant record of fighting for our shared values, but I am also the strongest District 3 candidate to advance our values and stand up to special interest groups who are planning to spend millions to defeat the causes we care about the most.
My record includes serving as a civil rights attorney, chairing the Board of Directors of the largest affordable housing organization in District 3 (Chinatown Community Development Center), defending low-income tenants victimized by Ellis Act evictions, spearheading the campaign for immigrant voting rights (Prop F), and as one of only two Small Business Commissioners supporting paid sick leave.
In my recent winning campaign for San Francisco Democratic County Central Committee, after thorough vetting from extensive interviews and forums, I was endorsed by groups such as the Harvey Milk Club, San Francisco Labor Council, San Francisco Tenants Union, San Francisco Women's Political Committee, San Francisco ACORN, San Francisco Bay Guardian, The Sierra Club, San Francisco Young Democrats, and San Francisco League of Conservation Voters.
Nonetheless, H Brown and political opponents have, and will continue, to falsely attack me as a "gun-loving," "closet Republican," and a "homophobe."
Does a person need evidence to conduct such as "swiftboat" campaign? Not really. And when you dig just beneath the surface of Brown's slander, you see there is no evidence at all.
The main thrust of Brown's attack campaign is against an online technology company called
Grassroots Enterprise that I helped to found after managing email communications for a progressive coalition while a civil rights attorney. Years before the Obama campaign became supported by a million online donors, my Grassroots co-founders and I started the company with the vision that new online technologies could radically empower individuals from all backgrounds to organize vibrant grassroots constituencies.
Since then, Grassroots Enterprise has developed and licensed award-winning software technology to a wide variety of clients. Grassroots Enterprise is not, nor has ever claimed to be, a partisan organization. The management team, Board of Directors, and senior advisors include Democrats and Republicans, including Mike McCurry, former press secretary to President Bill Clinton, and John Hlinko, a former MoveOn.org leader. All of these facts are easily found on the Grassroots company web site.
Despite the bipartisan nature of our company, the overwhelming majority of our political clients serve progressive and Democratic interests, including:
• American Civil Liberties Union
• American Federation of Teachers
• American Heart Association
• Consumer Federation of California
• Democratic Senate Campaign Committee
• DraftWesleyClark.com
• The Gay & Lesbian Victory Fund
• Housing California
• Human Rights Campaign
• International AIDS Trust
• Marijuana Policy Project
• National Partnership for Women & Families
• Progressive Majority
• Senator John Edwards's One America Committee
• The Sierra Club
These political attacks attempt to impugn my record by selectively highlighting the pre- Grassroots employment biographies of two individuals affiliated with Grassroots' Washington DC office. These two individuals had previously worked with the Christian Coalition and the National Rifle Association, two organizations with which I have always vehemently disagreed.
Since the majority of Grassroots employees are politically left, the Board of Directors of Grassroots Enterprise brought on these two individuals to add political diversity to Grassroots' Washington DC office, the company's headquarters. This is the common practice of companies in Washington DC and throughout the country. While I emphatically disagreed with bringing on the two individuals, it was not my decision to make, and was the decision of my company's Board of Directors, on which I do not serve.
Contrary to H Brown's wild accusations, Grassroots has never licensed its technology to the Christian Coalition, Alliance Defense Fund, the National Rifle Association, or any comparable anti-gay, Christian conservative or pro-gun organizations.
My own professional work while at Grassroots has only been with Democratic and progressive clients. In fact, I manage the Grassroots' San Francisco office, located in District 3, whose staff is politically left and 40% LGBT. I have never — nor will I ever — work for anti-gay, Christian conservative or pro-gun organizations.
Given the facts, I hope you will judge my long-standing track record accurately, and compare it with other candidates in the District 3 race on the following topics:
Fighting for civil and equal rights. While working in the US Senate, I worked to fight the so- called Defense of Marriage Act. I worked alongside with San Francisco LGBT leaders to help successfully lobby the California Democratic Party to incorporate marriage equality in its official platform. I was one of the founding members of Asian Pacific Islander Equality, and served as president of the first Asian American bar association in the country to support marriage equality.
Fighting for tenants. As a tenant during my 12 years in District 3, I have served as the board chair of District 3's largest affordable housing organization (Chinatown Community Development Center), and as an attorney and community advocate, I have fought for tenants facing evictions, including one of the largest Ellis Act evictions in District 3.
Fighting for immigrants. As a former civil rights attorney, I fought for immigrants facing discrimination and abuses in a variety of settings, and managed the 2004 campaign that would have allowed immigrant parents to vote in school board elections through a ballot initiative sponsored by Matt Gonzalez.
Fighting for neighborhoods. I have served in the leadership of two District 3 neighborhood associations that have fought to ensure that proposed developments are appropriate for our neighborhoods, and that our neighborhoods are safe and clean.
Fighting the death penalty. While Democratic Counsel to the US Senate Constitution Subcommittee, I assisted the ranking Democratic Senator in blocking numerous death penalty bills.
Fighting for working San Franciscans. I have represented sweatshop workers, stood on picket lines with union workers, and as a Small Business Commissioner, was one of only two members of my commission to vote in support of sick leave legislation.
Fighting for a progressive Democratic Party. I have been a lifelong Democrat, and have served proudly as Democratic Counsel to the U.S. Senate Constitution Subcommittee, Vice President of the District 3 Democratic Club, twice elected chair of the 13 th Assembly District Democratic Committee, and a member of the Executive Board of the California Democratic Party. On the DCCC, I have worked hard and taken strong stands to move the party forcefully in a progressive direction.
Based on my actual record, Assemblyman Mark Leno, Supervisor Aaron Peskin, Supervisor Tom Ammiano, Supervisor Chris Daly, Supervisor Ross Mirkarimi, District Attorney Kamala Harris, Public Defender Jeff Adachi, School Board Members Eric Mar and Jane Kim, and many other citywide and District 3 leaders have endorsed me for District 3 Supervisor.
Groups like the San Francisco Labor Council, Community Tenants Association, Service Employees International Union, United Educators of San Francisco, and Asian American Bar Association have also endorsed me because I've worked alongside them to advocate for those in San Francisco who lack a political voice and who fight for dignity and fairness.
As with the DCCC race, I hope that the Milk Club will join the above individuals and organizations, and join my campaign to help ensure an advocate for District 3 and citywide reflective of our shared values. Thank you once again for your continued support.
In solidarity,
David Chiu
More Info
David Chiu responds to questions posed to him by Fog City Journal during the 2008 Harvey Milk Club annual dinner, June 17, in connection with Grassroots Enterprise'Â  affiliation with former Christian Coalition head Randy Tate.