By Luke Thomas
July 18, 2008
Supervisor Ross Mirkarimi today slammed PG&E for its attempt to "scare" San Francisco residents into rejecting a November ballot initiative that would transform the city's energy policy.
"It's shameful and it's just so signature classic PG&E," Mirkarimi said, referring to a PG&E campaign mailer distributed citywide to registered voters. "What they are doing is to try to scare San Franciscans to then scare their Supervisors" to vote against a charter amendment that would authorize the City to conduct a renewable energy feasibility study.
Dubbed the San Francisco Clean Energy Act, the legislation, if deemed feasible by the San Francisco Public Utilities Commission, seeks to incrementally achieve a 100 percent renewable clean energy portfolio by 2040.
"They are literally scared from the feasibility study because they know that San Francisco will best be suited for charting its own energy destiny," Mirkarimi said.
PG&E's mailer contends such a move would cost residents over $4 billion to "take over PG&E" and would not guarantee lower energy costs.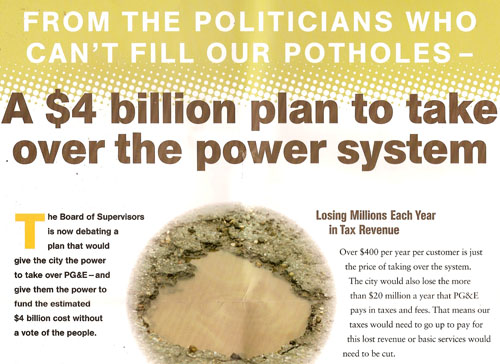 Mirkarimi disputes PG&E's assessment citing lower energy costs have been achieved in over 900 U.S. municipalities that have converted from private to municipal utilities.
"Here's one undeniable fact," Mirkarimi said. "Of the nine hundred cities in the United States that are public power cities… every one of them shows that they delivered cheaper electricity, and better, than the private utility."
Citing a recent speech by former Vice President Al Gore, Mirkarimi said the U.S. can achieve a 100 percent renewable energy portfolio within ten years but warned private interests, like PG&E, would oppose such efforts.