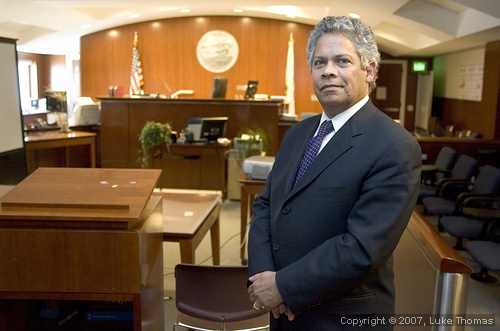 District 11 candidate Randall Knox.
Photo by Luke Thomas
From the campaign to elect Randall Knox to District 11 Supervisor
September 30, 2008
Nearly seventy people turned up on a beautiful Saturday morning this past weekend at the headquarters of the campaign to elect Randy Knox as the next Supervisor for District 11.
The enthusiastic crowd listened to speeches by District 8 Supervisor Bevan Dufty, and James Fang, Director of the BART Board. Then Randy gave the last word and the volunteers hit the streets.

Photo courtesy Randall Knox campaign.

Photo courtesy Randall Knox campaign.
The volunteers canvassed the Ingleside, Oceanview, Excelsior, and Outer Mission neighborhoods distributing flyers and window signs. The Knox for Supervisor campaign was pleased to have such a great turn-out to carry Randy's message to the residents of District 11.
Randy represents real choice for the voters in District 11 where the other two leading candidates are waging a proxy war between factions at City Hall for control over the Board of Supervisors. Randy has lived in District 11 over twenty years and knows the neighborhoods and the issues that concern the residents. Having been an assistant District Attorney and a criminal defense attorney, Randy is the only candidate with criminal justice experience and a real understanding of the causes of and solutions for the crime that has increased in the district.
City Hall has ignored the needs of the residents of District 11 for too long, and the voters here know that Randy will change that. Randy will represent the people of District 11 and work across the existing political factions to bring the real change that his home District demands and deserves.
The successful Volunteer Mobilization event, which will be repeated each Saturday until Election Day, was a great step toward getting Randy Knox elected to the Board of Supervisors.
If you'd like more information about this event or about the Randy Knox for Supervisor Campaign, please contact Stewart Walker at (415) 334-2400, or email at stewart@randyknox.com.