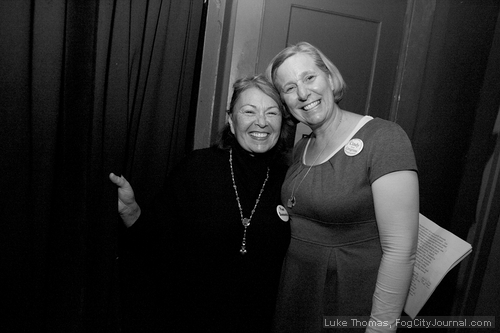 Superheroes Cindy Sheehan and comedian/actress Roseanne Barr
joined forces yesterday at the Brava Theater to discuss media reform
of corporate dominated media.
Photos by Luke Thomas
October 15, 2008
Comedian Roseanne Barr sent Speaker Nancy Pelosi a strongly worded message last night: If the two of them cross paths, be ready to fight!
"Sometimes me and [Pelosi] end up in the same circles," Barr said. "I will walk right up to Nancy Pelosi and slap her right across the face, as I will everybody else in this damn government."
The always-outspoken Barr made the comments during a panel event sponsored by the campaign to elect Cindy Sheehan to Congress, to discuss media reform and issues surrounding corporate propoganda.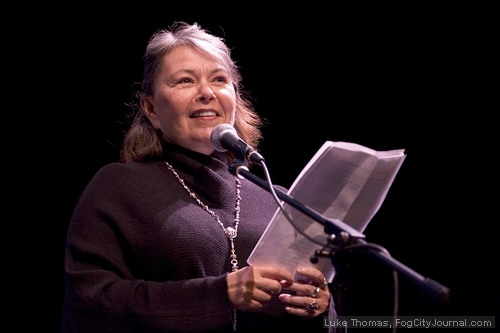 Proud Sheehanista: Roseanne Barr
"Yeah, that's going to be our next robocall," an amused Cindy Sheehan responded.
Sheehan and Barr were joined by KPFA journalists Dennis Bernstein, Miguel Molina, Steve Zeltzer, Nora Barrows-Friedman, and Project Censored Director Peter Phillips.
Barr spoke about her background in the feminist movement dating back to when she worked in a feminist bookstore and collective in Denver, Colo. The collective published a lesbian feminist news journal called "Big Mama Rag."
"We discussed bombing a strip club there and liberating the naked woman mannequin that stood on top of it," Barr said during a 10-minute opening speech.
The collective lost their nonprofit status because of their politics, leading to the Supreme Court case – Big Mama Rag, Inc. vs. US.
Barr also talked about her struggles with the media while doing press for her long-running network sitcom, "Roseanne."
"I thought that I would be interviewed as an artist and a creative force when my show was discussed in and by the media," Barr said. "Instead, every single time – and without exception – when I was interviewed in the press, I was diminished and insulted, and only articles about my weight were published – as if my fat was a sexual fetish of some political sort."
Barr said the media's focus on her weight detracted from her original message of depicting working-class life in America.
"I would be talking about class in America and they would write about how the 'fat sassy Barr munched a couple of brownies' during our interview, and is 'quite passionate and feels the lower classes are disrespected on television,'" Barr said.
Barr talked about her infamous performance of the national anthem in 1990, describing the "Star Spangled Banner" as a song "none but a few opera-trained beings can even fucking sing." She said the incident cost her numerous business opportunities as well as threats to cancel her show.
Since "Roseanne" went off the air in 1997, Barr started a website Roseanneworld.com, which publishes stories from grassroots candidates like Sheehan and Green Party presidential candidate Cynthia McKinney. Barr said she posts these stories because corporate-owned media outlets refuse to publish them.
"The fact that somebody who has integrity and decency and moral backbone is even alive in this country at this time, is just fucking so awesome and overwhelming," Barr said of Sheehan.
"I hope that a whole bunch of Cindy Sheehan people will start running for office," Barr added. "People who can't be bought and people who can't be broken. People who believe in liberty."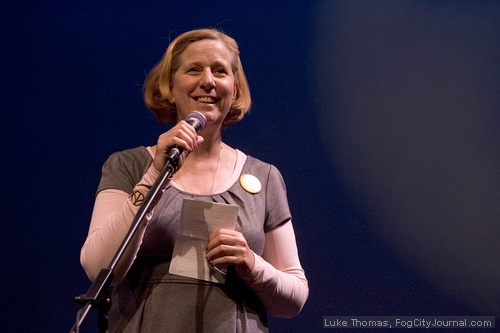 Peace Mom Cindy Sheehan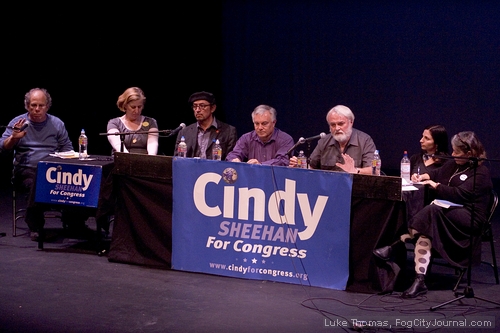 Dennis Bernstein, Cindy Sheehan, Miguel Molina, labor journalist
Steve Zeltzer, Project Censored Director Peter Phillips, Flashpoints'
Nora Barrows-Friedman, and Roseanne Barr.
More Info