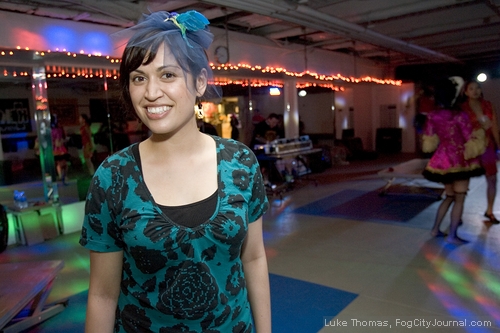 Elaine Santore
Photo by Luke Thomas
By Elaine Santore

October 28, 2008
In the daytime, Stow Lake in Golden Gate Park looks idyllic and serene. But nighttime is a whole different story: the calm waters hold secrets from the dearly departed who have broken on through to the other side.

The waterfall at Stow Lake.
Photo by William Buckley via Flickr
Ghost stories abound at Stow Lake: the frontier statue that changes positions; a strange mist hovering over the water; witnesses rushing to flee the scene, only to have their cars stalled.
One of the most famous ghost stories in San Francisco is a 100-year-old legend called "The Lady of Stow Lake." It's a classic "Woman in White" ghost story – a woman drowned in the lake after her toddler son fell overboard during a boat ride.
"The legend tends to believe she lived in the Victorian era and some references talk about the 1930's," said Tommy Netzband, president of the San Francisco Ghost Society and tour guide of the Haunted Haight Walking Tour. "The Victorian era seems to be the most popular of the two versions but researching it is, of course, very difficult because of so many records were lost after the 1906 earthquake."
The popularity of the ghost story has inspired locals to visit Stow Lake after dark to see the woman in white, with varied levels of success.
"Ghosts don't perform," said Paul Dale Roberts, ghostwriter and general manager of Haunted Paranormal Investigations International (H.P.I.). "You can't expect one to just jump out at you."
Roberts participated in an investigation of Stow Lake last year with SFGS. The team included several psychic mediums, who reported feeling the lady in white's presence.
They also took photographs, which revealed floating orbs – translucent white spots indicating spirit activity.
He said ghosts appear most often in areas with strong amounts of energy.
"If there's a lot of energy surrounding the lake coming from people visiting the park, the ghost can appear," Roberts said.
The earliest record of the legend was printed in the San Francisco Chronicle on Jan. 6, 1908.
The Chronicle reported a mysterious figure blocking a car on its way out of the park. Police later pulled over the owner of the car, Arthur Pigeon, for speeding.
"It was a thin, tall figure in white," Pigeon told the Chronicle. "And it seemed to shine. It had long, fair hair and was barefooted. I did not notice the face. I was too frightened and anxious to get away from the place."
The Lady of Stow Lake allegedly continues to haunt the area to this day, asking people if they've seen her son.
According to Netzband, eyewitnesses have seen the Lady of Stow Lake in other areas of Golden Gate Park as well.
"I have spoken to over a dozen people who claim to have seen her," he said. "Most folks who report to us remain anonymous because of the subject matter. They don't want to be ridiculed for their experiences and we promise them confidentiality."
A 2005 Gallup Poll revealed that only one third of adult Americans believed in ghosts. Despite the popularity of reality shows like Ghost Hunters, discussion about ghosts is typically dismissed as paranoia or fantasy.
H.P.I. ghostwriter Athena Quinn also participated in the SFGS investigation. Quinn said she made a psychic connection with the Lady of Stow Lake.
"There was more than one being that was there that night, and one of them was feminine and in pain," she said. "Before I knew the legendary woman in white's name, I did tune into an entity that was saying 'M.' When I told Tommy this he informed that the woman white's name started with M."
In Quinn's write-up of the investigation,  she reported several unexplained electrical disturbances by the lake that night.
Her flashlight went out whenever she pointed it towards the lake, even though she'd just put in a fresh set of batteries. The same thing happened with Netzband's laser pointer.
"It intrigued me because I researched why this might have happened and I could not come up with anything that has the power to affect the laser and flashlight as it did," Quinn said.
Elton Pon, Director of Communications and Public Affairs at San Francisco Recreation & Park Department said he'd never heard about the ghost but wouldn't discount it.
"A lot of things float up to the surface of the lake, including human bodies," Pon said.
More information
For aspiring ghost hunters: Check out the Ghost Hunter's Guide to the San Francisco Bay Area for haunted destinations. (Including Daly City BART – that man in the old-fashioned garb asking you about the next Fremont train is probably on a trip to nowhere.)
For San Francisco ghost history: Read Rand Richards' Haunted San Francisco.
And for more spooky details on Stow Lake, listen to SFGS's Supernatural San Francisco podcast.
Fog City Journal would like y'all to have a safe and happy Halloween!
 

CrackBerry Jack-O-Lantern
Photo by Luke Thomas