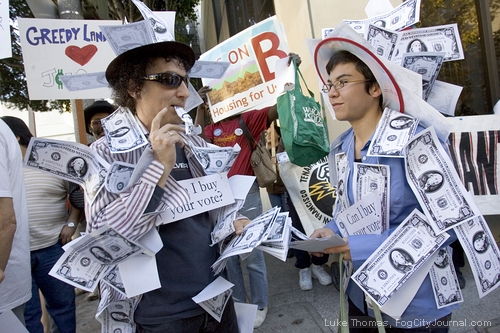 Protestors Tommi Avicolli Mecca and Camila Contreras wore fake $100 bills
and signs that read "Can I buy your vote?" during a rally outside
the offices of the San Francisco Association of Realtors, Friday,
to protest "the undue influence of money in our election."
Photos by Luke Thomas
By Luke Thomas
October 26, 2008
Several hundred protesters including labor and community groups held a rally outside the offices of the San Francisco Association of Realtors (SFAR), Friday, to protest the group's political ad campaign that smears the pro-tenant candidacies of John Avalos, David Chiu and Eric Mar.
"We are here to protest the undue influence of money in our election," said San Francisco Tenants Union head Ted Gullikson. "They are trying to buy our election and you know what's at stake here – the control of City Hall."
At stake are three supervisoral seats in swing districts 1, 3 and 11.
A consortium of downtown corporate interests including SF Association of Realtors, SF Coalition for Responsible Growth, Plan C, SF Police Officers Association, Building Owners Management Association, Golden Gate Restaurant Association, Committee on Jobs, Small Business Associates, Asian American Contractors, and PG&E is reportedly spending millions of dollars to defeat progressive measures and the grassroots candidacies of Avalos, Chiu, and Mar in hopes of duping voters into voting for the downtown-friendly, pro-landlord candidacies of Ahsha Safai, Joseph Alioto and Sue Lee.
"If these landlords can buy all three seats… that means landlords and corporations will have seven or eight votes on the board of supervisors… which will roll back or end rent control," Gullikson warned. "This is a subversion of democracy by people who don't live in these districts, and don't live in the city."