Congressional candidate Dana Walsh (center)
with Sen. John McCain and wife, Cindy McCain.
Photo courtesy Dana Walsh for Congress
November 3, 2008
Congressional candidate Dana Walsh likes to tell people about one of her earliest experiences as a Republican in San Francisco.
It happened during the 1991 election when Walsh walked over to a special "Republican's Only" voting booth at her local polling place.
"You fascist bitch!" a man blurted to Walsh. The room fell silent.
Walsh laughs about it now, but she doesn't look back. She's in the final throes of a race against Rep. Nancy Pelosi, D-Calif. This week her campaign unveiled billboards and sent out mailers.
"Some of the billboards are street-level so I'm expecting people to draw little mustaches on them," she said. "I made sure to smile with my mouth closed so nobody could black out my teeth."
Walsh has had a difficult time generating press for her campaign in a city largely dominated by Democrats. She received one call from the San Francisco Chronicle, not for an editorial board interview but for a quote for a story about Gov. Sarah Palin. The reporter had no idea Walsh was running for congress, according to Walsh.
But running against a 20-year incumbent and first female Speaker of the House has been a pleasant surprise for the interior designer and president of Nob Hill Republican Women. Walsh's campaign has, so far, raised about $660,000.
Walsh thinks Pelosi's low approval ratings and dissatisfaction among constituents have inspired voters to support her candidacy.
"The arrogance and partisanship has taken its toll," Walsh said.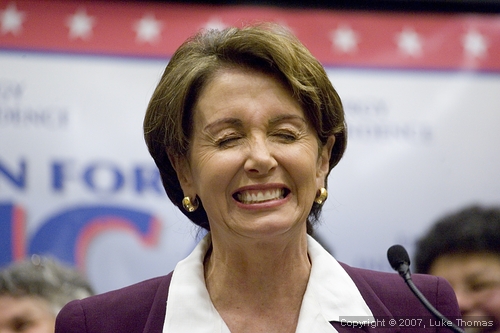 Rep. Nancy Pelosi
File photo by Luke Thomas
At events with independent candidate Cindy Sheehan, Walsh said the reaction to her candidacy has been "95 percent positive."
Sure, she gets booed sometimes but growing up with older brothers provided Walsh with a resilience to ridicule.
When Walsh took the stage at one Sheehan event, Sheehan admonished the audience to "behave themselves," that she didn't invite Walsh "to get booed."
"Dana carries herself very well in public," said San Francisco Republican Party Chair Howard Epstein. "She has politics people can identify with."
Walsh has focused her campaign on Pelosi's performance as speaker and what she calls a distorted view of reality.
"Nancy Pelosi lives in a world of make believe," Walsh said. "She says she's doing something but she doesn't solve any problems."
Pelosi's reluctance to debate the issues has also drawn criticism from her opponents. She hasn't participated in any debates since she initially ran for Congress in 1987.
During a October 29 episode of KQED's Forum with Michael Krasny, Pelosi cited the financial crisis as an excuse for avoiding debates.
"My own campaign is not a primary in my schedule," Pelosi said to Krasny. "However, I have no hesitation to debate anyone. I just wasn't in town because our schedules were compressed because of the longer congressional schedule, which we didn't anticipate happening because of this financial crisis."
Walsh points out that before the financial crisis Pelosi spent her free time promoting her book, Know Your Power: A Message to America's Daughters. But with only 2,737 copies sold in its first week, the book has largely been ignored.
"Why would anybody want to read a book about a dismal failure?" Epstein said.
Although Walsh may never get the opportunity to debate Pelosi, she is hopeful that her message will resonate on Nov. 4.
"Most of the events I go to, someone will come up to me at the end and say 'Thank You,'" Walsh said.