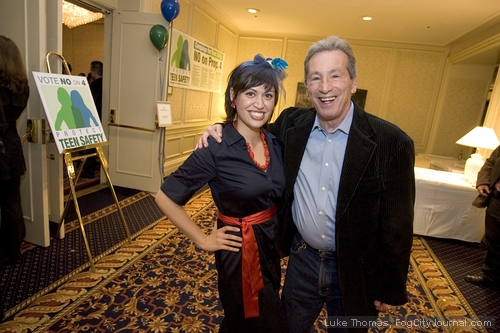 Elaine Santore and State Assemblymember-elect Tom Ammiano
at the Westin St. Francis on election night.
Photos by Luke Thomas
November 5, 2008
Game Day
I woke up Tuesday morning to a text from my friend Jordan in Minneapolis, which he sent at about 2:30am PST: "My God I can't sleep. So anxious." That pretty much sums up how I felt all day.
Everybody I spoke to yesterday either talked about how long they waited in line to vote or how long they planned to wait in line to vote. There was a definite feeling of excitement all over the city, and an awareness that history was going to be made.
I still haven't processed the experience of Barack Obama being elected 44th president of the United States. When Ohio and Florida went in Obama's favor and it became clear that he'd won, I was in a state of elated shock. People were cheering all around, but too much was going on in my head to react.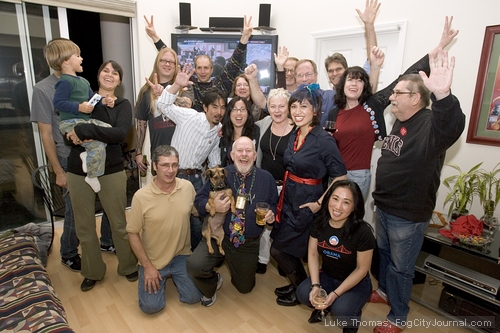 Fog City Journal's first election party stop at Daniel and Becky Cohen's house.
This pic shot moments following MSNBC proclaiming Sen. Barack Obama has won the election.
H. Brown is holding Henry, the Cohens' Chiweenie (Chihuahua/Dachshund mix).
The highlight of election night was calling Dad to congratulate him. Dad went to Reno a couple weeks ago to phone bank and walk precincts for Obama. When he came back home, he told me that listening to Obama speak at the University of Nevada was the first time in his life that he felt proud of his country.
Dad spent Tuesday calling a list of voters in Virginia (where he attended Washington & Lee University), and talked to household after household of African Americans who voted for Obama. He told me he was grateful that he'd finally gotten involved in the Obama campaign after years of being dissatisfied with American politics.
Today I'll follow the advice of Terry Canaan: "Take a moment to remember what you did and where you are. 'Yes we can' becomes 'Yes we did.' It's not over, but take a breather and pretend it is. You've earned it. Pour a glass of your favorite drink and make the toast of the 21st century."
Sucking the air out of the room
After having dinner at Daniel and Becky's house, Fog City Journal headed over to the Westin St. Francis for the California Democratic Party event, where Mayor Gavin Newsom was scheduled to speak.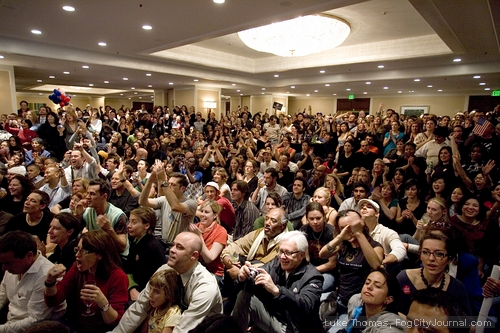 The crowd at the Westin St. Francis.
Can you spot the Palin look-alike?
Board President and Democratic County Central Committee Chair Aaron Peskin was ecstatic when he addressed the packed crowd.
"This is our time," Peskin said. "This is the moment in time when the United States will understand what San Francisco values are really all about. This is a moment when people understand that this is not just a city that tolerates diversity; this is a city that celebrates diversity."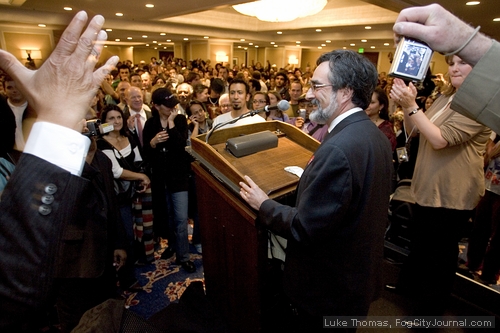 Board President and DCCC Chair Aaron Peskin.
Peskin also spoke about Proposition 8, or what he calls "Proposition Hate," which passed in California. I'm hoping (praying!) Prop 8 gets thrown out by the California Supreme Court. Again.
But Peskin had high praise for House Speaker Nancy Pelosi.
"I would like to say thank you to our incredible Speaker of the House, Nancy Pelosi. Thank you Nancy for helping us take back our country," Peskin said, sounding like he wa speaking in a subliminal code only Blue Dog Dems can understand.
He also thanked his DCCC colleagues Supervisor Jake "I'm lost" McGoldrick and backscratchers Melanie Nutter and Laura Spanjian.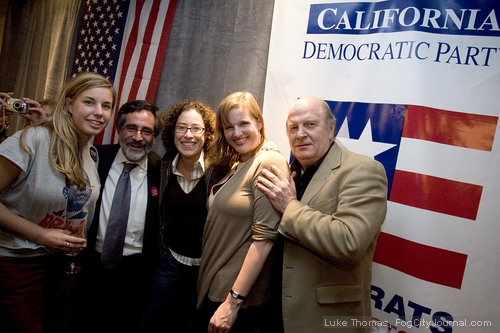 Aaron Peskin (second from left), Laura Spanjian,
Melanie Nutter and Supervisor Jack McGoldrick.
City Hall gadfly Abdullah stood next to the stage during Peskin's speech and demanded to know why he wasn't thanked. Another total diva.
"What about me, Aaron?" Abdullah begged. "What about me?" Then Abdullah hugged Peskin and asked Luke Thomas to take a picture of them together.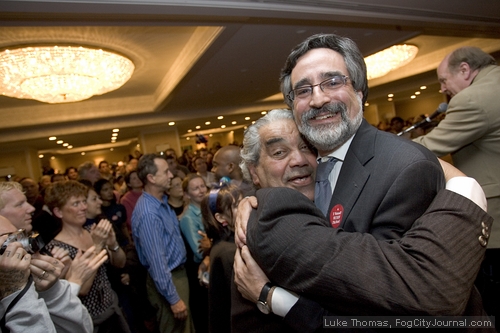 Peace in the Middle East: Aaron Peskin embraces his spiritual brother
from another mother, Abdullah.
One of the highlights of the party was a long-distance call from Pelosi over the loud speaker. Nancy Pants probably pre-recorded her message yesterday in between Botox shots.
My plan was to shout "Gary Coleman for Governor!" when Newsom walked into the room, but no such luck. He showed up late to the HOtel (we're assuming as much because one of his body guards was walking around) but we missed his entrance and we're not sure if he actually managed to speak.
I guess now is the perfect time to announce that I will endorse any candidate who runs for governor against Newsom in 2010. My endorsement is for sale. If Jerry Brown doesn't send me a Facebook friend request after this is posted, I will be extremely disappointed.
Heckling is for progressive meanies
I didn't hear much of McCain's concession speech at the Westin because I think I spent too much time yelling at the screen. I'm sure the people around us thought I had Tourette's or something.
Paraphrasing a bit here:
McCain: "I'd like to thank all the people who supported me…"
CrackBerry: "Old people!"
McCain: "Their support has meant a lot to me…"
CrackBerry: "Piles of money!"
McCain: "I'd like to thank my wife Cindy…"
CrackBerry: "Pills!"
We never made it to El Rio
The plan was to party at El Rio with the League of Young Voters and the Prop H crew, but we took one look at the line at around 9 pm and decided against it. We meant to go back at the end of the night, but it didn't work out. Sorry, guys. 🙁
But we did stop by Roccopulco 
We saw Amanda Witherell of the SF Bay Guardian waiting outside El Rio, and she told us there was no line for the Yes on B/Eric Quezada party at Roccopulco next door.
 

District 9 Supervisor candidate Eric Quezada talks to supporters at Roccopulco.
FCJ also ran into Supervisor Chris Daly and his wife Sarah Low Daly, who were on there way to District 11 for the John Avalos party.
Off to the Excelsior
Fog City Journal walked into the John Avalos victory party at Club Bottom's Up in the Excelsior and found a spirited celebration. When Daly walked in, Avalos supporters began to chant "Puppet Master! Puppet Master!" – referring to the commercial that accused Eric Mar, David Chiu and Avalos of being Daly "puppets."
Avalos thanked his wife, Karen Zapata, for supporting him throughout the campaign. Zapata also spoke to the crowd, and and thanked Sarah Low Daly.
"I come from a long line of 'fuck you!'" Zapata said.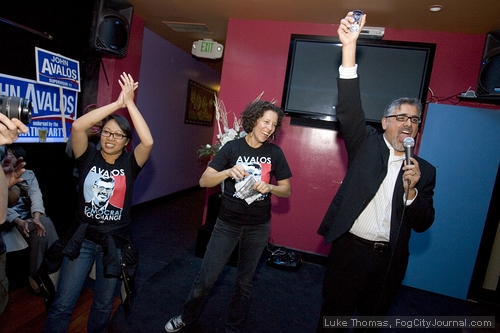 Rachel Redondiez, Karen Zapata and John Avalos.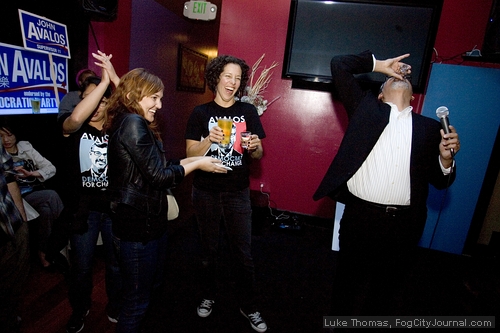 Kay Vasilyeva and Sarah Low Daly brought up shots for Karen and John.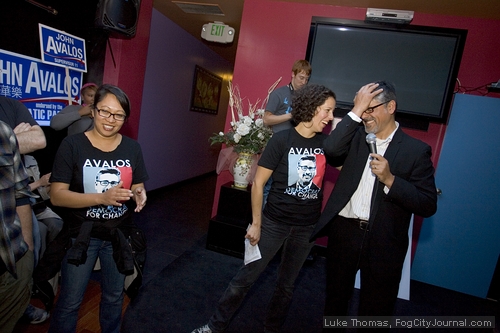 District 11 candidate Randy Knox stopped by the party to offer his congratulations to Avalos.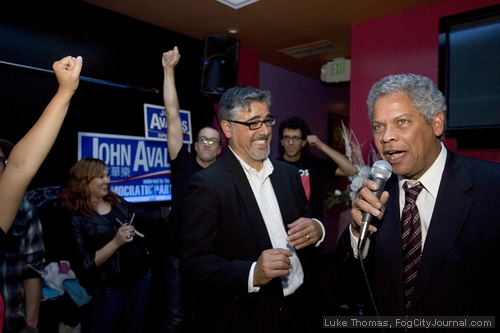 John Avalos and Randy Knox.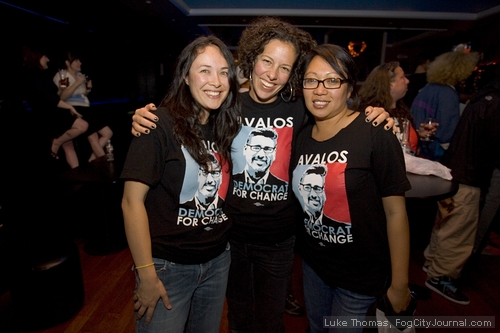 Sarah Low Daly, Karen Zapata and Rachel Redondiez.
Off to the Richmond
Next on our tour of the districts was Eric Mar's victory party in the Richmond.
On our way to the Richmond, Chris Daly called District 9 candidate David Campos to congratulate him on his lead over Mark Sanchez and Eric Quezada.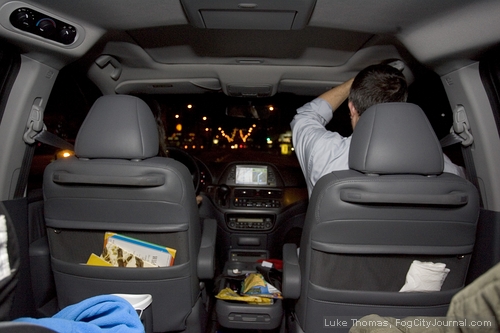 Supervisor Chris Daly on the phone, congratulating Police Commissioner David Campos.
Most of the crowd had left the party by the time we got there, but Mar and his supporters were still celebrating, including DCCC member Jane Morrison and United Educators' Dennis Kelly.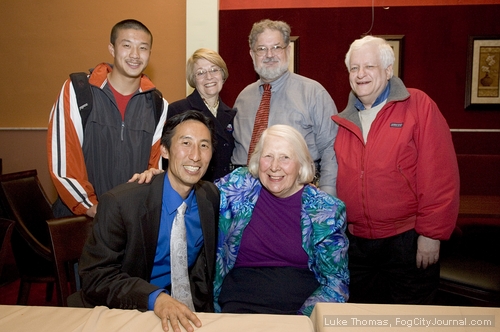 Alan Wong, Dennis Kelly, Rick Hauptman, Eric Mar and Jane Morrison.
Supervisor Ross Mirkarimi also stopped by the party, fresh from his re-election victory. Mirkarimi and Daly talked for a while about semi-important things like board presidency votes, etc.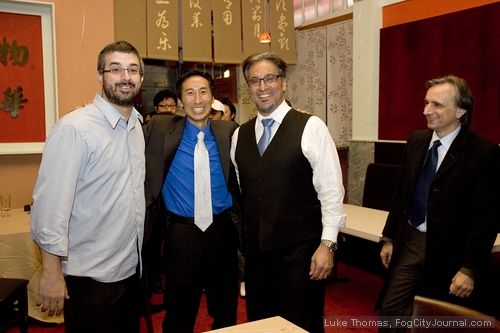 Supervisor Chris Daly, Eric Mar, Supervisor Ross Mirkarimi and
Community College Board Member John Rizzo.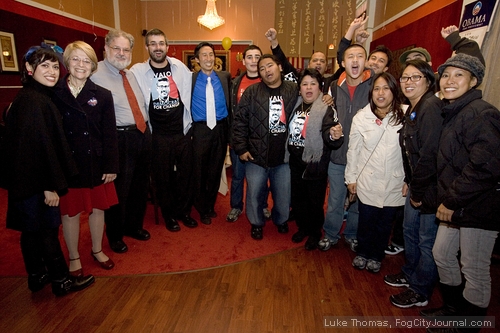 CrackBerry Rehab Watch: Chris Daly
Chris Daly bought a new CrackBerry over the summer and he's somehow managed to out-crack me and BFF Aaron. I don't think I saw him get off the CrackBerry once last night. Time to get help, Chris!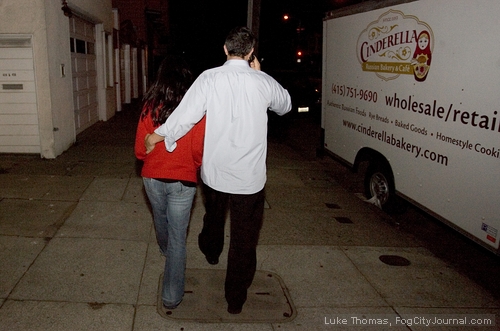 Still on the phone: Supervisor Chris Daly
walks through the Richmond with wife Sarah Low Daly.
More photos
Check out (and buy!) election night photos at SmugMug.
Announcements
Fog City Journal would like to send a special belated birthday wish to our two favorite progressive babies (well, pretty much the only progressive babies we know) – Amy Elizabeth Chandonia and Grace Eolen Daly, who both turned one year young recently.
Amy and Grace have never met, but already have plenty in common because their parents are progressive and they both like to wear lavender, which means that they're either destined to be BFFs or frenemies for life.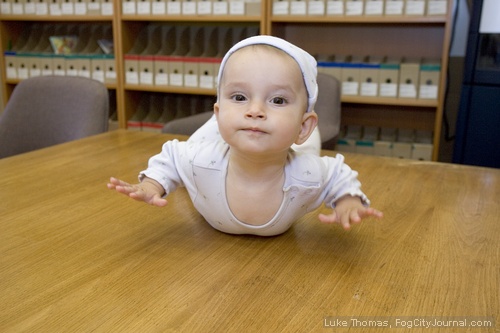 Erika McDonald and John-Marc Chandonia's flying baby, Amy, turned one on Oct. 26.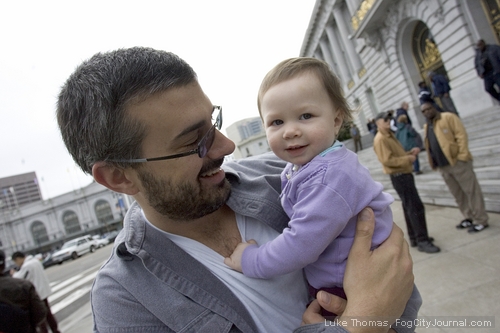 Supervisor Chris Daly looks lovingly at his daughter Grace on her first birthday, Nov. 3.
However, Amy and Grace's parents have endorsed rival candidates for District 9 supervisor. If these babies grow up to be real progressives, they'll continue to argue about this 20 years from now.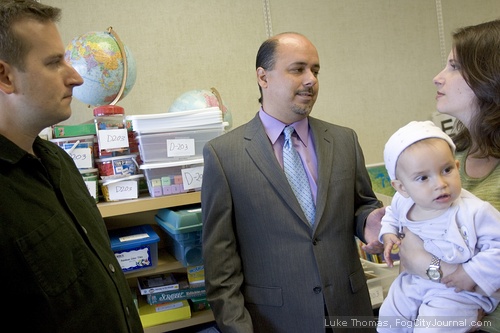 John-Marc Chandonia, District 9 supervisor candidate Mark Sanchez, Erika McDonald and Amy.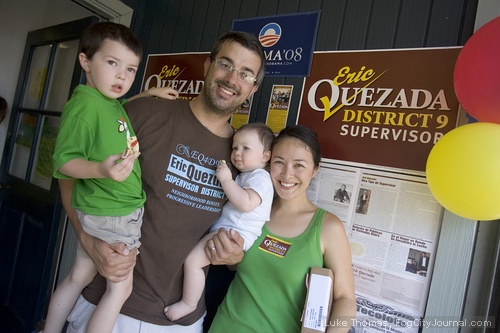 Jack, Chris, Grace and Sarah Low Daly at the kick-off party for Eric Quezada.