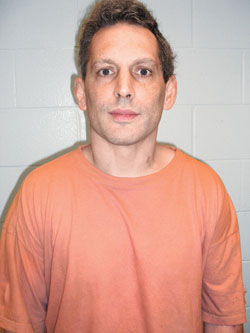 Hans Reiser
Police photo
By Jeff Shuttleworth
February 26, 2008
Murder defendant Hans Reiser lost two rulings today when a judge denied his motion for a mistrial as well as a motion to have his case dismissed on the grounds that prosecutors presented insufficient evidence against him.
Reiser, a 44-year-old computer engineer who's accused of murdering his estranged wife Nina, who disappeared on Sept. 3, 2006, also appeared to be upset that vacations for the judge in his lengthy case as well as jurors mean that jury deliberations probably won't begin until March 31.
Alameda County Superior Court Judge Larry Goodman said he will take a long-planned vacation the week of March 10 and the trial also won't meet the week of March 24 to allow jurors to take vacations they also had planned long ago.
Goodman noted that before the case began on Nov. 6, jurors were told that Reiser's trial would end by Jan. 17.
After Reiser conferred with his two lawyers for nearly half an hour in a courthouse stairwell, William DuBois, his lead attorney, said Reiser "agrees to the schedule even though he believes it is much to his disadvantage."
Reiser is expected to take the witness stand on Thursday to testify in his own defense.
In a whispered conversation outside the presence of jurors, DuBois told Reiser that he probably will be on the witness stand Thursday as well as next Monday, Wednesday and Thursday. The trial won't meet next Tuesday because a juror has a conflict.
Nina Reiser, who was 31 at the time, was last seen alive on Sept. 3, 2006, when she dropped off the couple's two children off at the home at 6979 Exeter Drive in the Oakland hills where Hans Reiser lived with his mother. The couple had been separated for two years and was in the midst of a bitter divorce case and a battle over custody of their two children, Rory and Nio.
Nina was awarded legal custody of the children but Hans was allowed to have them several days a week.
The body of Nina Reiser, who was born in Russia and was trained as a physician there before coming to the U.S. in 1999 to marry Hans Reiser, has never been found, despite extensive searches in the Oakland hills and elsewhere. But Hans Reiser was charged with murdering her because prosecutors believe that DNA and blood evidence proves that he killed her.
He has pleaded not guilty to the charges against him.
DuBois has said that he thinks Nina Reiser may still be alive and be in hiding in Russia.
The motion for a mistrial filed by DuBois on Reiser's behalf alleged that Goodman made "inaccurate, intemperate and unfair" remarks in front of jurors when the judge reprimanded DuBois while he was cross-examining prosecution witness Ellen Doren, one of Nina's best friends, on Dec. 12.
DuBois argued that the judge had improperly influenced and "misinformed" jurors by stating that there is no evidence that Nina Reiser might have left Hans Reiser's house alive after she dropped off the children on Sept. 3, 2006.
But Goodman said DuBois misinterpreted his remarks and he didn't say that there is no evidence that Nina left the house alive.
Instead, Goodman said he was only saying that there is no evidence that Doren knew where Nina went after she dropped off the children.
"Motion denied," Goodman said.
DuBois said he believes that prosecutor Paul Hora, who rested his case two weeks ago after presenting 65 witnesses and more than 200 exhibits, presented insufficient evidence for a conviction because his case is based on unreliable testimony from Rory Reiser, the couple's son.
But Hora said that even if Rory's testimony were to be removed from the case, there still would be "sufficient evidence for jurors to convict the defendant (Reiser) as charged."
Goodman said he agrees "the evidence is sufficient to sustain a conviction and it would be affirmed on appeal."
On March 17, Goodman will hold a hearing on a second motion for a mistrial filed by DuBois.
DuBois alleges that Hora engaged in an improper cross-examination of psychiatrist Beverly Parr, a defense witness who testified last week that she thinks Reiser suffers from a mild form of Autism called Asperger's disorder.
Under cross-examination by Hora, Parr, who's a close friend of Reiser's mother, admitted that she's never examined Reiser.
Jurors were only in court for a little more than an hour today because DuBois ran out of defense witnesses.
Cimarron Taylor, a computer designer who's been a friend of Reiser's since they met at the University of California, Berkeley in 1985, said Reiser is less emotional than most people.
DuBois apparently called Taylor to the witness stand to indicate that Reiser wouldn't have been emotional enough to murder Nina.
DuBois also put Oakland attorney Cheryl Hicks, who represented Hans Reiser in family court in 2006 when he tried to get custody of his children after Nina disappeared, on the stand.
Hicks will conclude her testimony when Reiser's trial resumes Wednesday morning.
She will be followed by a DNA expert for the defense as well as a child psychologist.