By Ari Burack
February 27, 2008
A man accused of setting fire to and vandalizing the historic residence of the San Francisco fire chief pleaded not guilty to all the charges against him this morning in San Francisco Superior Court.
Lance Farber, 47, was ordered held on $1 million bail after being charged with felony counts of arson of an inhabited dwelling, arson of property, and vandalism exceeding $400 in damages, and a misdemeanor count of violating a restraining order against his boyfriend, newly appointed Planning Department Director John Rahaim.
Farber's attorney Randall Knox entered a not guilty plea to the charges on behalf of Farber, who stood next to him in an orange prisoner's uniform. Farber is scheduled to return to court Friday for further proceedings in the case.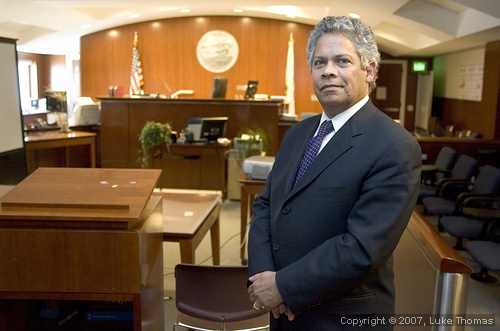 Defense Attorney Randall Knox.
Farber had reportedly been living with Rahaim at the Dennis T. Sullivan Memorial Fire Chief's Home, an official city landmark built in 1922 at 870 Bush St. Current Fire Chief Joanne Hayes-White does not live at the residence.
According to a spokesman for Mayor Gavin Newsom, the mayor's office had an informal arrangement with the fire department to allow new department heads to stay there while they resettled from other cities.
That practice has been discontinued at the request of Hayes-White, Newsom's spokesman Nathan Ballard said.
According to a police report, officers arrived at the home Friday at about 8:50 p.m. to find a garage door open and the building empty. An area of the home had been vandalized and a mattress was burning.
San Francisco police identified Farber as the suspect and were notified by the San Mateo County Sheriff's Office that Farber had been arrested in San Mateo County later that night on suspicion of driving under the influence, police reported.
He remains in custody in San Francisco County Jail.
Farber's attorney Randall Knox argued this morning before Judge John Conway that his client has no criminal record and that the charges and the bail amount were excessive.
"This was essentially vandalism of a mattress that belonged to Farber and his partner," Knox told the judge.
Assistant District Attorney Sharon Reardon argued that the fire occurred in a residential area and could have damaged other homes.
Expressing concern about a "public safety issue," Conway agreed to the bail amount.
Conway also signed a second restraining order, prohibiting Farber from having contact with Rahaim or 870 Bush St.
According to the District Attorney's Office, Farber already violated an existing restraining order against him by phoning Rahaim from jail.
Outside the courtroom, Knox said that Farber, a chiropractor, has been unsettled and is suffering migraine headaches. Knox requested a medical doctor be allowed to examine Farber in jail.
"It's traumatic. It's difficult. The man's never been arrested before in his life," Knox said. "He's very distressed."
"This is a personal issue between Lance and his partner," Knox added.
The three-story landmark, which contains a number of antiquities, sustained as estimated $30,000 in damage, mostly from smoke and vandalism, according to fire department spokeswoman Lt. Mindy Talmadge.
She said the interior will need repainting and the carpet will be replaced, but no antiquities or historical items were damaged.
Ballard said the mayor's office is waiting until a police investigation concludes to determine who should be held responsible for the damages