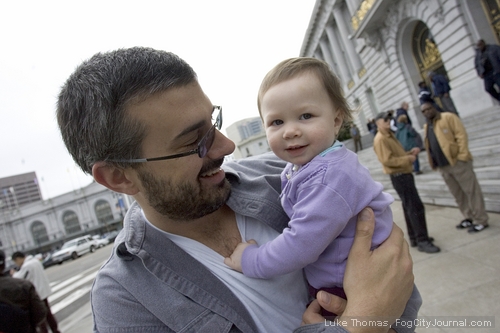 Supervisor Chris Daly with daughter Grace Eolen Daly.
Photo by Luke Thomas
By Chris Daly, special to FogCityJournal.com
November 17, 2008
The day after Election Day, Robert Haaland forwarded me a link to Phil Bronstein's blog. In a post more fitting for GavinWatch than the San Francosco Chronicle, Bronstein criticized Gavin Newsom for his role in aiding the proponents of Proposition 8, and then took the Mayor to task for everything from his drinking problem to the dying vegetables in his "victory garden."
But after another big night for progressives in San Francisco, the Chronicle's new editors were in denial, calling San Francisco voters "surprisingly conservative" on the propositions.
A Big Day for Progressives
Unfortunately for them, the truth of the matter was plain to see. Progressive candidates swept the election in San Francisco — from President of the Board of Supervisors to Community College Board. Even though downtown spent hundreds of thousands of dollars attacking candidates for their opposition to JROTC, the two top-vote-getters for School Board supported alternatives to the military program.
Outspent over $10 million to a few hundred thousand on ballot measures, progressives still won more than we lost — Yes on E (recall reform), Yes on J (Historic Preservation Commission), No on L (Community Justice Center), Yes on M (rent control), Yes on N, O and Q (new revenues), No on P (takeover of the Transportation Authority), Yes on T (substance abuse treatments services), and Yes on U (defunding the war). Hardly the conservative sweep reported by the Chronicle.
Of course the big news that the Chronicle was trying cover up was the progressive wins in the Supervisor races. With well over $600,000 spent to defeat good, neighborhood-based progressive candidates, downtown came up empty once again. After their brutal assault on me two years ago, you'd think they'd learn their lesson. If they couldn't beat me with me, I'm not sure why they thought they could beat others with me. I guess old habits die hard.
Phil Bronstein, "Desperate to Stay Relevant"
But I have to admit, in a fit of post-election euphoria, I made a bit of a mistake. I blogged about Phil Bronstein's blog! I must have shaken the sense right out of him, because he responded with the standard talking points, dusting off the old Chris Daly, Saint or Sinner story, and adding the whole man on the street bit. While this gimmick may be a sign of journalistic desperation, I thought, done the right way, it could be a bit of fun!

Who is Phil Bronstein?
I met Bronstein once several years back in the Green Room of the War Memorial Building. I don't remember what the event was, but Bronstein doesn't even remember meeting me. I guess you could say neither one of us was very impressed.
While it's true that I may not have recognized the Chronicle editor but for his celebrity wife and a nasty little encounter with that Komodo dragon back in 2001, I certainly was already quite familiar with his newspaper's slanted news coverage, business-leaning editorial page, and embarrassing, right-wing columnists. With more than two-dozen negative editorials and 40 more hits from former columnist Ken Garcia within my first 4 years in office, it was time for me to answer back.
The Daly Blog
While I had periodically penned columns like this one for years, I started my blog in 2005 to help counter the media bias in San Francisco politics – especially when it came to coverage of me in the Chron. My first post covered the City budget, business tax settlement, and assessment appeals – with specific reference to the Chronicle's financial interest. If the Chronicle's slant wasn't a result of their business interest, it certainly was a convenient little coincidence! The blog has proven useful to call the Chronicle on their lies (and more lies) and to keep the gossipers a bit more honest than they'd otherwise be.
But what makes the Chronicle really dangerous is what they don't do – effectively report the real news in San Francisco. Maybe it's too much to ask for real chronicles of everyday San Franciscans, struggling to live with dignity in this sometimes unforgiving City. Lord knows we won't get to read empowering chronicles of people coming together to improve their communities.
I'd actually settle for genuine coverage of any of our major accomplishments – Trinity Plaza, Bessie Carmichael/FEC and Victoria Manalo Draves Park, Rincon Hill, SRO hotel improvements, expanding affordable housing opportunities, and protecting City services – to name a few. It's no wonder random people on the street can't tell you what our accomplishments are – the newspaper never covered them!
Only Words
While the Chronicle tried to spin our local electorate as "surprisingly conservative," they continued down their reckless path of re-branding our proud, progressive tradition as "far left" and "ultra-liberal." Bronstein may not believe that the Chronicle editors are doing such a thing, but that just goes to show you how far he's fallen. They've already admitted to doing it for political reasons.
In an effort to de-escalate a burgeoning blog war, maybe it would be good if the Chronicle brought back Bronstein from obscurity. At least he didn't make up new words to describe our political movement.