Saving Trinity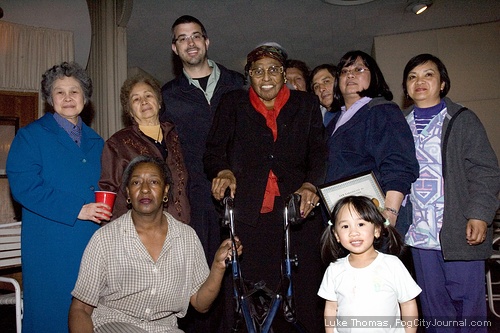 Supervisor Chris Daly was honored last week for his efforts to reach a deal with developer Angelo Sangiacomo over redevelopment of Trinity Plaza. The agreement maintains rent controlled units in a new building development, ultimately protecting tenants from displacement.
Photo(s) by Luke Thomas
By Rachel Redondiez and Chris Daly, special to Fog CIty Journal

April 30, 2007
The real beauty of San Francisco is in the diversity of our people -- a precious diversity jeopardized by forces pushing working class people out of their homes and communities.
Nowhere was this issue more in the balance than at Trinity Plaza. A classic David versus Goliath battle, the Trinity struggle became the leading symbol of the fight to save the soul of the City.
On one side was Angelo Sangiacomo, a multi-millionaire landlord and real estate mogul pushing a fancy development project for the site. On the other, hundreds of working class residents and families led by a dozen tenant leaders who became unsung heroes of San Francisco.
In the 4-year fight over Trinity, the tenants suffered several setbacks. A Mayoral veto was upheld when a vote flipped in City Hall's ornate Board Chamber. Then an initiative secured by thousands of summertime signatures was kicked off ballot in Superior Court due to a technical defect with the petition.
But the long-time residents of Trinity who came together for their community remained steadfast and vowed to continue their fight.
Ultimately it was a landmark agreement between Sangiacomo and the tenants to preserve all 360 rent-controlled units through the creation of a Development Agreement that served as the foundation for one of the most significant development projects in San Francisco history.
The new Trinity Plaza at 8th and Market will include up to 1900 units. Over 30% of those units will be below market rate, including the 360 rent-controlled units that will all be built within the next 42 months in the first tower. All Trinity tenants will be allowed to move into their new units at their existing rents.
The Trinity struggle was truly exceptional and featured many Trinity tenants who brought their neighbors together to lead and inspire a citywide fight to preserve rent-controlled housing. This core community of tenants weathered years of struggle, setbacks, and personal adversity to deliver the Trinity victory. They represent the best of San Francisco and will forever be in hearts of those who struggle to preserve our diverse, working-class San Francisco.
ELIZABETH GLOVER
Mrs. Elizabeth Glover, 90 years of age, has lived at the Trinity Plaza Apartments for almost 20 years. A long-time schoolteacher and principal for the San Francisco Unified District, Mrs. Glover has spent the last few years of her retirement fighting for her tight-knit community at Trinity.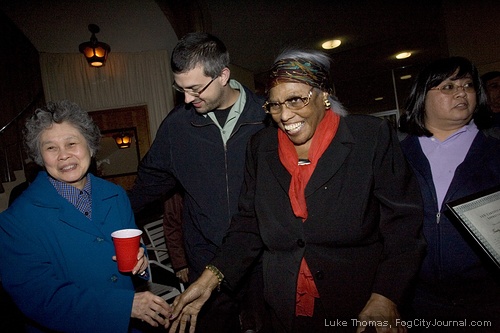 Elizabeth Glover (center)
Mrs. Glover has served for 11 years as a site administrator at Sara B. Cooper Elementary formerly at Jones and Lombard, a teacher at Commodore Stockton Elementary School in Chinatown, and a counselor at John McClaren Elementary School. Mrs. Glover is proud of having taught at schools with enrollments of mostly immigrant students. Her current medical doctor, Dr. Sied at St. Mary's Hospital, was one of her newly immigrated Chinese students when she taught in Chinatown in the 40's.
Having been a City-girl most her life, Mrs. Glover says she liked Trinity because of its central location and proximity to such conveniences as drugstores, post offices, and entertainment. In a City with a rapidly declining African American population, Mrs. Glover is one of a handful of African American residents in Trinity. Despite living alone in her twilight years, she enjoys the company of her diverse neighbors who come from just about every continent in the planet. She makes it a point to join her neighbors for birthday parties and regular prayer meetings.
Mrs. Glover has always considered herself an activist. "Anytime there is a fight, whether it be a teacher's strike or a community issue, I was there." Born in 1917 in New Orleans, she has been a social justice activist since she graduated college when she went to the poor rural areas to teach health education. Mrs. Glover was active in the civil rights movement and many other struggles. "If I see an injustice, I will keep fighting it or die trying. I will not allow anyone, no matter how much money they have, to push us around and treat us like second-class citizens."
While working for the Board of Education in the 60's, Mrs. Glover was fired by a racist supervisor for speaking up and criticizing the administration. Not accepting this injustice, Mrs. Glover challenged her termination and was able to prove discrimination. The School Board overturned her termination and she got her job back with full reinstatement.
Mrs. Glover brought her fiery passion and commitment to justice to the Trinity fight. Despite having bad knees, severe spinal stenosis, and great difficulty walking, Mrs. Glover has been an inspiring figure in the fight to save Trinity-attending meetings, rallying her neighbors, and lobbying City officials with compassion and conviction.
LUISA BALATBAT
Luisa Balatbat has lived in her small Trinity unit for 7 years with her 14 year-old son, Grecco, her 9 year-old daughter, Grace, and 72 year-old mother. Having escaped an abusive husband, Luisa bought a one-way ticket from Chicago to relocate her family in San Francisco in 1999. At first they stayed in shelters until she was able to get back on her feet and get their own place.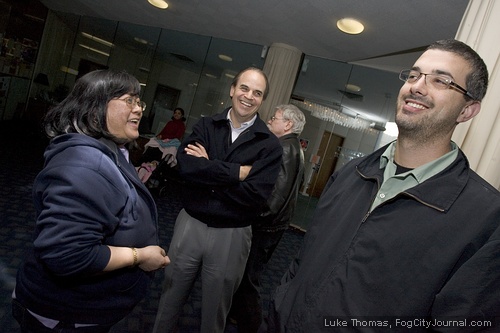 Luisa Balatbat (left)
Overcoming her own circumstance, Luisa became a social service worker to help other victims of domestic violence in the City. Trinity Plaza Apartments was the first place that Luisa and her kids felt safe and where they had built a community. In 2004, the news of Trinity owner Angelo Sangiacomo's plan to demolish the building and erect market-rate condos put fear back in their lives. Luisa became an active member of the Trinity Plaza Tenant Association and an eloquent spokesperson not just to save rent-controlled units at Trinity, but also for the greater struggle of working families to have a dignified place in San Francisco.
Despite being a single mom raising 2 kids, or maybe because of it, Luisa gave a lot to the long fight, making lots of sacrifices along the way. She was devoted to her family and to her neighbors and often brought her whole family along to meetings or even offered up her small unit for their tenant meetings.
Despite their crowded conditions, Luisa's apartment was always open to her neighbors. When longtime Trinity resident Pablo Romero died in 2005, Luisa invited his wife, Fernanda, to stay with them to help her deal with her loss. Even on Luisa's sofa, Fernanda stayed for over 3 months until she was ready to go back to her apartment to live on her own.
Towards the end of the Trinity fight, Luisa was diagnosed with breast cancer. Over the past 6 months, she has been undergoing chemotherapy and battling the disease. Despite this personal battle, Luisa remained close to her neighbors. A regular prayer group at Trinity made up of many of the Filipino residents has been the place Luisa turned to for constant support.
The adoption of the Development Agreement has been a long-fought for victory and has given Luisa and her family hope that their tight-knit community will stay in tact through the years. Even with cancer, Luisa was a key organizer of the victory party held at the Trinity lobby last week. As she looked around the room at so many new neighbors and many new children, she was glad that the new Trinity will include a community room and children's playground for the tenants.
TIMOTEO AND PATERNA GUINTOS
Mr. And Mrs. Guintos were one of several couples in their 70's who were long-time residents of Trinity. Despite struggling with multiple health problems in their twilight years, they were active in attending meetings, lobbying the Board of Supervisors and signature gathering for their cause.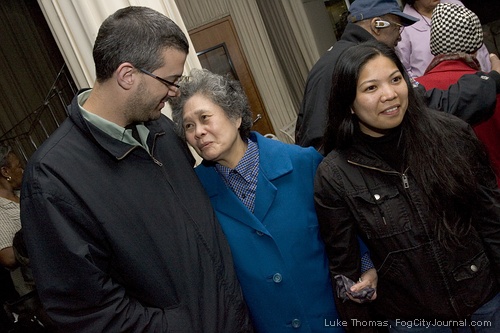 Paterna Guintos (center)
Mr. Timoteo Guintos, who passed away this January, was a Filipino Veteran and Sergeant who fought under the U.S. flag from 1942-1946 in World War II. In 1991, he saw published in Philippine papers a report that any WWII veteran survivors should come to the U.S. for their citizenship. So he and Mrs. Guintos sold their house with the understanding that he would have a pension and full benefits when they came to the U.S. This was not the case. Despite numerous efforts to repeal the Rescission Act of 1946, denying recognition and benefits to Filipino veterans who fought for the U.S., Mr. Guintos never received recognition for his service or his pension.
While fighting for their home in Trinity, Mr. and Mrs. Guintos also fought for Full Equity for Filipino Veterans. "All this time, we're still waiting for Full Equity. Because he did not have his pension from the U.S., all we had was our social security. While we both received $600 each, almost all of our money went to pay our rent, which is $1017. We survived by going to the food bank and eating at St. Anthony's. The difference I stretched to pay for utility, phone, and some vitamins. We were very disappointed, but we couldn't go back to the Philippines because we already sold our land and house. We couldn't even petition for our 5 kids because we were only living on SSI."
While Mrs. Guintos is happy to see the final development agreement passed by the City, she is still waiting for Congress to pass the Full Equity bill.
VICTOR HERRERA
Victor Herrera has lived in Trinity for over 20 years. Like his neighbors, his story is unique but also reflect the struggles of many immigrants who make their home in San Francisco. Victor Herrera was a schoolteacher in a small village in Guatemala where he lived a simple but happy life until one day; at a village fiesta he spoke his mind. I told the villagers that I believed the revolution going on in our country was "no good" because the Soviets were behind the guerrillas. I also said that I believed that the government is "no good" because the U.S. is behind the scenes manipulating the country. Victor advocated that they should have a revolution like Mexico, "because that revolution started from the heart of the country, not from outside."
Two weeks later, Victor got a note from the guerrillas that he should leave the country or be killed. Another 2 weeks later, he received a letter from the military saying the same thing. When he informed his mother that he had to leave, she told him, "How many times did we tell you not to open your mouth …not to think about these problems."
"I went to Mexico, and then tried to sneak into this country. Immigration caught me crossing in the dessert and sent me back to Guatemala. I was afraid for my life so I went back to Mexico, stayed there a couple of months and ultimately made it across the U.S. border in May 1980. Now, I have papers through the Amnesty program in the 80's. I got a lawyer, followed all the laws, and became an American citizen. "
Victor originally lived in an apartment on Van Ness, across from San Carlos church when a fire left him without a home. "The night of the fire, I was homeless on the street with my few remaining things. A friend who lived on Capp Street let me stay with her for 3 months. Then I went to the Red Cross, who was going to give me money to stay in a hotel for 1 month. But I said to them, 'Instead of giving me money to stay in a hotel for 1 month, why won't you give me that money so I can get my own place. I don't want to be on the streets after 1 month, I want to solve my problem.' They agreed and said if I found a place, they would help me out."
"So I went to apply at the Trinity Apartments but they were asking for all kinds of paperwork that I didn't have. Luckily, at the time, I was working at a library where a Catholic Brother was my boss. When he heard my problem, he told me he would call Trinity because the owner was his friend. When I returned to the Trinity office the next day, they didn't ask for all the paperwork anymore. I moved in that Sunday. Since I moved to the United States, I told myself, I better live a quiet life and stay out of trouble. Then, one day, I got the paper under my door telling me that the owner planned to demolish the building and that we needed to move out. I started shaking thinking about how I might be homeless again.
"Then one of my neighbors came to me and said we are going to have a meeting so we can fight back. I asked myself, am I willing to fight back? Before that time, I lived my life quietly, just trying to stay out of trouble, just going to church and praying for people. But I realized that sometimes prayer is not enough and that I have to speak out. That 's how I got involved, and I am glad that I did it. It was a good wake up call for me after many years of being silent."
Victor has since been an active member of the Trinity Plaza Tenants Association. He is also part of the prayer group and the close-knit Trinity community. "When someone is sick, we visit each other. A lot of people are in their old age, and since we started this fight, 4 people have passed away. When I felt like giving up, my neighbors would give me encouragement. We pray together and fight together. The Virgin Mary of Fatima is now in my room for the whole month of May."
####