Savannah Blackwell
District Eleven Supervisor-Elect John Avalos Gains Support From Progressive Colleagues
While District Five Supervisor Ross Mirkarimi Courts Conservatives
December 1, 2008
Once the final results of ranked choice voting for district supervisors ended three weeks ago and it was assured that progressives had held on to a majority of the board's seats, discussion turned to which among them should serve as president.
Supervisor Ross Mirkarimi, who on Nov. 4 was re-elected to represent District Five (The Haight/Western Addition) without facing significant opposition, had already made it clear he wanted to have the position. Now, John Avalos, who will represent District Eleven (The Excelsior), has decided to seek the post as well.
Eric Mar, who will represent District One (the Richmond), and District Six Supervisor Chris Daly say Avalos is their top choice.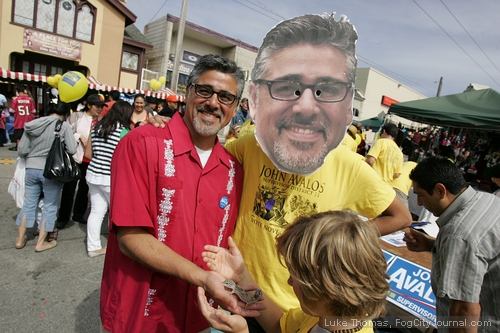 Top choice: District Eleven Supervisor-elect John Avalos
Avalos decided to jump in – largely because the idea of Mirkarimi presiding over board business has not gained much traction among his progressive colleagues. Mirkarimi's recent move to turn to board members who consistently vote against progressive legislation to seek support (namely District Two Supervisor Michela Alioto-Pier and District Seven Supervisor Sean Elsbernd) has furthered progressive opposition to his bid.
"Ultimately what I want to see is a progressive president who represents the progressives and is supported by the board's progressive majority," said David Campos, who will represent District Nine (The Mission).
Campos was quoted in the Bay Area Reporter last week saying he was inclined to vote for Mirkarimi.  He has since modified his position.
"My support is contingent on getting support from other progressive board members, and I don't know that (Mirkarimi) will be able to do that," Campos said.
Mar expressed a similar sentiment: "I told (Mirkarimi) that if he is going after Alioto-Pier's and Elsbernd's votes, he's not going to get one from me."
"Avalos is my top choice," Mar added.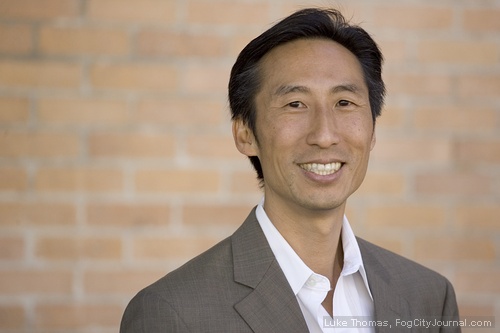 District One Supervisor-elect Eric Mar
Mirkarimi said that he thought trying to "reach out" to supervisors with political leanings different from his was a "smart move."
"(Elsbernd) and I came into office together. Now that we're both moving from junior varsity to varsity, it would be a real missed opportunity not to get together and talk. I hope to do that with all my colleagues," Mirkarimi said. "This is a good time to check in with people, and I think that whoever is interested in the board presidency should talk to everybody."
Of the four supervisors-elect, Avalos is viewed as having the best handle on the workings and culture of the board. The former labor and community organizer served for three and a half years as an aide to Daly and is familiar with the demands of the board's top spot. He has won raves from labor and community representatives as well as those who serve the poor, the homeless and tenants for his work staffing the budget committee the past several years.
"I've written ordinances, worked with the mayor's office, the budget analyst, the controller. I understand the way the board works and also the role of the president," Avalos said.
Though his politics do not jibe with the more moderate and conservative board members, Avalos is said to be well-liked by supervisors and their staff.
"I think I can do a great job," he said.
The first order of business once the new supervisors take their seats in January will be for the 11 board members to choose their leader. It takes six votes to win the post. If Avalos cannot get six votes, an alternative under consideration is for the progressives to throw their support to David Chiu, who won election to the District Three (Chinatown/North Beach) seat and also campaigned as a progressive.
The San Francisco Labor Council spent $76,000 of the $370,000 in union funds that went to promoting Mar, Chiu and Avalos' candidacies on swaying voters in Chiu's district, and he was endorsed by Supervisors Daly, Mirkarimi and Peskin as well as the San Francisco Bay Guardian and the San Francisco Democratic County Central Committee, which currently is controlled by progressives. Chiu is out of the country until mid-December and unavailable for comment. He is said to be receptive to the idea of being the progressives' back-up candidate for president.
"My hat is in the ring as an option to bring the progressive majority together around a common agenda," said Avalos, adding that he would be willing to vote for Chiu as well. "I want to make sure that (the progressives) come together behind the same person."
For his part, Mirkarimi would not say whether he would be willing to support Avalos or Chiu to help one get to six votes, but that he does want "to endeavor for someone from the progressive caucus to prevail."
Supervisor Aaron Peskin, who has held the position for nearly four years, must leave the board at the end of this year because of the 8-year term limit on stints as supervisor. Peskin said he hopes the supervisors choose "somebody who will carry the torch of the progressives and put the board in the best light, somebody who can deal with the vastly changed federal climate, and somebody who can bridge [the political] gaps between the supervisors and the mayor."
"While having legislative experience is important, it's certainly within the realm of possibility for a new supervisor to rise to the occasion," Peskin said.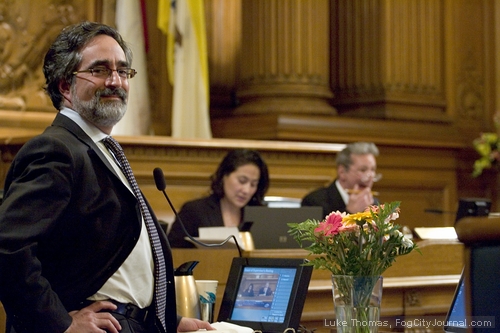 Outgoing Board of Supervisors President Aaron Peskin
To ensure a progressive is elevated to the top post, to guide a progressive agenda, Peskin said, "It's critical that the four new supervisors stick together."
In the days following the election, sources close to the board predicted that Mirkarimi would not be able to count on the current board members – progressive, moderate or conservative – who are not lame ducks to get him the six votes necessary to win the presidency. Though Mirkarimi is widely supported in his district, his interpersonal relationships with most of his board colleagues have been weak for some time, and some have found dealing with him unpleasant, board members and sources close to the board said. But only Daly has condemned Mirkarimi publicly.
Mirkarimi said his interpersonal relationships with board members may have suffered because of his intense focus on his work.
"I have used my first term to apply my nose to the grind stone in tackling the many issues of the city and the district," Mirkarimi said. "(Because of that), I have not made time to develop relationships with some of my colleagues."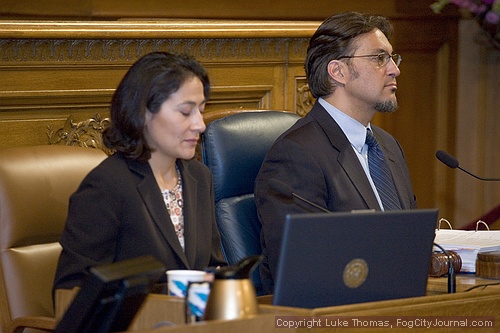 Supervisor Ross Mirkarimi (right).
Elsbernd confirmed that, at Mirkarimi's request, he had lunch with the District Five supervisor and that Mirkarimi asked for his support. Elsbernd said he has not made any final decisions yet and is waiting to see how the politics unfold. But word inside City Hall is that Elsbernd is not particularly enthused about Mirkarimi's bid, and their lunch did not change that. Meanwhile, Mirkarimi has scheduled to meet with Alioto-Pier.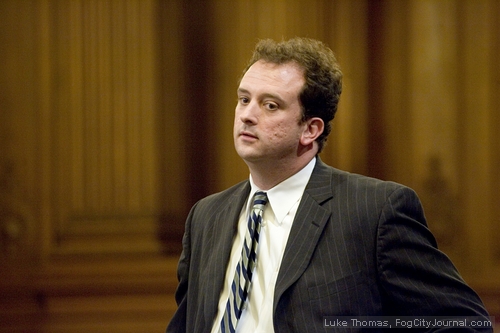 Supervisor Sean Elsbernd
District 10 Supervisor Sophie Maxwell, a moderate who sometimes votes with the progressives and sometimes with the three conservatives (Alioto-Pier, District Four Supervisor Carmen Chu and Elsbernd), has said she's interested in the presidency. It is both more natural and more likely for her to get the conservatives' support, according to City Hall insiders. Maxwell's fellow moderate, District Eight Supervisor Bevan Dufty, told the Bay Area Reporter he will vote for Maxwell. Dufty supported her in 2003 when she, Gonzalez and Peskin all sought the position. Mayor Gavin Newsom, who was on the board at the time, voted for Maxwell as well. He has close ties to Alioto-Pier, whom he chose to succeed him, and Chu, who just won her seat after Newsom appointed her to replace Ed Jew.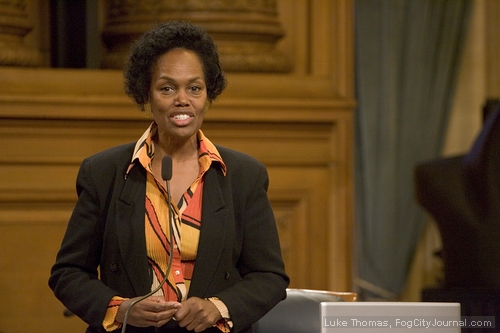 Supervisor Sophie Maxwell
There's been some thought in the mayor's office that encouraging the five supervisors who frequently or at times vote in line with the mayor to support Mirkarimi might be a handy way to frustrate Daly, sources close to the mayor said. But for that strategy to succeed in getting Mirkarimi to the presidency, he would have to get either some support from progressive board members, or each of the votes of the two moderates and the three conservatives. At this point, the first scenario is unlikely, and the second is even more so.
Considered the second most powerful office in city government (after mayor), the board president appoints members of important commissions – including those that handle planning and police oversight issues, creates the board's committee structure and assigns supervisors to those committees. In addition, the president decides to which committee an issue should go and often is expected to put together coalitions to both pass legislation and override mayoral vetoes. In the event the mayor dies or must leave office, the board president steps into the job.
Prior to the return of district-based elections in 2000, the presidency went to the top vote-getter in the city-wide races. Since then, supervisors have generally looked for who among them can best stay above the fray and direct the board's business in a calm and even-handed manner. Currently, there is a feeling among progressive board members that the new president should be one among them who does not have mayoral ambitions – which can complicate his or her political moves. Mirkarimi is considering running for that job as well.
Before Peskin, former supervisor Matt Gonzalez held the position and prior to Gonzalez, Supervisor Tom Ammiano served in that role. Ammiano, who is heading to the state legislature, will be replaced by Campos whom Ammiano and Peskin endorsed.
Though Peskin will no longer be a board member, his influence likely will be felt for some time in board politics as he played a major role in the election of the four supervisors-elect.
There was some thought that Daly should be board president. That certainly would have been a slap in the face to Newsom, with whom Daly has sparred frequently. The pro-Newsom and downtown soft money campaigns seeking to eliminate the board's progressive majority tried to use association with Daly as a way to sway voters to vote against the progressive candidates. A Daly presidency would have been a very public way to run home that the strategy failed, despite the roughly $670,000 soft money campaign behind it. Daly, however, decided that would not be the best move for the board and progressive causes in general.
"Other than Peskin, I have passed the most legislation, taken on some of the toughest fights, won one of the hardest re-elections (in 2006), yet I am not the best choice for board president," Daly said. "I think it's a safe assumption that if that happened, papers would be drawn immediately to get rid of district elections."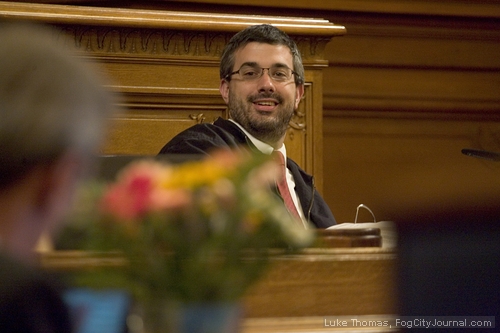 Supervisor Chris Daly says he will not seek the board presidency.
Daly added that in a time of great political change, it was appropriate that the president be "one of the new guys." Characterizing Mirkarimi as "not a family man," Daly said he would not support Mirkarimi for president because Mirkarimi did not support his efforts to appropriate supplemental affordable housing funds in last year's budget. Additionally, it did not go unnoticed that compared to the daily, hands-on efforts of Peskin and Daly that went into electing Mar, Chiu and Avalos, Mirkarimi's involvement was relatively minor, according to political observers and the candidates.
"It's pretty clear who was behind the work that really made the difference," said one of the supervisors-elect, who asked not to be named. "I think Ross means well, but the votes (for board president) just aren't there for him."