Elaine Santore with Supervisor Ross Mirkarimi's "Baby Mama,"
Venezuelan soap opera actress Eliana Lopez, at the swearing-in after-party
held at Temple Nightclub, Thursday.
Photos by Luke Thomas
January 12, 2009
Happy New Year, Foggers!
The new Board of Supervisors was sworn in Thursday amid massive fanfare, haters, and drama. Watching the inaugural meeting was just like watching Gossip Girl, only with an older, less attractive cast of characters.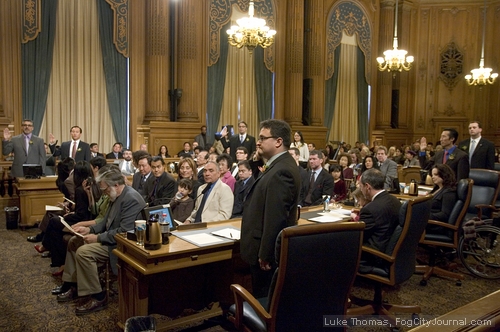 Supervisors John Avalos, David Chiu Ross Mirkarimi,
David Campos, Carmen Chu, Eric Mar and Sean Elsbernd
are sworn into office during the inauguration of the Class of 2008.
Do Not Pass Go
Fog City Journal arrived at board chambers 15 mins before the inaugural meeting was scheduled to start – plenty of time to get settled, talk trash, and get ready to document the election of the new board president. But we were told by the Sheriff's office that the press box was already full and our only option to cover the meeting was to observe the proceedings in the overflow room, aka Siberia.
Luckily for us, we managed to get word to the Clerk of the Board who immediately instructed the sheriffs to let Luke in to photograph the proceedings.
Not wanting to get into a fight with the sherrifs, I headed to Supervisor John Avalos' office to watch the meeting on TV. This ended up being the perfect spot for me to camp out because it allowed me to update my Twitter, text friends on my CrackBerry, make snarky comments about Supervisor Michela Alioto-Pier's outfit, and snack on Red Vines.
During the meeting, I was surrounded by a revolving door of wonks and political junkies including Marc Salomon, Nicole Derse, Susan King, Quintin Mecke, Kay Vasilyeva and David Gartner. Supervisor Chris Daly came in for a snack break during public comment.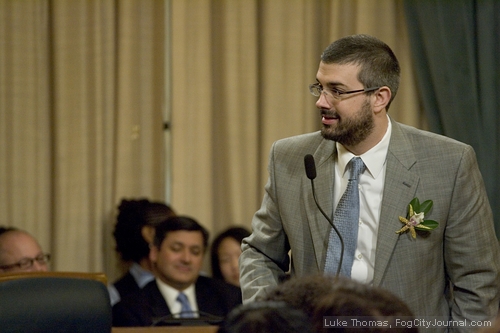 Supervisor Chris Daly needed some Red Vines.
Of course, there was talk of a betting pool for the number of voting rounds it would take to elect a new board president. I guessed seven because that's my lucky number. Some were expecting the vote to take several hours like it did when Matt Gonzalez was elected board president. Way to be efficient, Class of 2008!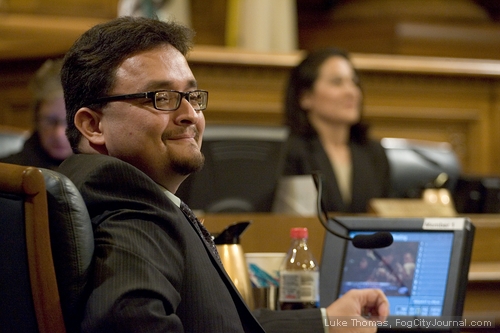 Supervisor David Campos nominated Supervisor Ross Mirkarimi,
but later changed his vote to Supervisor David Chiu
when the Mirk couldn't get past four votes.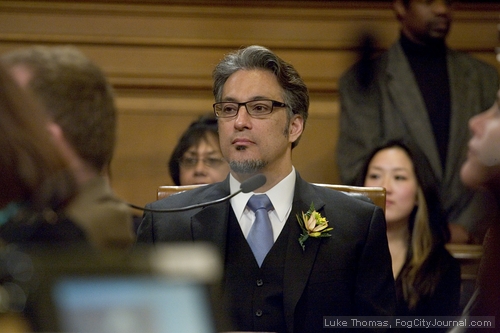 Supervisor Ross Mirkarimi.
Why is Luke Thomas always right?
No, that's not a sad attempt to get a promotion (though I'm hoping to reach "Official Poser" by the end of the year). Thomas correctly predicted on December 5 the board presidency would go to freshman Supervisor David Chiu. Of course, I didn't remember this and was shocked when it happened. Maybe I should read our website more often?

"You're not much. Enjoy the attention while it lasts."
Board President David Chiu takes questions from the press
following his election to Board President.
The Smartest Person in the Room: Jade Mar
According to Susan King, Supervisor Mar's 8-year-old daughter, Jade, had the best political analysis in the room. Jade paid close attention to her dad's votes and inquired about Supervisor David Chiu and Mayor Gavin Newsom's shiny foreheads. (FYI: Clinique Pore Minimizer T-Zone Shine Control helps, and there's always Photoshop.)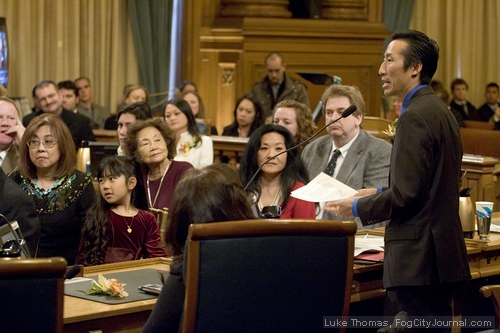 Supervisor Eric Mar (far right) speaks while his daughter,
Jade (second from left) steals the spotlight.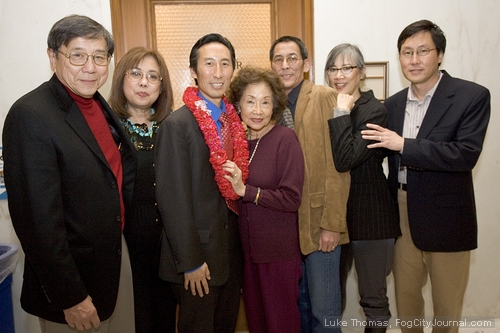 Supervisor Eric Mar and family, including twin brother Gordon (far right).
Babies are taking over the world
Supervisor Sean Elsbernd announced his wife is pregnant, but Supervisor Ross Mirkarimi trumped Elsbernd when he announced he is having a baby with a partner nobody had heard of – Venezuelan soap opera actress Eliana Lopez. (Check out her demo reel here.)Â  Apparently the hot couple met in the summer when Mirkarimi attended a Green Party confab in Brazil.
Fog City Journal's baby shower gifts for Mirkarimi: a box of Nice 'N Easy, a thesaurus, a slice of humble pie, and a lipdub of me performing "Just Waiting on a Friend" by the Rolling Stones.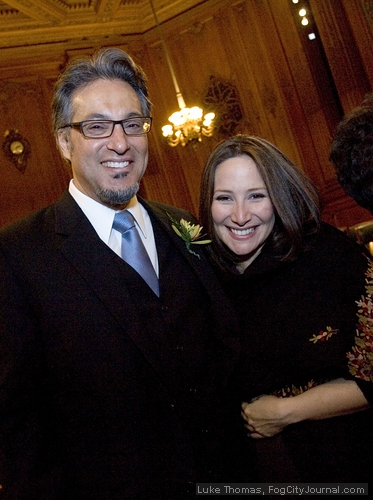 Parents-to-be Supervisor Ross Mirkarimi and Eliana Lopez.
According to Enrique Asis, Mayor Newsom looked like he'd been stabbed in the heart when he found out there was a mini-Mirk on the way. Gavin and Jennifer Siebel Newsom need to catch up in the baby-making race.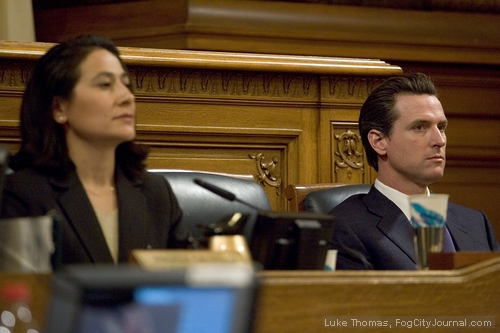 Mayor Gavin Newsom, conveying as much emotion
as his electrical circuits and Madame Tussauds visage can muster.
And more babies! Bevan Dufty's daughter, Sidney, was only three months old during the 2006 inauguration. On Thursday, I watched as she ran around her dad's office while her mother, Rebecca Goldfader, directed guests to the delicious cupcakes and desserts.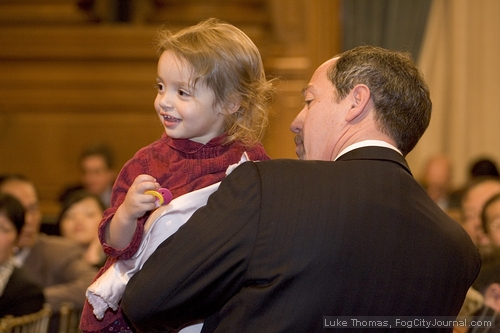 Sidney Goldfader-Dufty and Supervisor Bevan Dufty.
Ladies Third
After the meeting, Luke Thomas, Hope Johnson and I stopped by Sophie Maxwell's office to say hello. Hope complimented Sophie on being so gracious in her speech, despite being passed over for Board President (again).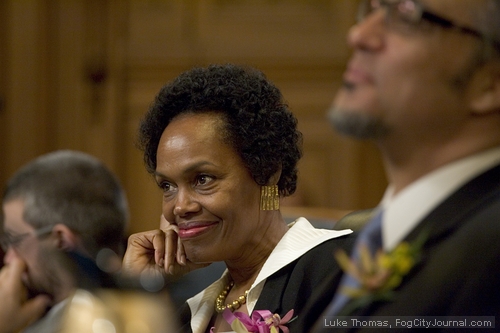 Supervisor Sophie Maxwell
Maxwell was grateful for the praise and Hope and I talked to her about the importance of more women running and winning elected office, and addressing the treatment of women in politics. We also talked about how much we all love Michelle Obama (duh!).
After the show it's the after-party, and after the party is the hotel lobby
Unfortunately, it wasn't that kind of party.
But it was still pretty good. Sunny Angulo, Sonya Mehta and Julian Davis organized "Peoples' Inauguration featuring Roasted Supe!" at Temple Nightclub (not our beloved Temple Bar) to celebrate and roast the new supes. From what the little I could hear – I was too busy gossiping and posing – it was much gentler than an actual roast.
Anybody who's ever discussed, written or heard about San Francisco politics was there. It was like looking at a live version of my Facebook friend list, my reject list, and my block list all in one room. Basically, all the dregs of local politics.
Among the politicos: State Assemblymember Tom Ammiano ("Can you believe there's only one bartender working tonight? You should write about that!"); State Senator Mark Leno; former State Senator Carole Migden; Supervisor Chris Daly; Supervisor Ross Mirkarimi; School Board Commissioner Jane Kim; former Board President Aaron Peskin; and all the freshman progressive supervisors. Mike Farrah made a whiskered appearance and all that was missing was that wax figure from Room 200.

Inauguration party organizers Sunny Angulo, Julian Davis and Sonya Mehta.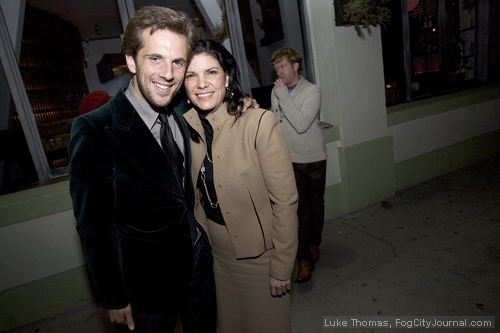 Darcy Brown and a friend from Belgium.

Sunny Angulo, Elaine Santore and Hope Johnson.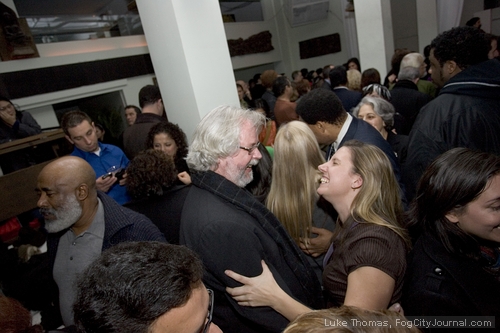 Tim Paulson and Nicole Derse.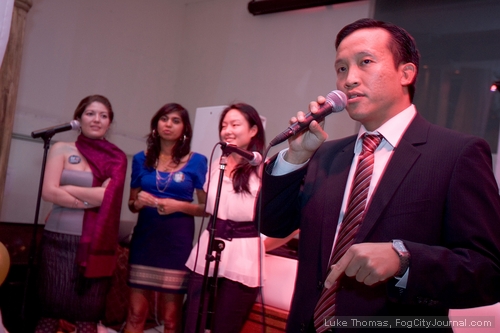 Sunny Angulo, Sonya Mehta, School Board Commissioner Jane Kim
and Board President David Chiu.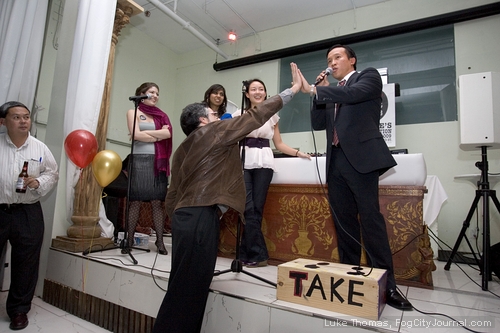 Former Board Prez Aaron Peskin hi-fives his successor, Board President David Chiu,
while the ubiquitous Frank Chu (sans inter-galactic anagram) looks on.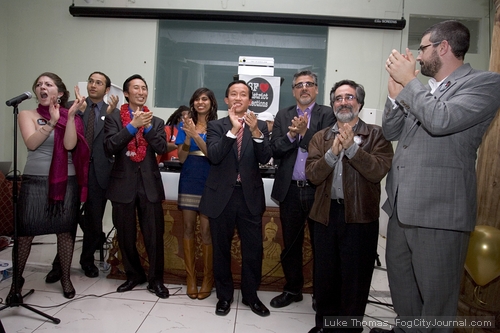 Sunny Angulo, Julian Davis, Supervisor Eric Mar, Sonya Mehta, Board President David Chiu,
Supervisor John Avalos, former Board President Aaron Peskin and Supervisor Chris Daly.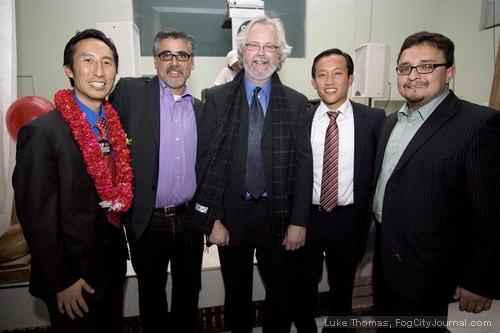 Supervisor Eric Mar, Supervisor John Avalos, labor honcho Tim Paulson,
Supervisor David Chiu and Supervisor David Campos.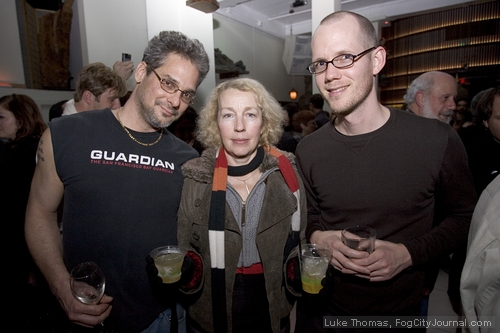 SFBG reporter Sarah Phelan with husband Khalil (left) and Oliver Luby.

Elaine Santore, Independent co-owner Michael O'Connor
and Melanie Nutter.
 

Beth Spotswood, Elaine Santore and Melissa Griffin.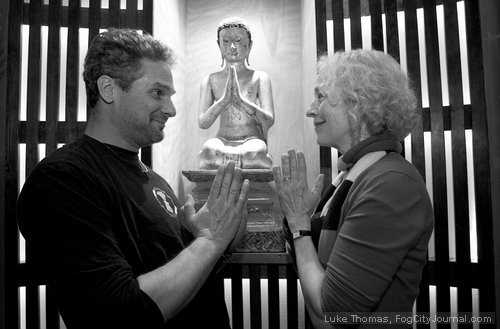 SFBG Reporter Sarah Phelan and husband Khalil, aka "Dr. Phelan,"
meditate on the day's events.