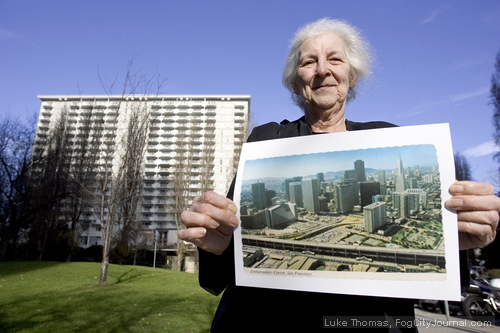 Neighborhood activist Ernestine Weiss holds up a photograph
showing how downtown San Francisco looked before the city was struck
by the 1989 Loma Prieta earthquake. Following the 6.9 temblor and subsequent removal
of the Embarcadero Freeway (foreground), Weiss launched a successful campaign
to transform a former parking lot into Ferry Park.
Photos by Luke Thomas
By Luke Thomas
January 14, 2009
Neighborhood activist, community volunteer, and City Hall gadfly, Ernestine Weiss, realized her dream come true Monday when the city she made her home 21 years ago honored her for her leadership in spearheading the creation of Ferry Park in downtown San Francisco.
Celebrating her birthday on a gorgeously warm California sunny day, Weiss was honored with a brass plaque for her "tireless efforts in the creation of Ferry Park as open space in perpetuity, protecting and preserving this valuable waterfront land from development for the benefit of future generations."
The plaque is embedded into the pavement on the corner of Drumm and Clay streets.
"This is the best birthday gift of my entire life," Weiss beamed to friends and city officials in attendance, "because the things you can buy do not make you happy, but the things you can't buy are the best things in life, and this is one of them."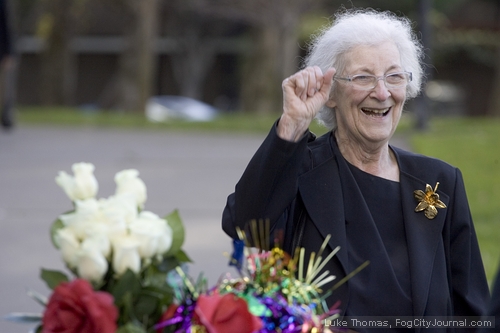 Ferry Park, now known as Sue Bierman Park, was beautifully transformed into a green open space following the 1989 Loma Prieta Earthquake, in large part thanks to Weiss.
"Once it became a defacto park, everybody wanted to grab that park," she said. "I said, 'Oh no, this is for the people. Nobody's going to get this park if I have my way.'"
Weiss, who lives in an apartment overlooking the park, said she battled several deep-pocketed organizations and developers who were eyeing the valuable lots for private development, including the De Young Museum. Other proposals included a rail line into Chinatown, a butterfly museum, and a proposal to build a 600-car underground parking garage.
Weiss' energy and tenacity trumped them all.
"Once the [Embarcadero] freeway came down, I called up all the people I know in the city," Weiss explained. "I said, 'Come on, let's get the rubble out of here, let's plant some grass, let's put the lighting in, and let's put a couple of benches over there so we'll make it look like a park."
Weiss said she enlisted support from former Mayor Willie Brown who helped Weiss draft a jurisdictional transfer ordinance. The Board of Supervisors passed the ordinance unanimously.
Joining Weiss for the dedication ceremony included architect Ted Brown, who paid for the plaque, Recreation and Park Commission President Larry Martin, Sierra Club Bay Chapter Political Director John Rizzo, and community activist Bob Coleman.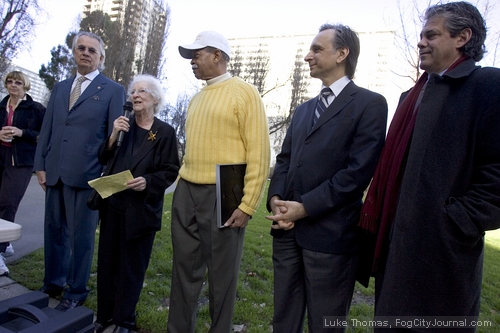 Ted Brown, Ernestine Weiss, Larry Martin, John Rizzo and Bob Coleman.
"As an architect, I always think of a city as a treasury of spaces," Brown said, "places that we share and we enjoy to together. But it's also a treasury of people, and Ferry Park couldn't exist without the treasury of the people here who supported Ernestine and worked with her through her leadership to develop this. So, thank God we have a treasury of people in this city, and Ernestine especially."
Coleman, who referred to Weiss as his "other mother," said: "When you have similar situations in your lives and you hear naysayers or entrenched political power, or very powerful and influential economic development forces that suggest it cannot be done, remember today – it can be done."
In closing and with tears of joy rolling down her cheeks, Weiss said: "I just want to leave you with this thought: Never give up. Never, ever, ever give up. Follow your dream, and that's what I did and I persisted and I finally got the plaque to tell the historic story."
"And that's been my whole life," Weiss added. "Whatever I've wanted in life, I've fought tooth and nail, but I got it."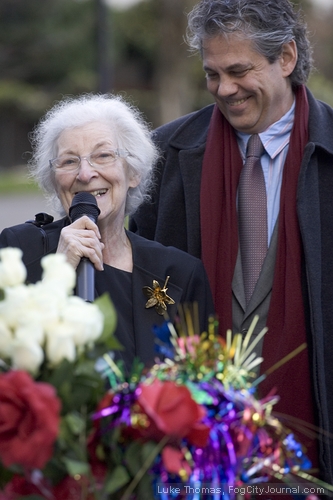 Ernestine Weiss with Bob Coleman.
 More Photos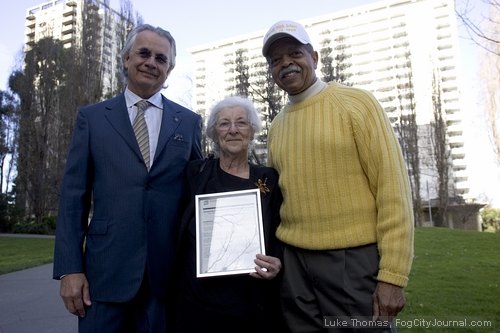 Ted Brown, Ernestine Weiss and Larry Martin.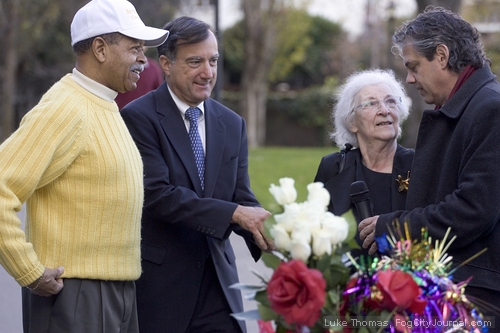 Larry Martin, Chamber of Commerce Vice President Jim Lazarus,
Ernestine Weiss and Bob Coleman.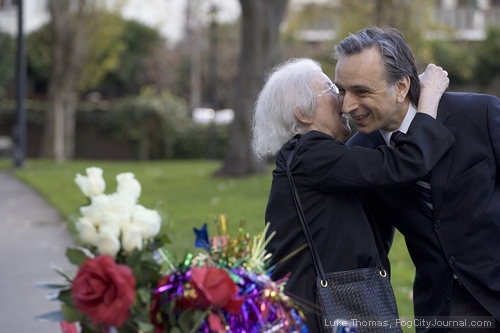 Ernestine Weiss and John Rizzo.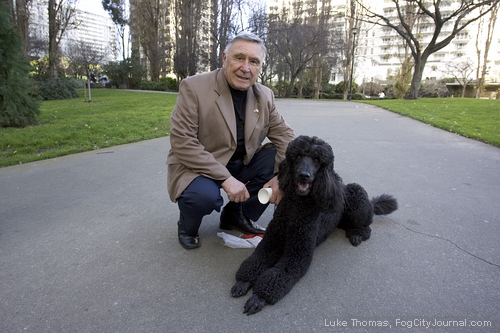 Mike DeNunzio said Weiss blows a whistle
if she sees anyone not cleaning up after their pet
has relieved itself.