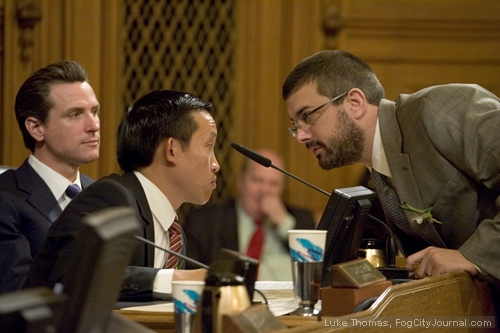 Supervisor Chris Daly approaches Supervisor David Chiu
following his election to the San Francisco board presidency.
Chiu's ascendancy to the presidency was due more to a confluence of factors
rather than a carefully orchestrated plan, as some have suggested.
Photos by Luke Thomas
January 21, 2009
In the days following the election of a new Board president on January 8, political activists and observers speculated that the seven rounds of voting – ending in the selection of newly-minted District Three Supervisor David Chiu – was the result of a carefully orchestrated plan.
Some activists said they believed the four new supervisors – John Avalos, David Campos, Eric Mar and Chiu – must have met prior to the swearing-in ceremony and nailed down how each would vote on every round.
That's one theory, which at least part of the voting pattern on its face might support. For example, Mar's decision to change his vote a second time – going from Mirkarimi on round one to Avalos on rounds two and three, and then throwing his support to Chiu on the third round – has been viewed as a planned-ahead signal to Campos to discontinue voting for Mirkarimi and stand and call for the six progressives on the board to elect Chiu as the consensus candidate.
Meanwhile, activists loyal to District Five's re-elected supervisor, Ross Mirkarimi, have charged the votes cast by progressive supervisors that did not go to him were solely the result of behind-the-scenes lobbying engineered by Daly – a senior board member who had been public about his personal opposition to Mirkarimi long before the voting took place. And some City Hall insiders have speculated that former board president Aaron Peskin, who played a major role in the November election of Chiu, orchestrated his successor's ascendance to the board presidency as a way to maintain his influence over the board.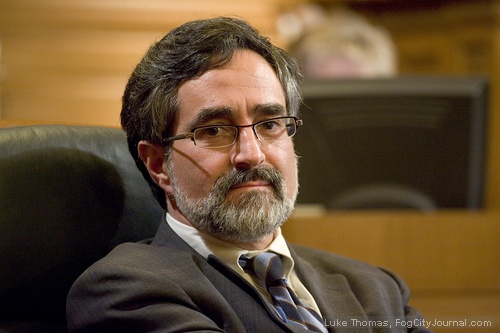 Former Board of Supervisors President Aaron Peskin.
However, interviews with the supervisors involved, those close to them, as well as officials and activists who worked behind the scenes in an effort to influence the voting, show that the claim that Mirkarimi would have won were it not for Daly's opposition is overly simplistic, and the notion that Peskin plotted the outcome is not accurate. And the theory that all the progressive supervisors, with the exception of Mirkarimi, knew ahead of time how their colleagues would vote on each round is also not on target.
Rather, the election of Chiu was due more to the following confluence of factors, rather than a carefully hammered-out plan: (1) the influence of activists and advisors to the newly elected supervisors who strongly believed a Mirkarimi presidency would be problematic, and the newly elected supervisors' recognition of that issue; (2) the new supervisors' understanding that Mirkarimi was not going to support Avalos because he considered the new District 11 supervisor too close to Daly (Avalos formerly served as a legislative aide to Daly), and (3) the recognition that Chiu was the only one willing to take the post who had a clear shot at the possibility of getting all six votes of the progressive board members and thereby cinching the presidency.
While the battle over who would take the reigns from Peskin was highly pitched, the supervisors involved emphasized that despite disagreement, they still succeeded in getting a progressive into the seat, and now they are all focused on putting the fight behind them and joining together in facing the challenges of the New Year. They were even somewhat reluctant to go over the details of the behind-the-scenes activity that ended once the vote was over on January 8, for fear of opening up old wounds.
"Whatever people's differences, what's important is that we stuck together and elected one of our own," said Campos, who nominated Mirkarimi and continued to vote for him for several rounds, while Mirkarimi's bid was foundering.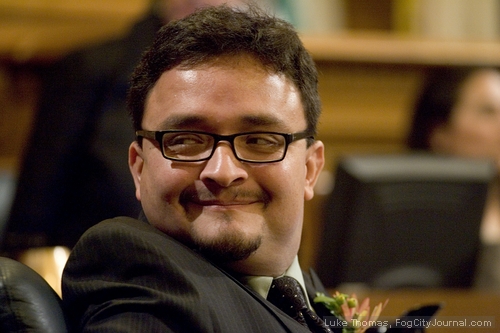 Supervisor David Campos.
But even before Mirkarimi started to actively seek the support of the progressive supervisors-elect as the general election wrapped up, he had a major problem that would later impede his campaign for the presidency, though he did not realize it. Not only had he failed to cultivate his colleagues on the old board, which he has acknowledged, many of them felt he would not be able to put the collective interests of progressives ahead of his aspirations to run for mayor in 2011, and that he had poor management style, according to supervisors, activists and board insiders, and they started to express that concern.
Some of the newly elected supervisors became aware of that sentiment, and that knowledge was a factor behind the way the votes were cast, they said. While Mirkarimi's colleagues recognized that he worked hard for his district and put in long hours, he also was known for behaving at times as though he thought he was not being treated in a sufficiently deferential manner – subjecting a colleague to haughty disdain if he felt he had been slighted, they said.
Worse, some of his colleagues frequently overheard him berating his staff, and others found out about it. That made them think he would have trouble handling the added stress of taking on the board presidency.
"It was horrible, just horrible," said one former supervisor. "The walls [between the supervisors' offices] are thin, and the hallway carries sound," one former legislative aide said. "I don't think he realized that."
In his speech following the vote on January 8, Mirkarimi acknowledged the hard work of his staff, several of which have left since he was first elected in 2004. He thanked them for "keeping up with [his] demand that government must work effectively." And he noted his reputation for being "unyielding" and "a workaholic and manic."
At that moment, Mirkarimi somewhat acknowledged a problematic aspect of his intense dedication to his job. Some political observers have taken that as a positive sign that Mirkarimi has learned an important lesson from his defeat.
"There are second acts in American life, and people get to learn from their mistakes and come out stronger. And we [progressive activists] are here to help," said San Francisco Green Party member and planning activist Marc Solomon. "We need to do what we can to ensure talent [at the Board of Supervisors] and Ross has a lot of talent."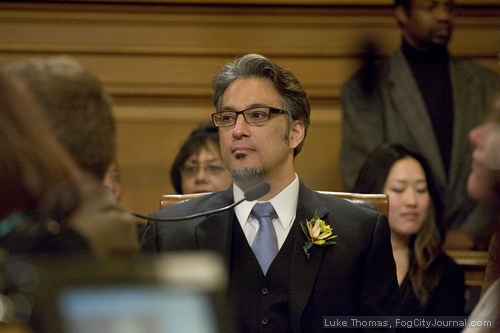 Supervisor Ross Mirkarimi.
But in the days leading up to the vote, Mirkarimi was bitterly complaining about opposition to his candidacy. In a letter published in the January 7 issue of the San Francisco Bay Guardian, Mirkarimi characterized the fight over the board presidency as one that had "taken on an unprogressive, machine-like demeanor, bullying for a desired outcome" (a veiled reference to Daly).
But besides Daly, Mirkarimi was up against progressive activists – former Mirkarimi supporters and workers, or board insiders – who were urging the newly elected supervisors not to put Mirkarimi into the presidency because, they said, they believed "[Mirkarimi's] inability to understand the needs and motivations of others" would hinder his ability to preside effectively over board business. They also told Fog City Journal that they chose to relay that conviction on their own initiative – with no direction from Daly.
"The truth is that many in the progressive San Francisco political community had a lot of reservations about whether this was the right job for [Mirkarimi], and we weren't shy about communicating that," said a source who worked for Mirkarimi's 2004 campaign for supervisor and asked not to be named. "No one asked us to do it."
"The reason [Mirkarimi] was not advancing was because he did things that caused him not to advance," said another source who has worked for Mirkarimi. "[Daly] did not cause that."
It did not help that word got around that behind the scenes, Mirkarimi had behaved in a manner in some instances that made it seem as though he thought he was entitled to the position. He informed one former supervisor that it was "[his] turn" and called refusals to support him "disrespectful," according to those involved in the interactions.
In addition, there were those activists who encouraged supervisors-elect to support Avalos, because they felt that his experience as an aide to Daly when Daly served on the budget committee, and his ability to listen patiently even to those who disagreed with him, made him the best choice.
"I would have been fine with any of the new guys, but I supported Avalos," Debra Walker, who holds a seat on the local Democratic Party council, said. "It is not true [that Daly was directing lobbying efforts]. He did not call me. He did not call anyone. He was just very public about his support for Avalos."
Following the election, some progressive activists expressed hope that the six progressive supervisors could agree on a candidate well before the end of 2008. Those activists thought that would be the way to prevent the possible election of Supervisor Sophie Maxwell, who had expressed confidence that she had the votes of the five moderate and conservative board members (which would prove true) and was actively courting support in progressive quarters. For example, the Bay Guardian reported January 14 that she went down to their offices to emphasize that as she had voted at times with the board's progressives, she considered her political leanings sufficiently in line with theirs to warrant their support.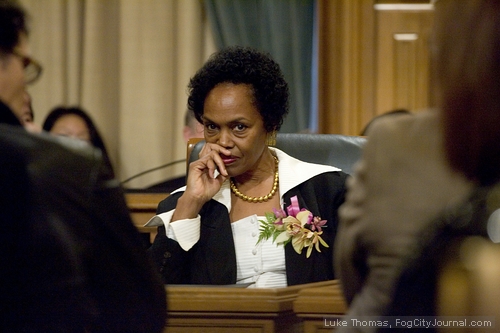 Supervisor Sophie Maxwell.
On election night, Mirkarimi had gone down to Mar's campaign headquarters and tried to shore up support from Mar, who had stated at a public event roughly a week and a half before the election that Mirkarimi "would make a good board president." But that night, Daly also paid a visit and told Mar that Mirkarimi did not have the necessary support. Daly then suggested to Mar that he, himself, consider the board presidency. Mar mulled the idea for a few days but ultimately decided against it.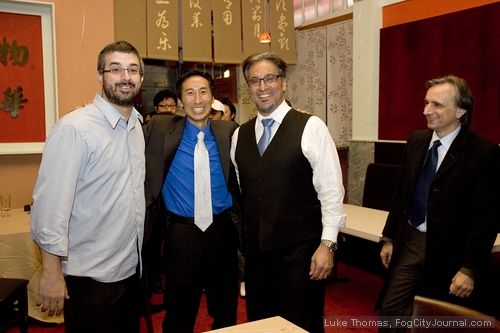 Supervisors Chris Daly and Ross Mirkarimi
court then Supervisor-elect Eric Mar on the eve
of his election to the Board of Supervisors.
Roughly a week after the election, Peskin convened a meeting of the newly elected supervisors. Prior to that, he had told Fog City Journal that while he thought it would be tough for a rookie supervisor to handle the job of board president, he also said he thought it could be done. At the meeting, Peskin laid out the responsibilities and role of the job for Avalos, Campos, Chiu and Mar, but did not offer his opinion concerning who he thought should or should not have it, according to all present. After Peskin left, discussion turned to the possibility of Avalos running for the spot, and Chiu and Mar expressed a willingness to support him.
While Campos and Chiu were out of town, Mar told Daly and Avalos he would vote for Avalos, according to Daly and Avalos. (Mar said he couched it as an interest in or "willingness" to vote for Avalos.) When Mar initially met with Mirkarimi, he did not say definitively how he would vote, Mar said.
In early December after Campos had returned to the city, he met with Avalos and told him he was open to supporting Avalos, but had not made any commitments. Roughly around the same time, Campos told Fog City Journal that he would support the progressive supervisor who could get to the presidency with the six votes of the progressives on the board. At the time, Mirkarimi had courted District Seven Supervisor Sean Elsbernd. Elsbernd had told Mirkarimi he was supporting Maxwell, but in the conversation with Mirkarimi, Elsbernd did not shut off the possibility that he might consider casting a vote for the District Five supervisor, if Maxwell could not get to six, according to Elsbernd.
Mirkarimi did not give up after Fog City Journal indicated in a Dec. 1 story that Mirkarimi likely would have great difficulty getting the newly-elected progressive supervisors to commit their votes to him – given that Daly opposed Mirkarimi's candidacy, he and Mar were supporting Avalos, and Mirkarimi was seeking support from the board's conservative flank. Mirkarimi was quoted in various publications emphasizing the need for an experienced supervisor to serve as board president and was a regular presence at post-election parties, activists and the new supervisors said.
Meanwhile, activists loyal to Mirkarimi in online postings hammered Daly for opposing Mirkarimi. Mirkarimi's efforts were bolstered further when, on Dec. 31, the Bay Guardian called him the paper's "clear choice" for board president, pointing to his "excellent record" – including sponsoring a successful ban on plastic grocery bags and leading "effective, progressive approaches to crime."
The editorial also criticized Daly for refusing to "back off and support the most experienced progressive for the job."
On Sunday, Jan. 4, the four newly-elected supervisors met at Chiu's home. While they were crafting a statement expressing intent to work together in facing the budget crisis and other looming issues while "ushering in a new tone of cooperation in unity and San Francisco," discussion turned to the impending election of board president, according to those present. After they "talked about the problems with Mirkarimi," Chiu and Mar said they thought they should show some support for Mirkarimi out of respect and vote for him for at least a round or two. Avalos, however, said he did not see the point in that, but if the others really thought Mirkarimi should have the job, he would vote with them for Mirkarimi. However, that did not seem to be the collective desired outcome, according to the meeting's participants.
They also discussed Mirkarimi's opposition to Avalos. Both Chiu and Mar re-stated their support for Avalos, while Chiu said he would be willing to step up if necessary to make sure that a progressive got the position. Chiu suggested that he could nominate Avalos, and Avalos could nominate him. Throughout the part of the discussion concerning the upcoming vote, Campos mostly kept silent.

Supervisors John Avalos and David Chiu
agreed to nominate each other for the board presidency.
By Monday night, close advisors to Mar learned that he was saying he would vote for Mirkarimi "for at least several rounds," the advisors said, and they were worried that Mirkarimi's bid would gain momentum while voting was underway and culminate in his election. Word went around that Chiu might vote for Mirkarimi as well and over the next two days various activists called Mar and Chiu (and to a lesser extent, Campos) to either emphasize opposition to Mirkarimi or support for Avalos or express both sentiments, those involved told Fog City Journal. Meanwhile, Campos did not return a call from Avalos.
On Wednesday night, one activist who favored Avalos and had spoken with Campos, called Chiu and advised him that Campos was open to the possibility of ultimately voting for Chiu as was Mar, and that Chiu better be prepared for a move to put him into the presidency, according to Chiu and the activist.
The next morning with the election for board president less than an hour and a half away, Supervisor Daly invited Campos and the three soon-to-be sworn in supervisors to a meeting. At 10:30 a.m., Avalos, Daly, Chiu and Mar met in Mar's office. (Campos told Fog City Journal he was busy preparing for the reception to follow the meeting and tending to his family, which, like those of many of his colleagues, had arrived for the occasion, so he could not make the meeting).
According to those present, their discussion began with collective concern over a rumor that Elsbernd and one or more of the other four moderate or conservative supervisors would vote for Mirkarimi. While their advisors tried to suss that out, Avalos indicated he was considering withdrawing his candidacy, as he had concluded (and the others acknowledged) that it appeared Campos was not going to vote for him, and they knew Mirkarimi would not do so – meaning Avalos could get only four votes. Chiu encouraged Avalos to stay in and added that he thought he should be nominated as well. Chiu indicated that he had reason to believe that Mirkarimi ultimately might give him a sixth vote, but there was also concern that Mirkarimi would side with Maxwell – in the event that Mirkarimi could not get six votes.
It was all getting very complicated. Chiu and Mar said they did want to vote for Mirkarimi for at least one round, and Avalos said he was considering doing the same. They acknowledged the risk in that. If the three of them all voted for Mirkarimi on the first round, then Mirkarimi would get five votes (including his own and that of Campos), and if one of the five moderates and conservatives voted initially for him, Mirkarimi would win at that point. Knowing the vote would proceed in alphabetical order of last names, they discussed that if four votes for Mirkarimi had been cast by the time Mar's name was called, he would vote for Avalos and eliminate Mirkarimi's ability to give himself a sixth vote on the first round.
Still, Daly left the meeting worried Mirkarimi would prevail. He was also disappointed over what he gathered was a lack of willingness on the part of Chiu and Mar to stay firmly with Avalos for several rounds in the hope that Campos and Mirkarimi would eventually vote for Avalos. Thinking Avalos was actually out of the running entirely, he suggested to his former aide that he go ahead and vote for Mirkarimi to avoid "hanging out there on his own."
Meanwhile, Daly planned to nominate himself and hoped that one of the five conservatives and moderates would not give a nod to Mirkarimi on the first round, and therefore Mirkarimi would get only five votes.
In the final few moments before the meeting convened, Chiu told Avalos he would definitely nominate him, and Avalos agreed to return the favor, according to Chiu and Avalos.
After four votes (those of Campos, Chiu, Mar and Mirkarimi) went to Mirkarimi on the first round and two were cast for Avalos (by Avalos and Daly), on round two Chiu switched to Avalos and Mar followed suit – resulting in four votes for Avalos and two for Mirkarimi.
Asked why he switched to Avalos after voting for Mirkarimi for only one round, Mar said he voted initially for Mirkarimi, "because he's been a progressive supervisor who has worked hard on moving the issues," but immediately switched to Avalos, "because of the newcomers, Avalos has the experience of being on the budget committee and understands City Hall policy-making procedures."
Mar added that prior to becoming a supervisor, "[Avalos] was the person I would go to to understand what was happening [at City Hall],"
After round two, Elsbernd stood and suggested that the supervisors who had not received a single vote (Chiu and Daly) and "those at the bottom" (at that point, Mirkarimi) withdraw. Daly then rose and said he was willing to comply with Elsbernd's request, but only if the others who had not received the highest or the second highest number of votes opted out as well. As Maxwell had five votes and Avalos had four at that point, Daly was referring to Chiu and Mirkarimi. But Chiu then said he was not ready to withdraw, as he was prepared to become the "consensus" candidate.
On the third round, the vote count remained the same. On the fifth and sixth rounds, the four new supervisors all voted for Chiu, while Daly and Mirkarimi each gave himself a sole vote.
Daly said he voted for himself and not Chiu on those two rounds for several reasons. First, he hoped that the tide might go back to Avalos. Second, he thought it would be strange to vote for Avalos on rounds in which Avalos was not voting for himself. And third, he wanted to demonstrate that at that point, Mirkarimi's bid for president had as much support as his own.
"There was symmetry there," he said.
After the sixth round, Daly approached Mirkarimi and whispered to him that he hoped Mirkarimi realized that he had not orchestrated the voting, Daly told Fog City Journal. Then on the seventh round, Daly finally voted for Chiu. Mirkarimi did the same, and Chiu became the board's first Chinese-American president.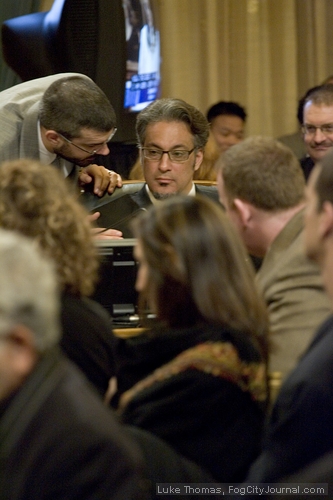 Supervisor Chris Daly
whispers into Supervsor Ross Mirkarimi's ear.
Chiu's progressive colleagues have said they are satisfied with his election, and progressive activists are hopeful Chiu will represent their interests and demonstrate commitment to their point of view.
"[Chiu] is obviously politically very capable. You could see that in the way he handled the board president situation," Daly said. "He's got a lot of polish for having just been elected to local office. And it is important that we now have the highest-ranking Chinese officer in the history of the city."
Daly called Chiu's first act, appointing Avalos chair of the budget committee, "strongly progressive." (For his part, Avalos said he intends to make every effort to deal with the roughly $500 million deficit in a manner that prioritizes the needs of the city's most vulnerable populations.)
Progressive activists agreed with Daly's assessment.
"The Labor Council did not take a position on the board presidency," said Robert Haaland, political coordinator for SEIU 1021. "But Chiu and Avalos were priorities for us last November so the result of having [Chiu] as president and Avalos as budget chair is one we're happy about."
Said Chiu, "I think we're all moving forward…and will work together well."
Immediately following the vote for board president, Daly set about trying to mend relations with Mirkarimi. In his short speech, Daly said Mirkarimi "has been [his] closest ally over the last four years" and added that he was "looking forward to working with him."
The effort to move past the fight over the board presidency and start afresh has continued on the parts of both Daly and Mirkarimi. It's a development that everyone interviewed for this story said they were glad to see. The two are now sitting next to each other in board chambers, and Daly said he has been talking to Mirkarimi about the possibility of trying to get together six votes to make Mirkarimi chair of the Transportation Authority (though Supervisor Bevan Dufty may edge him out with a vote from Campos over Mirkarimi.)
"We're all going to work together," Campos told Fog City Journal. "I think it's really great that we are where we are – with a working majority of progressives. And I also think it's ok to disagree, to disagree and then move on… that's the main thing."