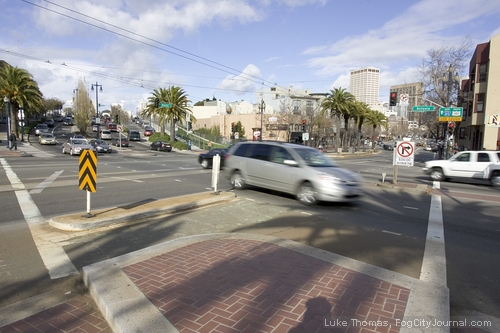 Despite efforts to improve safety for cyclists and pedestrians
and prevent motorists from making an illegal right turn
onto the southbound entrance to the 101 Freeway,
the intersection remains dangerous and a threat to public safety.
Photos by Luke Thomas
By Luke Thomas
January 25, 2009
Despite well-intended efforts by the city and bicycle advocacy groups to prevent collisions between cyclists and motorists at the intersection of Market and Octavia streets, the intersection remains a potential death trap for those cyclists who assume motorists will obey the law and not be tempted to make the illegal right turn onto the southbound entrance of the 101 Freeway.
Call it Murphy's Law – anything that can go wrong, will go wrong. Add a false sense of security that comes with a bike lane, a turn barrier, a traffic signal, and clear signage indicating a right turn onto the freeway is prohibited, illegal, and subject to $250 fines – and you have a recipe, quite literally, for disaster.
The temptation is just too great for some scofflaw motorists who will make the illegal turn as fast as possible to avoid detection, thereby increasing the threat to life and limb of unwitting cyclists who have a green light, the right of way, and too much downhill speed to prevent or avoid a collision.
Case in point: Director of Climate Protection Initiatives Wade Crowfoot said a false sense of security was the "greatest contributing factor" that resulted in a collision he had with a motorist who made the illegal right turn while he was cycling eastbound through the intersection.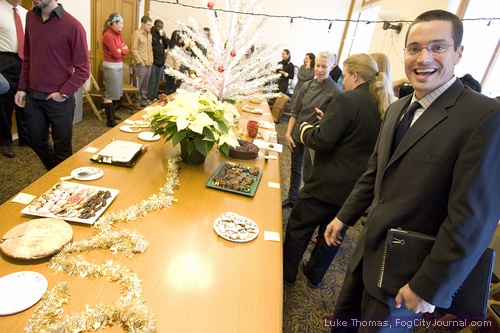 Director of Climate Protection Initiatives Wade Crowfoot
The accident sent Crowfoot to the emergency room where he received 14 stitches to close a wound on his chin.
The intersection continues to be the city's most dangerous for cyclists. According to the San Francisco Municipal Transportation Agency (SFMTA), "It was the City's highest bicycle collision intersection for 2007, with many of these collisions related to illegal right turns from eastbound Market Street to the freeway on-ramp."
Due to a court injunction, however, the SFMTA is limited in what it can do to implement any additional safety improvements at the intersection until an environmental impact report (EIR) on the San Francisco Bicycle Plan is approved. That approval is expected later this year.
Until the city and the SFMTA are able to implement a solution that makes it physically impossible for motorists to make an illegal right turn onto the freeway, cyclists should approach the intersection defensively, with extreme caution and at reduced and controllable speeds, mentally and physically prepared to make an emergency stop as soon as there's any indication that a motorist is about to make an illegal right turn.
Cyclists should also avoid being in the blind spots of motorists at all times, areas of the road that motorists cannot see while looking forward or through either the rear-view or side mirrors.
San Francisco Bicycle Coalition (SFBC) Program Director Andy Thornley said he agreed with a defensively minded strategy to maximize cyclist safety, a strategy he said is incorporated in the SFBC's training and safety courses.
During a recent interview with Fog City Journal, Thornley said: "Does the bike lane at the Market and Octavia inbound – does that express a false sense of security? Yes, just the same way that a green light extends, probably, a false sense of security. I would advise, and I advise your readers, that at every intersection, don't trust the green light, don't assume that that's adequate, assume that everyone is going to break the law, and ride defensively."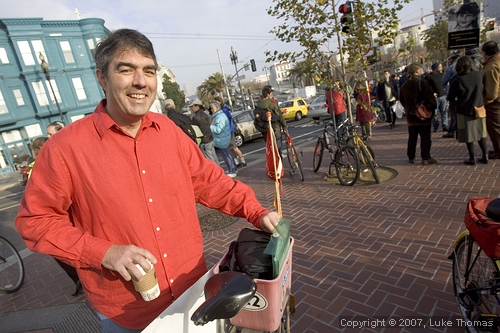 San Francisco Bicycle Coalition Program Director Andy Thornley
Thornley said the SFBC will be beefing up its safety outreach to its 10,000 strong membership and urged the SFMTA to step up its public outreach efforts as well.
More Info
San Francisco Bicycle Coalition
San Francisco Municipal Transportation Authority