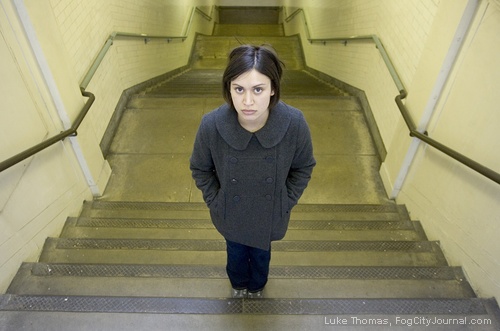 Elaine Santore
Photos by Luke Thomas
By Elaine Santore
February 29, 2008
Nader picks Gonzales as his running mate, takes SF back to 2003
Just when I started complaining about the end of fun in San Francisco politics, Ralph Nader answers my prayers and announced Matt Gonzalez will be his running mate.
I'd heard the rumors for a couple weeks, but I didn't think it would actually happen. I imagined Gonzo holed up in his collage room, pondering the meaning of it all while some other dude in the Green Party took the VP spot.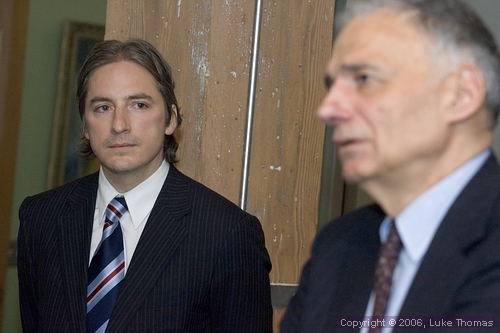 Matt Gonzalez and Ralph Nader.
The day before Nader's announcement, BeyondChron ran an op-ed penned by Gonzalez that focused on criticizing Sen. Barack Obama's legislative record.
Not to be outdone, Mayor Gavin Newsom penned his own op-ed in Daily Kos. His name is on the byline, anyway. (First Angelina Jolie and now Newsom? Everybody's writing an op-ed these days. How did I miss out on this trend?)
"But what Matt Gonzalez and Ralph Nader are doing to our nation is beyond divisive – it is dangerous. Every progressive and Democrat needs to recognize that in the Nader-Gonzalez candidacy, we gain nothing but have everything to lose."
I actually agree with the majority of Newsom's points. CrackBerry and Newsom cannot agree because that goes against everything that is good about San Francisco. Thanks a lot, Ralph.
To make matters worse, the title of today's Chronicle editorial read my mind: "You can't be serious, Ralph."
But Nader is serious. Gonzalez is serious. These two are serious about giving me fodder for my column and I can at least love them for that.
Tourk and Newsom breathe the same air – the horror!
Fog City Journal editor Luke Thomas and reporter Nic Olczak attended this month's 21st installment of Project Homeless Connect at Bill Graham Civic Auditorium Wednesday.
Looking at the world of local politics through Thomas' lens is better than actually being there. He captures the nuances and emotion of a scene like a director of an epic film, only all of the people and events are real.
The word "awkward" doesn't suffice here. Tourk put as much distance between himself and Newsom as possible, even going so far as waiting for Newsom to walk around to the other side of the room before heading for the door. Tourk couldn't get out of there fast enough.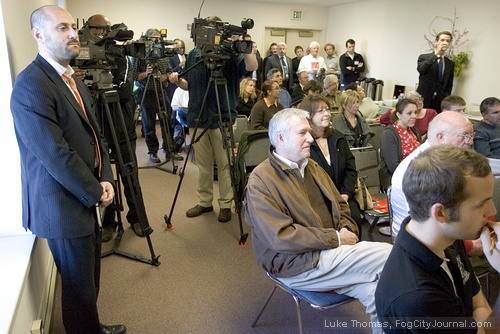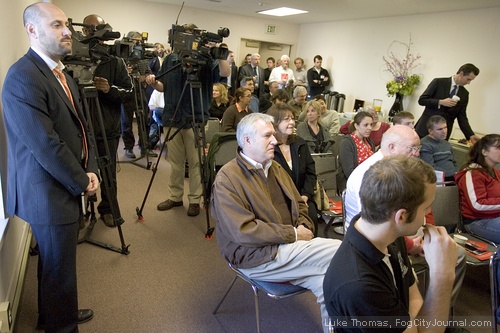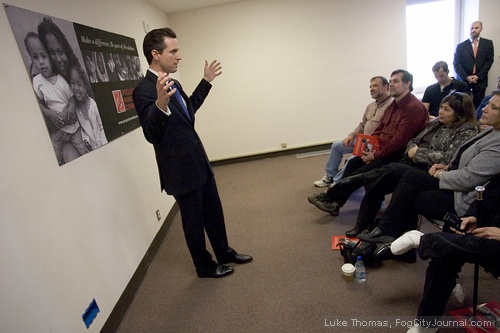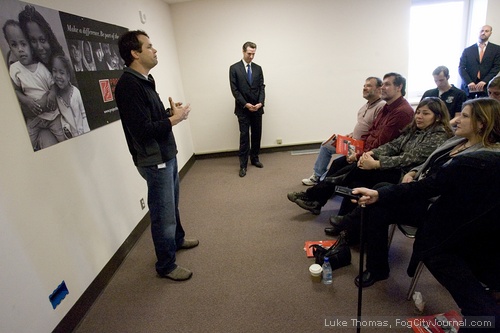 YouTube Flashback: 1992 Presidential Inauguration
Former president Bill Clinton used Fleetwood Mac's "Don't Stop" as his campaign victory theme song in'92.
But 2008 is a different story. Instead of telling people "Don't stop/thinking about tommorrow," the Clintons are now asking us to think about yesterday.

Dad: "Why does her face look smoother than his here?"