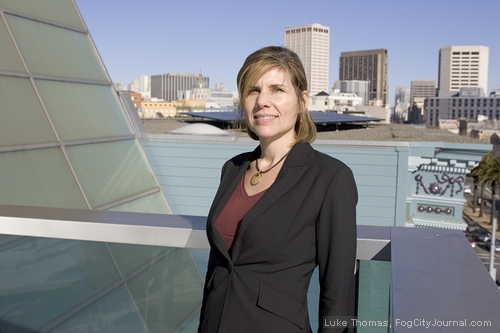 Hope Johnson
Photos by Luke Thomas
By Hope Johnson
March 10, 2009
You Might be a Progressive
You might be a progressive if Walter Paulson sings at public comment for you, but think again when it's local political analyst h. Brown breaking into song.
Such was District 9 Supervisor David Campos's fate at Thursday's Rules Committee meeting when he refused to support a progressive applicant for the Golden Gate Bridge, Highway and Transportation District.
Despite using that horrible phrase "my bad" and choosing a suit over the plaid pants, SPUR Transportation Policy Director Dave Snyder established he is more qualified than Campos's conservative choice, labor business manager Larry Mazzola, Jr.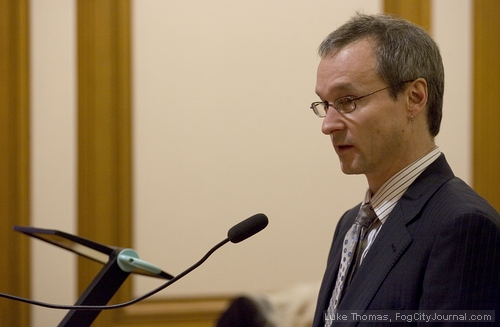 David Snyder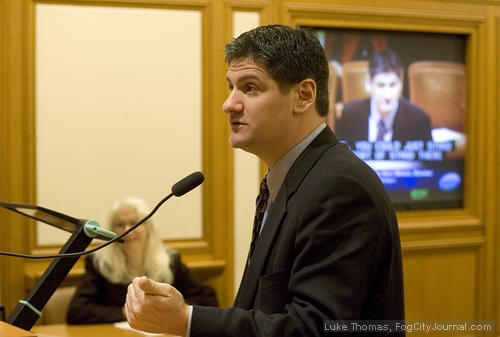 Larry Mazzola, Jr.
Snyder's experience includes over a decade as executive director and founder of several transportation advocacy groups, while Mazzola's labor history involves a $76 million deficit from union funds, some used for a resort near his family's property.  Though Mazzola has the support of labor honcho Tim Paulson, Supervisor Chris Daly is vehemently opposed to appointing Mazzola on the grounds Mazzola and Local 38 supported Rob Black over Daly in 2006 and engaged in a nasty smear campaign against Daly.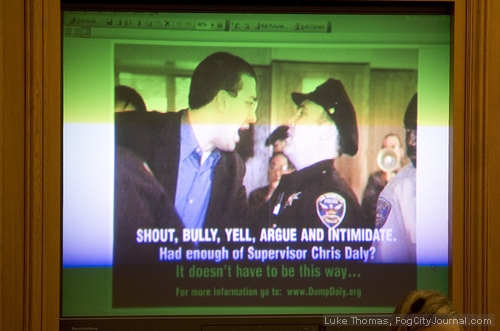 Daly reminds Rules Committee attendees of a nasty smear campaign
against him in 2006 undertaken by Larry Mazzola and Local 38.
Campos' old guard support deviates from a trend toward progressive values in public transit. On Monday, the American Public Transportation Association reported use of public transportation is at its highest level in 52 years, despite declining gas prices and increasing unemployment.
Clearly, Snyder is tuned-in to a contemporary undercurrent. He discussed diversifying funds for the transit agency beyond bridge tolls (including exploring contributions by North Bay counties), transit-oriented development on bridge properties, emphasizing traffic management, and coordinating SF Muni with bridge busses.
"People tend to forget it's not just a bridge but a transit agency and I would work to make sure the transit function of the Golden Gate Bridge continued to improve," Snyder said. "The idea of cuts on the transit system are the exact wrong way to go."
In contrast, Mazzola spoke vaguely of contract negotiations and said he was uncertain of his support of a suicide barrier, or understanding details of the Doyle Drive Replacement Project. He conceded, "I don't know too much about the bridge."
Campos chose Mazzola to provide labor influence on the board. Labor representation is always important but not timely here. And, let's keep it real, labor is well represented, especially being involved in associated work and contracts.
Campos missed an opportunity to avoid government as usual, to give voice to usable practices for an exploding issue, and make San Francisco a leader in modern transit.
It would be the second time Campos has departed with progressives over appointments.  In January, Campos provided the swing vote in appointing moderate Supervisor Bevan Dufty over Daly to the chair of the Transportation Authority.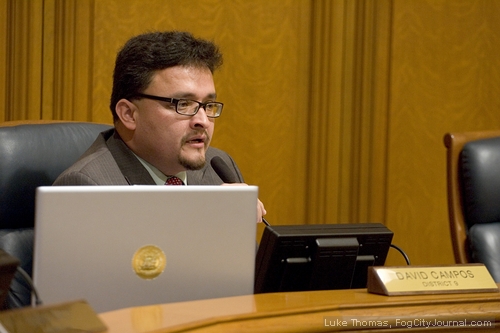 Supervisor David Campos
If the Chu Fits
As Campos shunned the progressive vote at Thursday's Rules Committee meeting, District 4 Supervisor Carmen Chu proved her mettle.
Unlikely to deviate from the Mayor's agenda, Chu's a far cry from District 2 Supervisor Michela Alioto-Pier. She's smart, focused, and steady.
Chu countered with precision District 6 Supervisor and Rules Chair Chris Daly's request to recommend Pier for the Bridge District board, and remains unflappable at the sight of blood (a.k.a. the wrath of an angry Daly).
Pier made it known she doesn't want the appointment. Chu believes precedent allows Rules to avoid recommending a supervisor who doesn't want to be on a board.
Daly became annoyed at Chu's opposition, believing Pier should serve on a board directly related to her district. Chu unemotionally responded, "Unless we are going to impose this threshold for every individual who has said no to other outside bodies, I do not believe that is a fair standard."
Keep your eye on Chu, progs, she's emerging as a force to be reckoned with.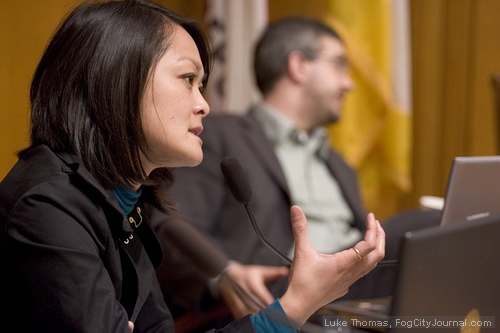 Supervisor Carmen Chu
California's Ivory Coast
Willie Brown plays the budget race card in last Sunday's Chron.
According to Brown, skunky State Senator Abel Maldonado wants open primaries in California because Orange County's Republican voters are a bunch of racists.
Republican Maldonado is the guy who had Sacramento's panties in a bunch last month, blocking the greatly needed state budget until he obtained a measure to establish open primaries in California on the June 2010 ballot.
In 2006 he polled Orange County Republicans, finding they choose candidates with more Caucasian-sounding last names, whether Republican or Democrat.
Maldonado stated, "…there ain't no way that anyone with a Spanish name is going to win anything in a Republican primary in this state."
Looking beyond double negatives here, the message is: the OC loves whitey. Well, duh! Who needs polls to demonstrate that? Didn't you see The OC ads?
Why does Brown justify the Republican's race card defense? The poll was about race, not party. Open primaries won't solve this racial divide if stalwart OC Republicans are willing to vote for Democrats over any person of color.
Maldonado doesn't want to bridge the racial divide here, only provide moderate Republicans like himself a tricky edge.
What's with this trend of affluent Dems like Brown and Feinstein supporting Republican candidates?
Stay tuned.
Fun Fact
Okay, it's not actually fun but does involve a clown. Former San Francisco mayoral candidate Kenny the Clown broke his ankle last week. He made the mistake of riding a friend's skateboard, learning too late the board was too small for clown shoes.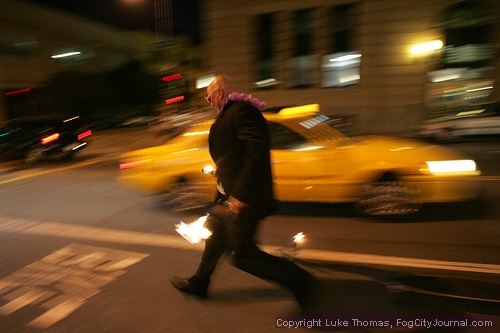 Kenny the Clown
Send him your love: itskennytheclown@hotmail.com.
Luke Thomas contributed to this article.