Is Rep. Ellen Tauscher's replacement
being pre-selected?
Photo via Closing Velocity
From NewsPlink.com
April 6, 2009
Nothing warms a patriot's heart more than when an idealistic newcomer takes a deep breath and runs for office. So after Rep. Ellen Tauscher of California announced she would be leaving her office for a position within the Obama administration, we perked up to see which bright do-gooder would want to replace her.Now, we know that politics is a clubby business. Still, any citizen can file the necessary papers, campaign war chests and political party machines be damned. The rest of us gamely watch the local papers and blogs to see who will be the latest stalwart of democracy. We count on the press, in whatever form, to help this system work.
Imagine our disappointment, then, when we were alerted to the Contra Costa Times, one of the main information sources on the developing race to replace Tauscher in a special election for California's Congressional District 10. In a column from this past weekend entitled "Race for CD10 Getting Crowded," there was no mention at all of any the "crowd" listed in the headline. Only one candidate—one!—was mentioned: Mark DeSaulnier, currently a state senator.
In a joyful account of DeSaulnier's political friendships and his recent trip to Washington, D.C. to hire a professional fundraiser, there was "no room" to mention a single other candidate. We know this because the columnist, Lisa Vorderbrueggen, said just that via e-mail when we asked. "DeSaulnier is the clear frontrunner," she added. "Unless or until that changes, you can expect DeSaulnier will receive the most attention." …And nobody else will get any, we thought.
Never mind that the column had no room to list DeSaulnier's rivals, but plenty of room to list the potential candidates for his seat should he win. And still more room for the possible candidates who would then run for the subsequently-vacated seat after that. Much of this information, we noticed, was broken out into spacious, one-sentence paragraphs.
Our suggestion is simple: keep political coverage relevant and meaningful. We need to know more about the real DeSaulnier, and his frenetic political history. Also, some enterprising columnist might confirm that DeSaulnier's father was really a Massachusetts state senator, and see how the voting public feels about that.
Most importantly, voters need to know who all is running. It turns out there is indeed a political newcomer in this race: Adriel Hampton, a former newspaper reporter and currently an investigator for the City Attorney's Office in San Francisco. His father was not in politics, he was a nurse. Adriel has assiduously gone the "Government 2.0" route, adopting digital tools to communicate his platform. There are other candidates, too, including Republicans.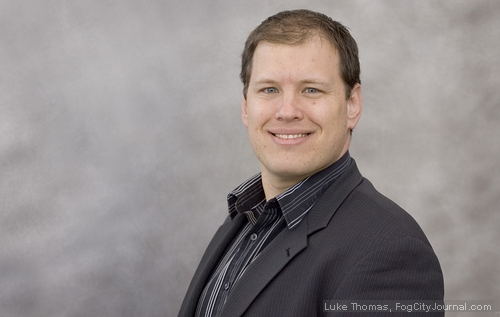 Adriel Hampton
Photo by Luke Thomas
Sounds like there's lots of story there, Contra Costa Times. We'll wait for the press to keep the engines of democracy humming.