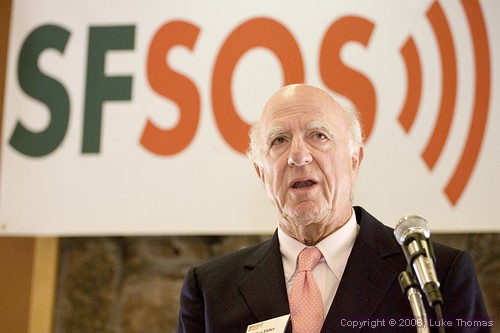 Republican billionaire and Gap Founder, Don Fisher.
Photo by Luke Thomas
From the Presidio Historical Association, Save the Presidio
Editor's Note: Don't let Gap founder Don Fisher get away with privatizing an historic public resource for personal self-interest.  Fisher, 81, who made his billions  externalizing costs off the backs of slave labor, wants to erect a contemporary art museum in his name to house his personal art collection – and the Presidio Trust appears willing to rubber stamp the project unless our voices are heard loudly and forcefully.
April 6, 2009
Critics of highly controversial construction plans for an art museum, hotel/restaurant and movie multiplex in the Presidio of San Francisco, a national park, are preparing for the Presidio Trust's Board and public comment meeting set for tomorrow [Tuesday, April 7] at 6:30 p.m. at the Palace of Fine Arts Theatre, 3301 Lyon St. in San Francisco.
The public is urged to attend Tuesday evening's meeting and provide feedback on the Trust's proposals.
Presidio Historical Association President Gary Widman says that the Trust's recently amended plans for a large contemporary art museum, hotel complex and theater "utterly fail" to address major problems cited in earlier proposals.
"The Presidio Trust continues to push for the unnecessary, permanent destruction of the Presidio's most significant historic site, the Main Post. The Trust ignores the impact of the projected 500,000 new visitors to this park annually (in addition to 350,000 expected to come to the newly completed Disney Museum), offering virtually no transit solutions except to rely on a bankrupt MUNI," Widman said.
An alert sent out today by the Cow Hollow Association states that, "The [Presidio] Trust's plan will create an urban mall with auto congestion, traffic lights and parking problems, converting this National Park into a 'city within a city', contrary to San Francisco's needs, contrary to good planning practices, contrary to the Presidio Trust Act and contrary to the Presidio Trust Master Plan, which promised that the historic Main Post would always remain protected."
For these reasons, Widman called the Trust's proposal a "betrayal of public trust," noting that the Presidio is a National Park owned by citizens who have overwhelmingly opposed the Trust's plans.
"The Presidio Trust refuses to do its job to protect the heart of this unique National Historic Landmark from new construction," Widman added. "Alternate sites which would not alter the most important part of the Presidio's landmark district are available within and outside of the Presidio," he said.
Founded in the 1950s, the nonprofit Presidio Historical Association (PHA) has worked in cooperation with the National Park Service and Presidio Trust since 1994 to advocate for preserving the integrity of the Presidio's National Historic Landmark District, located within the Golden Gate National Recreation Area (GGNRA). PHA created a museum for the Army when it was based at the Presidio. Earlier, PHA helped restore historic Fort Point at the base of the Golden Gate Bridge.