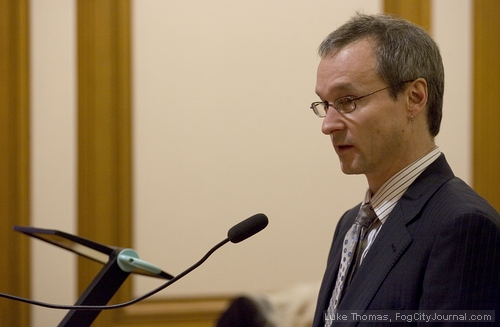 David Snyder
Photo by Luke Thomas
By Luke Thomas
April 14, 2009
The San Francisco Board of Supervisors today appointed transportation expert David Snyder over Local 38 Assistant Business Manager Larry Mazzola, Jr. to the Golden Gate Bridge Highway and Transportation District board (GGTD).
The Board voted 6-5 to appoint Snyder to the second, traditionally labor, seat on the commission that oversees transportation and bridge related projects.
Snyder is the Transportation Policy Director for the San Francisco Planning Urban Research Association (SPUR) and former Executive Director of the San Francisco Bicycle Coalition.
The appointment item, which had been called out of the Rules Committee by Supervisors Sean Elsbernd, Michela Alioto-Pier, Carmen Chu and Bevan Dufty to force the appointment of Mazzola, clearly backfired when a motion by Supervisor Chris Daly to appoint Snyder was supported by Supervisors David Campos, John Avalos, David Chiu, Eric Mar, Ross Mirkarimi and Chris Daly.
A motion to continue the item by Supervisor Dufty, and a motion by Supervisor Elsbernd to table Snyder's appointment, failed.
Those Supervisors who supported Snyder over Mazzola said labor's obstinacy in not forwarding a qualified candidate for consideration, doomed labor's prospect of retaining labor representation on the GGTD. The Rules Committee had previously rejected Mazzola on the grounds that he was unqualified and lacked the necessary experience to represent the City and County of San Francisco on the commission.  Labor had been afforded two weeks to resubmit for consideration a qualified applicant, but remained committed to Mazzola despite his shortcomings.
Following the vote, San Francisco Labor Council Executive Director Tim Paulson said he was proud that several labor organizations had rallied their support for Mazzola, while conceding Mazzola's inexperience was a difficult obstacle to overcome.
"The entire labor movement was at the Board of Supervisors today and our candidate was Larry Mazzola, Jr," Paulson added. "It's an insult that the Board of Supervisors dictated to us who should be the labor representative on the Golden Gate Bridge Highway and Transportation District."
Mazzola declined Fog City Journal's invitation for comment.
Snyder could not be reached for comment at the time of publishing.