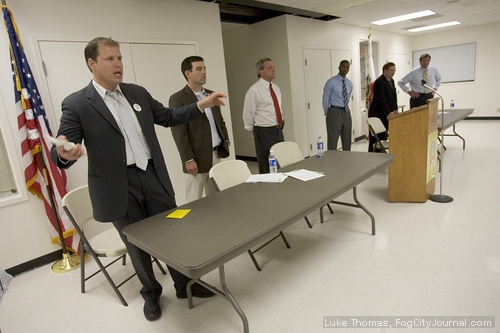 CA-10 Democratic Party candidates Adriel Hampton,
Assemblymember Joan Buchanan (represented by her son),
Sen. Mark DeSaulnier, Anthony Woods, Anthony Bothwell
and Lt. Governor John Garamendi, attended a candidates
forum yesterday seeking the endorsement of the Tri-Valley Democratic Club.
Photos by Luke Thomas
By Harold Brown
May 19, 2009
Democratic Party candidates in the race to replace U.S. Rep. Ellen Tauscher in the 10th Congressional District, squared off yesterday during a candidates forum held by the Tri-Valley Democratic Club at the IBEW union hall in Dublin.
It was the first CA-10 endorsement forum following Tauscher's announcement she would resign her Congressional post if she is confirmed by the Senate Foreign Relations Committee as undersecretary of Arms Control and International Security at the U.S. State Department.
Candidates Adriel Hampton and John Garamendi turned in the best performances of the candidates, with the edge in both youth and knowledge going to the 30-year-old Hampton.
Candidates
Lt. Governor John Garamendi talked about the influence he'd bring to Congress, but the place is all about seniority – and at 64 he's simply not young enough to have a realistic chance of moving to the top of the list.
Don't get me wrong. He seems like a nice guy, but no one's gonna cast him in a remake of 'Mr. Smith goes to Washington'.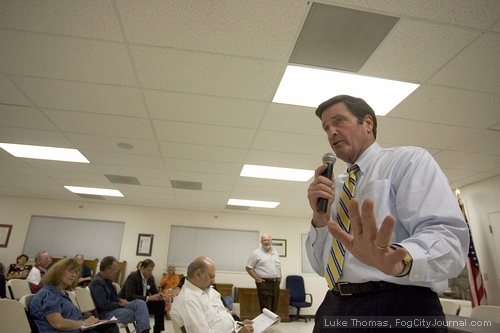 Lt. Governor John Garamendi
California Senator Mark DeSaulnier – Anyone personally know this guy? He started the question period off by jumping directly in the poop of an audience member saying to the effect, "This is a democracy and now it's my turn to talk!" which brought a moment of dead silence to the crowd (you don't want that).
He's also older and stepped in a few other piles of doo: When a union steward acknowledged his local had already endorsed Garamendi, DeSaulnier interjected, "But I understand you're giving me money too." (Again, not the kind of thing you want your candidate saying).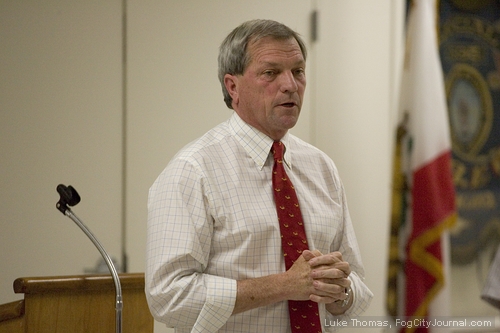 Senator Mark DeSaulnier
Assemblymember Joan Buchanan – Just sworn into the State Assembly two months ago.  She sent her son, Chris, to stand in for her.
These first three are the candidates with the highest name recognition. They're also the veteran politicians, and hearing them comment about their parts in what has been a decades-old failed political generation, could leave Einstein scratching his head.
The 3 'new' guys
Attorney Anthony Bothwell – He talked about his time in Vietnam where he was taught to interrogate prisoners by cutting off their fingers or tossing them bodily from helicopters. Said he refused to do it. Audience still not impressed.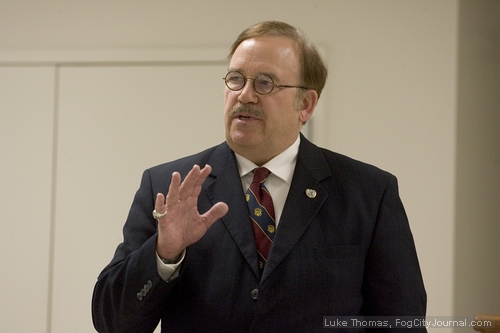 Former Republican Anthony Bothwell
Iraq War vet Anthony Woods – A ringer from Eric Jaye's 'Storefront' consulting firm? I'm guessing he's in the race for 3 reasons: First, to make money for Eric Jaye. Second, to draw votes from Adriel Hampton. Third, to make money for Eric Jaye.
Woods seems to also be a decent fellow. He's a gay veteran and very well-spoken. I poked him a bit and he was unflappable. I'd say Eric has a winner, but not in this venue. Put him in District 10 (SF's BOS seat), and he wins walking away.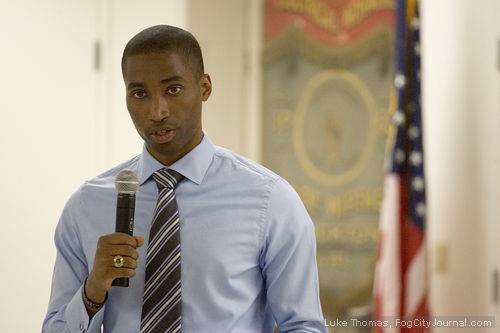 Anthony Woods
San Francisco City Attorney Investigator Adriel Hampton – Thirty years-old. Brilliant and informed. Spent half those years as a journalism pro and rose all the way to City Editor of the old Fang Examiner. Two beautiful kids (4 and 2), a Japanese wife. A strong church guy with impeccable Progressive credentials.
It wasn't really even close for the top spot. The charismatic Hampton had triple the number of supporters in the audience and nobody was getting paid.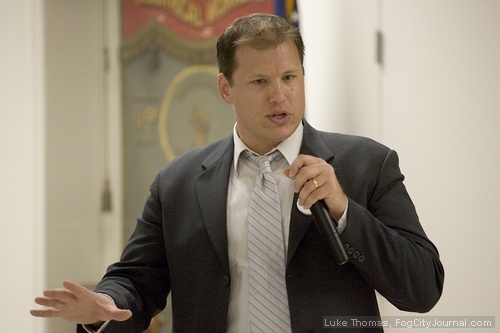 Adriel Hampton
Garamendi had 5 staffers (one spent time re-arranging opposition pamphlets on folding tables to give more prominence to those of his boss – that's just so Bush league).
When an audience member asked the candidates what they thought of legislation proposed by Ron Paul – calling for an audit of the Federal Reserve – the exchange went like this:
Garamendi: "I won't comment on a bill I haven't read, but I'll read it and get back to you."
DeSaulnier: "I agree with John and won't comment on a bill I haven't read."
Anthonys: Ditto
Chris Buchanan: Same
Hampton: (smiling) "Well, I've read the bill (audience roared with laughter as Garamendi and DeSaulnier looked at the ceiling kind of like an A's pitcher who just gave up a homer), and I support it strongly. I read bills for fun and this is my kind of bill. It's only a couple of paragraphs long and fits on one page." Again, the audience ate it up.
That was pretty typical. Campers, this is gonna be a very competitive race.