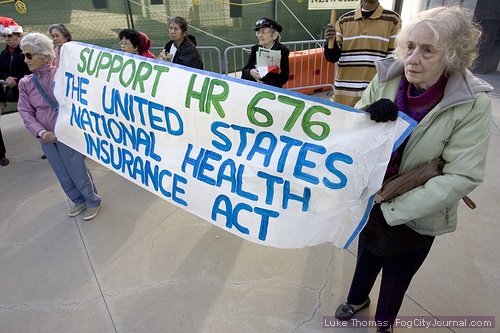 Thirty-one percent of every health care dollar spent in the US
is profit for the private health insurance middlemen who deny coverage
to anyone who may actually need health care!  Result: 46 million Americans
do not have health insurance.  It's time for the US to excise the middlemen
from the health care delivery equation.
Photo by Luke Thomas
June 1, 2009
We're getting close to real health care reform in Washington, but the private health insurance industry has come to the table to make sure it doesn't really happen. The health care middlemen are working night and day to ensure that President Obama's goal of making health care a right for every American doesn't hurt their bottom line.
And yet, to ensure real change, we're going to have to hurt the bottom line of the insurance industry, and hurt it bad. That's why H.R. 676, a single-payer health bill in Congress now, prioritizes taking care of the workers who'd be displaced by real reform. That's because getting the huge corporate bureaucracies out from between you and your doctors is going to require some pain.
That pain of repurposing the workers at the heart of the corporate health care bureaucracy, like the pain required to move autoworkers into clean energy industries, is very real. But it's more than offset by the suffering of 18 percent of Americans who find themselves unable to pay for needed medications and care. It pales in comparison to the national crisis of 46 million uninsured Americans, and it's change we can survive for a better future.
Both Lt. Governor John Garamendi (a former Insurance Commissioner who knows a little about the corporate health bureaucracy) and I support H.R. 676, the simple single-payer option that would give all Americans the same kind of comprehensive and affordable coverage enjoyed by the Japanese and other advanced democracies.
The only way to have real reform in the face of the dogged efforts of the corporate health industry and its lobbyists is for us to keep up the pressure at the human level. In one positive example of the desire for change, my friend Francis Somsel since April has recruited some 1,400 people for an effort to make health care a Constitutional right in the U.S.
You can help. Please call your Congressional representatives and ask them to support H.R. 676, and, if you are in the Bay Area, please make your voice heard this Saturday at the San Mateo Health Care Forum.
Adriel Hampton is a journalist, Gov 2.0 and new media strategist, public servant, and licensed private investigator. He is running for U.S. Congress in the 2009 special election for California's 10th District.
More Info