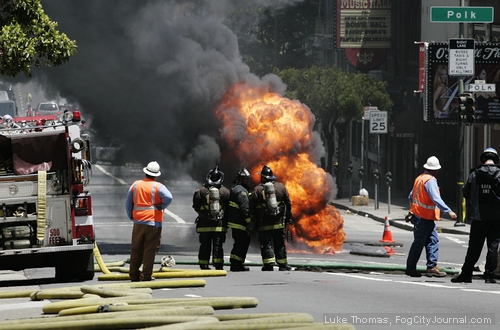 A PG&E electrical fire rages at the intersection of O'Farrell and Polk streets in San Francisco.
Photos by Luke Thomas
By Luke Thomas
June 5, 2009 2:30 pm
Forty-five hundred San Francisco residents are without power this afternoon following an electrical fire that started in an underground vault operated by PG&E at the intersection of O'Farrell and Polk streets.
The fire, which is billowing thick plumes of toxic black smoke in the direction of downtown, began around noon according to witnesses.
PG&E crews recommended the fire be left to burn itself out after initially saying Co2 could be used to snuff out the flames, according to officials on scene. That was in the early stages of the emergency response before the fire grew in size and intensity.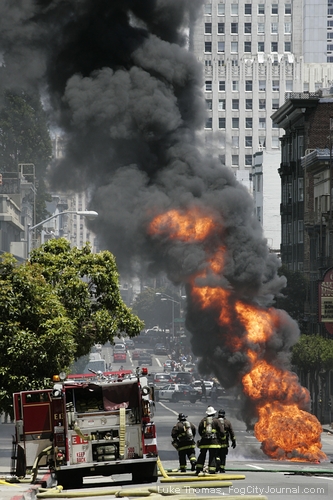 PG&E spokesperson Tamar Sarkissian said it is too early in the investigation to understand what may have caused the fire, though speculation a transformer may have shorted or exploded has not been ruled out.
"We actually do not have a cause as to what happened specifically, " Sarkissian told Fog City Journal.
Sarkissian said "cables" and a "DC main" are housed in the vault but could not provide further details.
"We do apologize to our customers," Sarkissian said. "I know that this is an inconvenience and a concern for our customers. It is a concern for us as well and we are doing everything we can to make sure that power gets back on as quickly and safely as possible."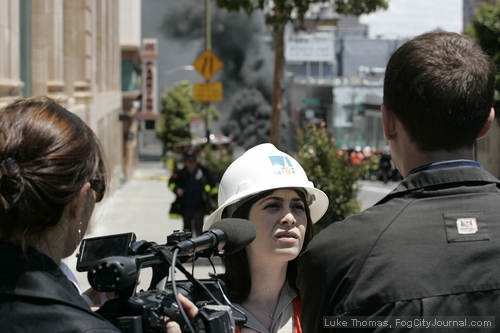 PG&E spokesperson Tamar Sarkissian speaks with reporters.
Police crews are redirecting traffic around the scene of the fire and have implemented traffic control wardens at intersections impacted by the power outage.
No injuries have been reported.