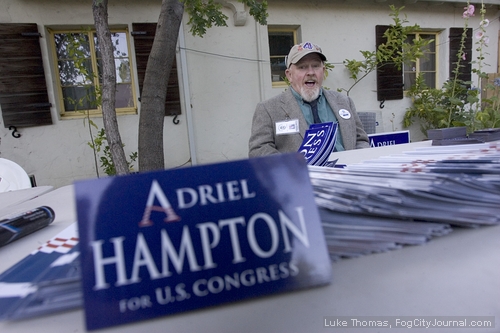 Harold Brown lends a versatile helping hand during a campaign kickoff event Saturday
in downtown Walnut Creek to elect Adriel Hampton to Congress.
Photos by Luke Thomas
By Harold Brown
June 21, 2009
"If I want to cut a tree that's six-inches across, I need a permit. But the City of Walnut Creek can cut a 200-year-old Oak tree without saying anything."
– A neighbor of the historic Maxwell house, Walnut Creek
I counted the growth rings of the freshly felled tree and she was right. There were over 200 rings and it was, and is, a damned shame. The Maxwell's had a sign on the door. It read: "And they lived happily ever after," beneath which was affixed an Adriel Hampton bumper sticker and between was a green post-it note that said: "Thanks to…"
Adriel Hampton's Kickoff for CA-10 Seat
Julia and Elizabeth Maxwell invited Adriel to hold his kickoff at their house and it was appropriate because without Hampton's efforts, along with those of their neighbors, they wouldn't have a house. Julia Maxwell said that when she comes home she feels like Alice re-entering Wonderland.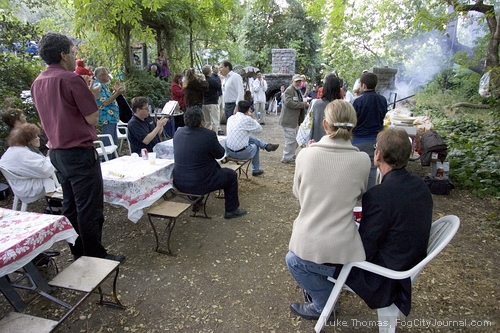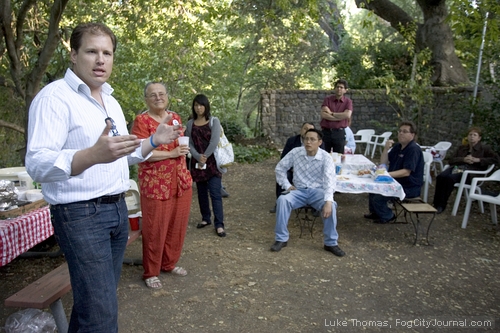 CA-10 congressional candidate Adriel Hampton addresses
his supporters and campaign volunteers.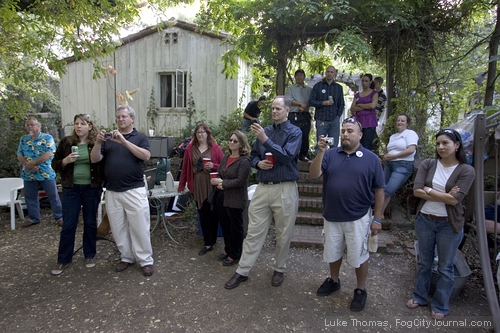 And none of the other colossal 200-year-old huge oaks that surrounded us would be there either alongside their old family home on Walnut Creek (in the heart of Walnut Creek). In the background, Adriel's mom appropriately sang: "They cut down paradise and put up a parking lot." Friends of the Maxwells and trees managed to stop the parking lot at their front yard (oh, they're building it OK – behind the new library and just not as large).
It was an amazing event. More like a huge family picnic than anything political. Terry Hampton sang while her hubby, Jesse, friend Will, Phil Left and Luke Thomas strummed guitars all round.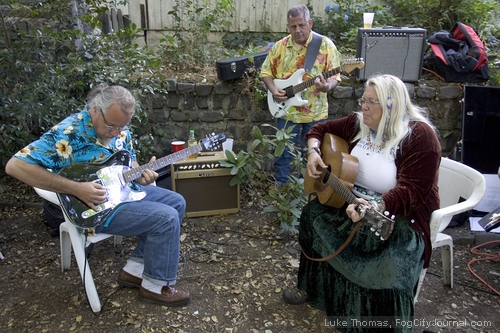 Jesse and Terry Hampton, and Will, entertained the kickoff party attendees.
A bevy of children of various sizes took turns swinging on the long rope hanging from one of the 200 foot ancient oaks that hug the creek while others enjoyed a huge and weathered tree house in the branches of another.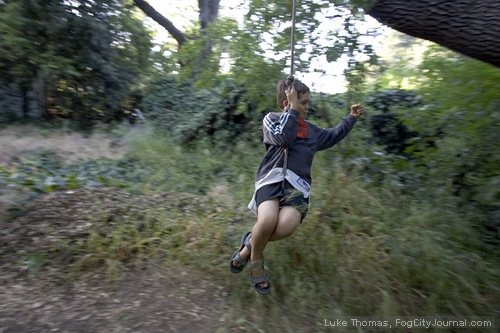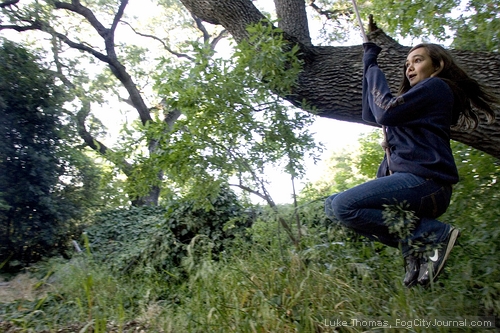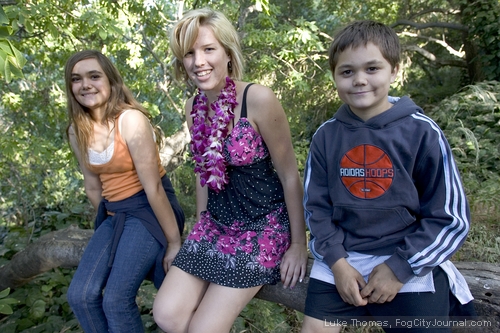 Makayla, Sierra and Daniel.
Adriel's younger siblings, Obadiah, Elijah and Sierra worked to prepare Jason Wong's car for the paint job that turned it into a delightful rolling campaign poster for the Hampton campaign.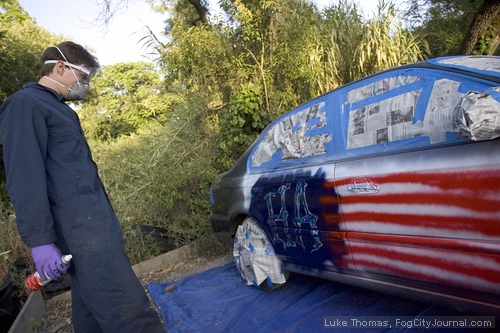 Obidiah Hampton takes a step back from his creative handiwork.
Neighbors and well-wishers stopped to watch the ongoing art project and proceed past Angela Glassburn who manned the campaign literature table at the end of the long gravel driveway on the aptly named "Live Oak Way."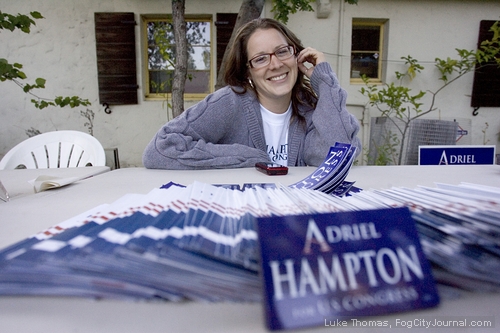 Campaign volunteer Angela Glassburn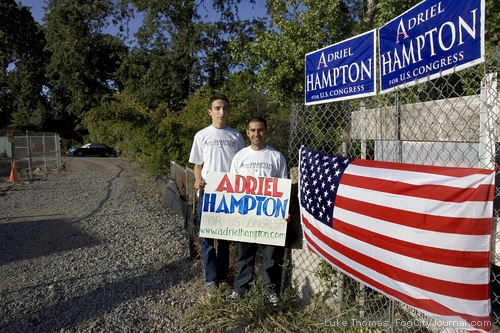 Campaign volunteers Rashad and Reza.
The building's got a Texas look. One story simple stone, clay tile-topped structure in the big ever-growing horseshoe around a big pond in the courtyard that opens onto the gently terraced hill that runs down to the creek.
Of course we put the keg of beer in the courtyard. It was a warm day in Contra Costa County and many guests drove an hour through 90 degree heat to reach the event. They needed a cold one.
Or soda, lemonade or tea. The Hamptons are a deeply religious clan and many don't drink as do not a majority of Adriel's fellow members of the Bay Area Christian Church who were also present in significant numbers. It reminded me so much of my own family gatherings and brought a tear to more than one eye.
The political-minded City folk were there too as the efforts of Team Hampton continue to gain followers and the curious. Former 2004 D5 candidate Francis Somsel, who went on to found the SF Junto message board, chatted with Anthony Faber while Gavin Newsom's top signature gatherer, Richard Bondoc, who is an old friend of Adriel's, talked to Jerry Jarvis and Asa Dodsworth, an Indiana Jones good looks guy who finished 3rd of five in a run for the Berkeley City Council a couple of years back. Iranian-American, Reza Rezvani talked to Michael and Karen Cohen while Richard Stafford BBQ'd all day and into the night.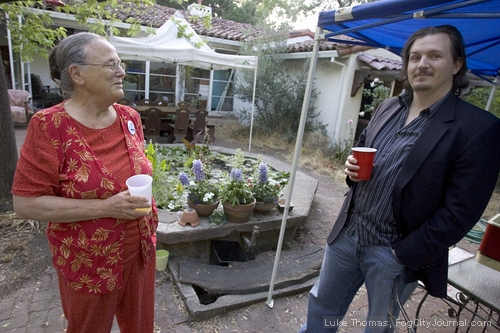 Julia Maxwell and Francis Somsel.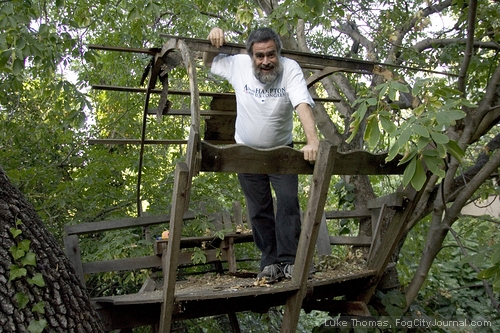 Anthony Faber in the rickety yet functional tree house.
We were scheduled 4-8 pm but it was after 10pm before the last reveler left and another hour before we'd cleaned the place and were on the road. By 1 am I'd read my mail which included a post from Cindy Sheehan about her national tour. It fit so well.
Hampton, as I said, is the only candidate who has pledged to vote against ANY war appropriations. Obama says he wants 'til 2012 to withdraw after saying the US will be out of Iraq in two years. Every other candidate agrees with him. I mean, except Hampton. It was an anti-war crowd interspersed with some who are just curious about power and how they can make their views felt in public policy.
Speaking of the other candidates in the race, Hampton is running against Democrats Tiffany Attwood, Tony Bothwell, Joan Buchanan, Mark DeSaulnier, John Garamendi, and Anthony Woods; Republicans Nick Gerber, David Harmer and Catherine Moy; Green Jeremy Cloward; and independent Gino VanGundy.
Gotta go. The candidate and I are off for a prayer vigil on what's become known as "Cross Hill" across from the Lafayette BART station.  There are over 5,000 crosses there now. Now is not the time to stop protesting or trust this or any other president.
Hampton for Congress!
Go Giants!