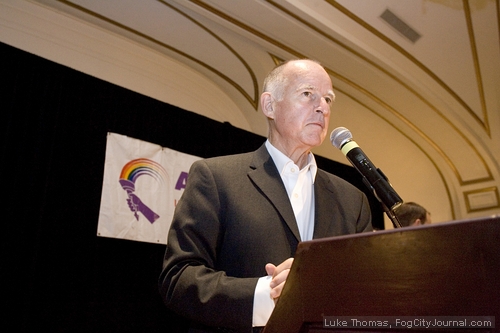 California Attorney General Jerry Brown
at the annual Alice B. Toklas Pride Breakfast yesterday.
Photos by Luke Thomas
By Luke Thomas
June 29, 2009
Juicy news in the 2010 race for California governor; Attorney General Jerry Brown will officially declare his candidacy in "a few months," Fog City Journal has learned.
"Now that Antonio Villaraigosa's out of the race for governor, are you getting any closer to officially declaring your candidacy?" Fog City Journal asked Brown on the occasion of the annual Alice B. Toklas Pride Breakfast held Sunday at the Palace Hotel.
"I have to wait a few months," Brown responded but didn't stick around long enough for any follow-up questions.
According to political insiders, Brown is biding his time for several reasons.
Unlike gubernatorial hopeful Mayor Gavin Newsom, who is a relative unknown outside of the Bay Area and needs to improve his name recognition across the state, Brown is already a household name in California having previously served two terms as governor. Brown also received greater applause over Newsom at the California Democratic Party Convention in April and currently enjoys a favorable 20-point margin over Newsom, according to a recent poll by JMM Research.
Raising campaign funds also isn't an issue for Brown because under California law he can transfer his sizable AG re-election war chest to his campaign for governor account when he officially declares his candidacy. And while Newsom is spending the lion's share of his time running for governor, drawing widespread criticism for abandoning his responsibilities to San Francisco voters while using City resources to run his campaign, Brown is focused on serving as California's elected AG, a point Brown and other candidates will likely exploit as the race heats up in 2010.
And if a picture is worth a thousand words, here's a photo of a less than gracious city Mayor walking past his expected opponent yesterday, avoiding any contact with Brown before sitting down to chomp on scrambled eggs and pork sausages.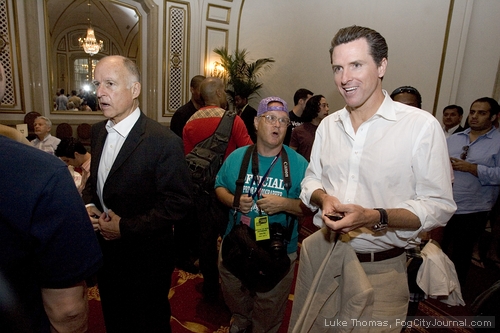 Snubbed: San Francisco Mayor Gavin Newsom avoids a simple greeting
with his out of town guest during the annual Alice B. Toklas Pride Breakfast yesterday.